Happy Friday, ladies! We're back… and we've got some New Moon treats for you.
Weekly Recommendations for 11/20/09:
We know you know: New Moon premiered at midnight! We thought we'd compile a list of New Moon fics for you in lieu of our normal weekly rec's. We know you are going to gush and talk about the movie anyway and for those of us who didn't get to see it at midnight or even sometime today, maybe this will tide you over until you do! We've recommended a few of these already, and we also trolled around for some more stories for you. Thanks to everyone who sent in their favorites for us via Twitter.
If it doesn't have a

, then we haven't read it, so proceed with caution!
Oh yeah, there are a fuckton of NM stories out there, and this list is by no means meant to be comprehensive. Enjoy!


Begrudged by jandco & withthevampsofcourse

In the Blink of an Eye by ThatWritr

Ithaca is Gorges by Giselle-lx

My Yes, My No by LolaShoes

New Moon Karaoke by LindaRoo

Nice Catch by PassionforTwilight

The Air That I Breathe by Journey2002

The Fallout by OCDindeed
Hey! Did you hear us the first time we mentioned it?
If not, this is what's kicking our asses this week.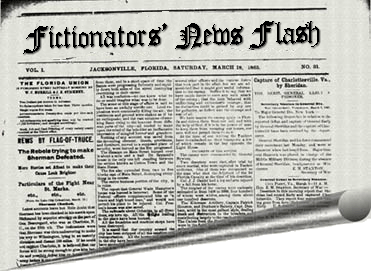 Today is the last day for you to bid on your favorites in the Auctions for

The Fandom Gives Back

. It's your last chance to grab your feature on

The Fictionators

! What does that mean? Well, stories that have

not

been previously recommended will be featured during a full week we're donating to Alex's Lemonade! Donations of $15.00 or more will entitle the author to a feature including: story graphic, link and extended summary of your fic/one-shot.

(these features will not include recommendations from us or inclusion in The Fictionary)
Our own,

Kassiah

will be interviewing author

Kristen_Nicole

for the

Perv Pack's Smut Shack

for an article coming soon, please e-mail your questions for either of them by clicking

here

!
Teaser Monday

continues to be a huge success!! Please continue sending them in via our

new form

or the e-mail address. Either way is acceptable for submissions as long as they're received by midnight EST on Sunday night. As always, if you have any questions please feel free to contact

MF'er

and she'll be happy to help!

Thanks to everyone who gives us support, sends in their rec's and just generally makes our lives in the fandom more entertaining. We couldn't do this without all of you.
See you next week!!

Like this post?
Subscribe to our feed!