Official Description:
In Volterra, Alice doesn't catch up to Bella and Edward in time, and they face the Volturi alone. Edward makes a trade for Bella's life, with devastating consequences. Canon AU.


When I think of Twilight vampfic, I personally tend to organize stories into three basic categories.


Straight up canon, where no events or character behaviors from the original series are altered. You read about events pre/post the books, missing moments or scenes, or maybe alternative POVs. A good example of this is blondie's Dark Side of the Moon.
Straight up AU, where pretty much anything goes. The characters are vamp, but they don't have to strictly follow their canon counterparts. The settings can be completely different. Events and back stories don't necessarily parallel canon. Mothlight's BRONZE falls into this category.
Canon AU, which is a blend of #1 and #2. Characters typically stay very true to their canon counterparts in these fics, and some to most of the events stay true to the books. These often start out at a single point in the series and then deviate from there, following a different path. They are what-if scenarios. Giving Way to Dusk falls squarely into this category.


What I like about reading canon AU is that when it's done well, you truly feel as though you are reading the same characters you fell in love with. You get their behavior. You understand them. And you definitely feel for them because the emotional transference is strong. At the same time, however, you get to read something new. It's fresh and exciting because you don't know what's going to happen.
In some ways, canon AU is like having your cake… and eating it, too.
Today, I'm eating cake. And it's really good cake.
Giving Way to Dusk starts you off in Volterra, just after Bella has managed to prevent Edward's attempted suicide via Volturi. Only there's one difference. Unlike NM, here, Alice doesn't make it in time, and Edward and Bella are put before the Volturi without her.
Think about that for a minute. In NM, Alice was instrumental in both Bella's and Edward's release. What would have happened had she not been there at all? Without her, what would have happened when Aro asked if Edward intended on changing Bella?
HelenahJay gives us that story. And it's not a pretty one.
"I'll give you what you want," Edward says to Aro, stepping forward. The sudden distance between us is like a chasm. I feel myself teetering on the edge. I would give anything in this moment to be able to read his mind.

Aro's ancient face lights up in fascination; his maroon eyes glinting. Jane lets out a hiss, glaring at us in dismay and open hostility. Alec reaches for her hand, but she snatches it away.

"You let her go from here, safely," Edward continues. "You don't follow her, you don't monitor her. You trust what I'm saying; that she will never reveal what she knows."

"And?" Aro's eyebrow arches, his grin a rictus of cold delight.

"And I will stay here, and join the Guard."
That's a nice little kick in the stomach, isn't it? Right off the bat in Chapter 1, too. I love that. I love it when a fic starts off with a bang and completely sucks me in.
One of the things that I really enjoy in this story is its adherence to canon. What follows Edward's decision is perfectly logical; the key pieces that make up Eclipse are still there. Victoria is still prowling around, hunting Bella in retribution for James. Her army is still being built up in Seattle. The wolves and the Cullens are still at odds.
The only difference is that Edward isn't there. Instead, true to his word, hellbent on his idea of protecting Bella from the dangers of his world, he remains in Volterra, wearing the dark robes of the Guard, even though he despises them.
So what you have in this fic is really two parallel stories – Bella and the Cullens in Forks and Edward in Volterra – and you're left wondering how or if their paths will ever converge again.
Something I find fascinating, too, is the way HelenahJay uses the Volturi and their talents. She gives them all a lot more depth than what you find in canon. There are some marvelous interactions between Edward and the other vampires. I specifically like how the HJ characterizes and uses Chelsea, an often-overlooked character.
It takes me days to realize that Chelsea can only strengthen and weaken what is already there. It's a relief at first, until it dawns on me that while she can't force me to love Aro, she can certainly make my hatred dissipate. And she can cause my feelings for those I do love to wane.

She can make me forget Bella.

It's subtle, but it's there. Each day the desire to make contact with home is a little weaker. I lie in my room each night trying hard to recall every detail of their faces, the sound of their voices. Alice's giggle. Rosalie's arched eyebrow. Esme's hugs. A strand of Bella's hair drifting across her face as she sleeps. Desperately clinging to these tiny memories. I know that I'm not going to win this battle over the long term, but right now it's all I can do.
I want to be clear. While there are plenty of heart-clenchy moments, this story is not all doom and gloom, I promise. There are some lovely glimpses of hope.
As you read, you see that a rather intricately and well put together plot that weaves purposefully and seamlessly with canon events has been crafted. And Chapter 13 is where you really get an idea where this is all headed – a familiar, and again canon, scene from Eclipse – only you don't know how it's all going to pan out once we're there.
Let's just say that I'm rather excited to see how HJ puts this all together. Thus far, she's done a really good job of creating a very believable and logical world while still holding dear to the traits and behaviors of our favorite vamps. I'm wholly invested.
The last thing I wanted to briefly comment on was the writing and style itself. Written in an alternating, but not overlapping, 1st person present, this fic is highly readable. It's very quick, too. HJ says this herself:
This story will have around 20 chapters, and they'll all be short and snappy
The chapters are short. And they are snappy. Yet that does nothing to diminish the weight and quality of the words and story. If anything, it makes what's in there that much more important and poignant, because what you find in this fic is all plot, all the time. No filler.
So if you're a meat and potatoes kind of reader, this is a great fic for you. Maybe I'm mixing food analogies… Okay, fine, there's cake here, too. Remember? I said that it was really good cake. It is, trust me.
Regardless of my silliness, do yourself a giant favor and head over to HelenahJay's page and read Giving Way to Dusk. You won't regret it.
Until next month!
v-v
[dcs_p]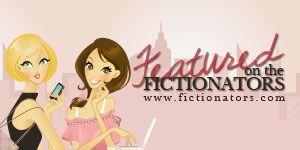 [/dcs_p]

Like this post?
Subscribe to our feed!