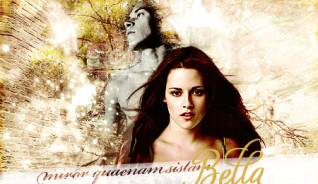 Official Description:
Paul stops Bella before she can jump off that cliff and ruin her life. Complications ensue. Totally unlike my other stories, so brace yourself, Bridget; there's language and lemons ahead.


Miror Quaenam Sis Tam Bella by MeraNaamJoker was my first go at any kind of wolf pack fic. This story started out with a bang so hard I couldn't walk away. MeraNaamJoker took imprinting and put her own spin on it, creating a fabulous story.
Paul's a badass who could probably make any girl swoon and ache for him. Between his looks and attitude, you're defenseless. What I love about this story though, is how much more there is to Paul.
"Paul had ruthlessly organized the contents of his room; at least, I assumed it was him, because the living room and kitchen, while clean and livable, were also a little cluttered and certainly not immaculate like in here. His bed was made, covers drawn tight as a drum. Next to his pillow was a copy of The Glass Menagerie. The books on the shelves beside the bed were perfectly aligned and alphabetized by author. I walked to the desk next to the window and flipped on the goose-neck lamp. He had a laptop; next to it he'd stacked textbooks for classes I didn't think they offered at the tribal school. I ran my fingers down the spines: Latin. Calculus. AP English IV, which was odd because he'd only just turned seventeen—I remembered Jacob talking about the sheet cakes at the party. Maybe he supplemented with online courses? The possibility intrigued me; none of the rest of the pack, with the exception of Sam, seemed interested in books and academics.

How on earth had he hidden this side of himself so well? Did he simply never invite anyone over, never think of it when he was away? And why had he left whatever he had for me in here—did he want me to see this?"
While he has a bad temper and the moves of a sex god, Paul has this other side to him that people willingly let him hide. When it comes down to it Paul is the guy you want by your side. He will take care of you, snuggle with you and… well things might just get a little hot.
Paul is unbelievably sexy. I think I swooned almost every chapter.
Let's not forget Bella here. MeraNammJoker took canon and ran with it, she kept the basics and created a wonderful new story for us. Bella is still broken and still healing, MeraNammJoker never takes away from that or lessens it.
She takes leaps and she takes steps back. Bella isn't perfect and she makes mistakes, something I think we can all relate to.
"Oh, God, and now he could smell everything Paul and I had done together. Damn werewolves. "I thought you'd just avoid me," I admitted, hugging myself for something to do with my arms.

"No, Bella, that's the way you handle your life," he snapped. His eyebrows drew into a single line on his forehead. "I want to know. Is this something you wanted? Is this something you liked?"

"No!" I exclaimed, rushing across the room to him. He looked down his nose at me, and I shrank back a little from the disdain I saw. Anger came to my rescue. I straightened up and demanded, "Why do you think Paul ran to Canada? He was trying to fight it! He wanted you to have me—he tried. We both tried, okay? Ask him to show you! It's not like I woke up that morning and thought, 'Gee, what can I do with myself today? I know! I'll try to cliff dive alone, get saved by Paul before I can kill myself, and get him to imprint on me! Great plan! Way to go, Bella!'"

"No, I guess you just had him imprint on you and then thought, 'Gee, how can I handle this situation? Oh, I know, I'll hide it from the guy I call my best friend, let him keep on making an idiot of himself over me, torture the guy who imprinted on me, and let everyone find out in the most embarrassing way I can think of! Way to go, Bella!'" He sneered, but I could see tears pooling in his eyes, and it made me feel like the worst person in the world. "He did show me. I don't even blame him. I just feel sorry for him. I can't believe you didn't tell me. And all this time, I thought I was losing my mind. I couldn't figure out—"
We take this ride with Bella, as she faces new opportunities for her life and deals with the past. Neither are anything less because of the other, in fact they build on each other and make Bella a better person.
The relationships are tough and real. They build slowly but you have hope for them, all of them. MeraNaamJoker makes you love the characters and their flaws. In the end things work out, because Paul and Bella compliment each other, make the other better. It feels right, which is not something easy to do.
This story has made this once VampGirl a fan of the wolf pack and shown me a world where La Push is the place to be. I want soft heat over stone cold, I want daytime walks over moonlit strolls.

When I first heard that MeraNaamJoker was writing and Paul/Bella, I was more than just a little excited. I was thrilled. Finding a Paul/Bella story that is believable, very well-written, and actually gets completed is next to impossible. Miror Quaenam Sis Tam Bella is all of this and more. With only an epilogue left, it is my indisputable favorite Paul/Bella story.
What I absolutely love about MQSTB is the depth of Paul and Bella's relationship. Don't be fooled by the first chapter's sexy encounter. There is more to their partnership than hot imprint!sex (although that certainly helps). It's complicated and not at all black and white:
When I looked up again, the anger faded from his expression, leaving only concern. "I'm sorry," he sighed. "I don't know how else to tell you. I didn't mean for it to happen—"

"Yeah. I bet you didn't," I agreed with a humorless laugh. "I know you hate me. It's fine." I curled my knees up to my chin and wrapped my arms around them protectively.

His forehead wrinkled with puzzlement. "I don't hate you."

"Yeah, right. 'Leech lover,' 'moronic leech fucker,' 'stupid shit;' those all say 'I love you' like nothing else."

"I didn't say I loved you, either."
Imprinting is not a guaranteed happily ever after in this story, and I prefer this more realistic, grittier approach to the fairytale Smeyer painted it to be. The push and pull of Paul and Bella's relationship was enough to keep me trolling my inbox every day for an update. You can't help but just love who they become together. Paul has this sensitive side that doesn't feel contrived, and Bella's got this feisty aspect that tends to make things interesting:
I kissed him back, tugging at his shorts while I did. "I thought I told you not to wear these anymore when you came to see me," I chastised, unbuttoning and unzipping them.

"I didn't think it was a rule," he answered, lifting his hips to allow me to slide the cutoffs down.

I straddled him and crossed my arms on his chest, resting my chin upon them. "Oh yeah. It's a rule. No visiting your Isabella unless you're ready to get naked within the first fifteen minutes. You see how I was already naked? You should take your cue from that."
Character development FTW. Okay, and if you're still not convinced, here's a tease of the panty-melting sexytimes:
"Isabella," he said again, then, dreamily, "You're so tight…" He moved his hips, just barely.

"Paul…" I was so close, so close, this was so much better than anything I could do alone. I rotated my hips, pressing against his pubic bone. He sucked air in between his teeth and moved inside me more forcefully this time. The hand not on my head fastened on my ass and shoved it harder against him, pinning us together. I cried out and ground against him once, twice more, and then I was shaking uncontrollably and wailing while the single most powerful orgasm of my life blew through me like a hurricane, leaving me feeling as though I'd been flayed. Cursing so much I couldn't even understand the words, Paul held me by both hips and buried himself to the hilt inside me, coming almost as soon as I finished.
Rawr. This fic is a must-read for everyone, no matter your "team" or canonical preference. I'm so grateful to MeraNaamJoker for writing such an amazing story.
[dcs_p]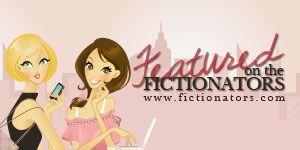 [/dcs_p]

Like this post?
Subscribe to our feed!