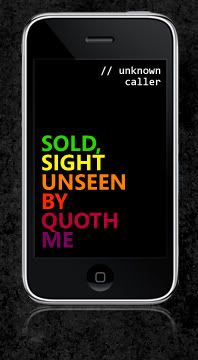 Official Description:
The odds of him dialing her phone number are 3,720 to 1. Yet he does. Their chance conversation leads to something more. Something silly, then serious and a little scary. But in a good way. AU

Word Count: 28,478

Hey, it's EdwardsBloodType again. Those of you who've read my stuff know that I don't write fluff. Well, only when it's mixed with some serious angst. I'm the same way when I read- the angstier and more stomach twisting- the better. But occasionally, a few fluffy romantic stories skip my way, like when my beta/ fic bully Suzy, harasses me until I cave and then she makes me say thank you. Repeatedly.
Sold Sight Unseen is one of those stories.
You know when you meet someone new and it just clicks? Conversation flows, the chat is easy and comfortable, and you feel like a million dollars just from hearing a voice on the phone? Well, this tale starts out with Bella arriving home from work to hear the phone ring. But it rings only once, so she's intrigued and bored enough to take the survey that the likely telemarketer was planning on asking her to complete. However, when she calls the number back, she discovers a male voice on the end of the line, and it turns out it was just a wrong number that he'd called. This makes Bella feel sort of worthless. In her boredom and loneliness, she boldly asks if he'd like to chat for a while. So she introduces herself as "Beth" because for all she knows, he could be a crazy person, and he asks her to call him "Drew" because she too, could be a psycho stalker. And the sweet, funny banter that ensues after that will put a grin on your face as big as the one on Bella's when she hangs up the phone with her unknown caller, after agreeing to speak again when he asks.
As the weeks go on they continue to call one another, Bella looking forward to their chats more than she would like to admit. She has a spring in her step and she's actually taking bubble baths because her unknown caller has her so distracted.
"So I was thinking," he says. "If this thing between us…whatever it is…is going to continue—and I must say that I hope it does—we're going to need some ground rules."

I'm a little distracted by him telling me that we have a thing. And that he wants this thing to continue. "What do you propose?"

"No details."

I frown. "What do you mean?"

"I think we should agree to keep all the specific details of our lives vague, just in case one or both of us really is a crazy psycho stalker."

He's obviously put some thought into this. His consideration makes me smile.

I say, "I assume that if you actually are a crazy psycho stalker, you're probably outside watching me from my window as we speak."

"Good point."

I look up and validate that my curtains are pulled carefully across my window.

I say, "You don't happen to know what I'm wearing, do you?"

"Uh…would I tell you if I did?"

I laugh. "No, I guess not. What would you guess that I'm wearing, then?"

Whoops. There I go bringing up the potential risqué topic from yesterday, albeit innocently.

"Hm," he says in a silly tone. I envision him tapping a finger against his chin in an exaggerated gesture. "I can tell you what I don't think you're wearing. Would that work?"

"Sure."

"No offense, but you don't seem like the pink silk pajama type."

I look down at my ratty old shirt and sweats. "I'm not."

But I do have a pink silk pajama set hanging in my closet. A gift I never wear. Is it odd that this stranger on the other end of the phone has intuited more about me in five minutes than a person who has known me my entire life?

Our comments about my appearance break the ice.

Drew spends the next several minutes throwing out outlandish guesses about what I could possibly be wearing.

"Flannel nightie?"

"Mickey Mouse boxers?"

"Granny panties?"

"Nothing?"

I laugh at that one. "You wish."


After a while, she reveals her real name, but "Drew" refuses to give her his own name, instead giving his alter ego. This leads to some sleuthing and opening fake Facebook accounts whereby Bella finds out "Drew" is a self-proclaimed nerd. Surprisingly, she is more than fine with that.

"You have an alter-ego?"

He laughs. "Yes."

"What do you use said alter ego for?"

"I use him whenever I feel like dressing up in spandex and running around the house," he deadpans.

"Oh. I guess I missed the part earlier about you being crazy."

He laughs again. For some reason, he seems delighted.

I know how he feels.

I haven't bantered like this with someone in…ever.

"So you actually use this alter ego to…" I prompt.

"To goof off. I actually created him to play World of Warcraft."

"I think I've heard of it."

At my less than positive response, he quickly amends. "But that was several years ago, during college. Or maybe high school."

So he was in college several years ago. Several usually means three to four. I stop guessing at his age when I realize that it really doesn't matter.

I smile. "Are you backpedalling in an attempt not to sound like a complete geek?"

"Is it working?"

"Not really. You've brought up Star Trek and World of Warcraft in the space of five minutes."

"That's because I rock."

"So you're a geek and proud of it?"

"Pretty much."


The banter and conversation between the two of them as they get to know each other is hilarious. As the story progresses, we find out that Bella is living with her boyfriend, Mike, whose father owns the company they both work for. They've known each other forever and have fallen in a deep rut. But the more conversations she has with "Drew" the more she realizes how unhappy she really is, and what she truly wants is a phone call away.

He laughs again.

"So I have to be honest with you," Edward says. "This might sound weird, but…I actually don't want us to exchange pictures."

I feel a pinprick of…what? Disappointment? No, I think it's hurt.

"Are you afraid I'm abysmally ugly?" It's a joke, but I'm not exactly joking.

"I know you're not ugly."

"How do you know that?"

"Because no one with such a beautiful soul could ever be ugly."

Just like that, our conversation goes from teasing to confusing. Confusing because I can't understand how I can possibly have such strong feelings for someone after only talking to him on the phone for over a month.

Because just like that, Edward has made me feel more beautiful than Mike ever has.

He continues, "I just…I have this idea of you in my head. For some reason, I don't want to mess with that."

"I can understand that," I say. Because I can. A picture of a person can't always do them justice. Just like Jasper's picture. Pictures can create a certain mood. Pictures can be misleading.

I like the phone Edward just fine.

Okay fine.

I more than like the phone Edward.

Now, I don't want to give the rest of the story away, but I will tell you that SSU isn't all rainbows and sunshine. Expect some unexpected twists and angsty turns amidst the humor and wit that simmers between the UST. Unexpected twists like just before they are supposed to meet in person for the first time and you are just as excited and anxious as Bella, (if not more) and then BAM! she receives a call from Edward's pregnant fiancée Tanya, thanking Bella for giving Edward someone to talk to for a few months while he gets his head out of his ass and man's up. Yeah, completely and utterly gut wrenching. But things are not exactly as they seem, so don't bail on me now!

Quothme weaves a humorous, sweet and sometimes angsty tale about an act of chance, a leap of faith and about finding real, true love without ever seeing a face to go with the voice. I absolutely adore the characters she's created and the touching relationship they form over the phone. Some of the best parts of this underappreciated story are that is only ten chapters, a great, quick read, and it's complete. And I promise, you will love the ending.

I love this story. I can't believe we didn't rec this before, and for that, I apologize. I don't know what else to add to EdwardsBloodType's excellent review, so I'll just tell you that I think you should read it. It's funny. It's sexy. It's heartwrenching. It's sooo worth it.

[dcs_p][/dcs_p]

Like this post?
Subscribe to our feed!