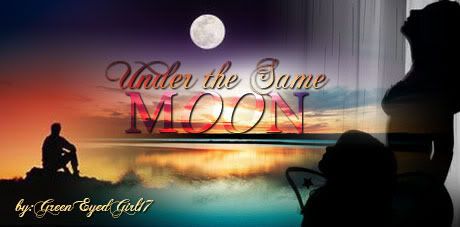 Official Description:
Most would call it young love, but for Edward and Bella, it was much more. They promised each other forever until tragedy struck and changed their plans. After years of separation, will they ever be able to forgive each other? AH/Rated M.


I love any story by GreenEyedGirl17, so naturally I have her on author alert. When I got the new story alert for Under the Same Moon, I pounced right on it. And I freaking LOVE it when the story snags me from the beginning, like this one did.
The prologue has Bella and Edward meeting accidentally, after not seeing each other for 10 years. What you get from Bella's thoughts and the brief, awkward conversation between them is that the things left over from 10 years ago are heavy, painful and still cut deep after all this time, seemingly for both of them. And just like that, I'm hooked, DYING to know what happened to get them there.
Chapter 1 intros Bella, a 14 year old freshman. Her dad Charlie is the high school basketball coach, and is a major ass. Bella is not a boy or into sports, so at best he ignores her, at worst he always makes her feel like she's insignificant. Bella at least has to mom to show that she is proud of her, and her best friend Angela, with whom she shares everything. She's also maybe crushing a bit (along with every other girl in the school) on Edward Cullen, one of the star basketball players. That is until, at a party one night, she opens the wrong door and sees something that shocks her to her innocent core:
The small amount of noise I made–out of shock, of course–caused Edward to turn his head toward me. My mouth fell open, my heart breaking all over again, and Edward gasped loudly. I didn't know if he was shocked that I was standing there like a complete moronic loser, or the fact that he was just enjoying what she was doing. Probably both.

My brain kicked in seconds later, and I shut the door, running away from that room – from the guy who would never know how heartbroken I felt… and how stupid I felt for being heartbroken, considering he didn't even really know me and probably never would.
Bella made sure to avoid Edward after that, soon it was time for him to graduate, and Bella could get over it and move on. But in her sophomore year, a horrible tragedy in Bella's life makes it feel like moving on to anything doesn't seem possible.
Bella's devastated by her loss, she doesn't eat much, doesn't sleep well, she doesn't talk to anyone anymore and everyone doesn't understand why she just doesn't get over it. And weirdly enough, Bella starts getting emails from Edward Cullen, who is off at college at University of Texas. He starts off just expressing his sympathy for her. But over the next few months, he continues to send her emails. Bella reads them but never replies. Eventually, she does answer and they start up a friendship over email. Though I had to wonder, why is this 19 year old hottie college Edward expending so much effort on a 15 year old high school girl that he only spoke to a handful of times?
I love all Edwards (who doesn't?) but I really love SweetWards, and this Edward is just so meltingly perfect. Bella gets to spend time with Edward when she stays with her cousin Alice & her husband Jasper, who live in Texarkana, over the summer. And of course, she falls for him. Again. But Edward makes it impossible not to. As their relationship progresses, Edward is truly the boyfriend every girl dreams of. Including me, LOL. Which just makes the "what the hell happened?" question drive me even crazier!
Under the Same Moon is only 11 chapters in right now, but GreenEyedGirl17 said in one of her last A/N's that we're only 2-3 chapters away from the prologue. Right now this story is tender and sweet and I love reading it so much. But the angst is coming baby! Hold on tight!
I really enjoy GreenEyedGirl17's writing and she definitely has me pulled in with Under the Same Moon. Bella's experiences of loss, joy, and just plain giddiness are authentic.
"Nah, it's good. Come on," he replied, reaching up and tugging on my hand.

We lay in silence – the moon was shining bright above us as fireworks went off all around. I tried to keep my breathing in check, but I was practically panting when I felt his hand wrap around mine.

"Bella… do you like me?" Edward asked, his voice sounding slightly timid, which was a change for him. He usually sounded so confident.

And I panicked. I couldn't answer his question. My answer was yes, of course, but I couldn't admit that to him.

"I, uh…" Speechless. How was I going to answer that question without lying? Because there was no way I was going to tell him the truth, even though it was probably obvious. I blushed around him constantly, jumbled words together when I talked to him, and I was almost positive he could feel my hands shaking whenever he held them.

Waiting for me to respond, Edward let out a ragged breath. "Wait. Don't answer just yet. I have something I need to say to you first."
Like lisazj said, there are only eleven chapters posted so far. We've got enough of the story to leave us wondering wtmf happened to make them not speak for ten years. We know GreenEyedGirl, though, and know our favorite characters will find their way back to each other.
Check out Under the Same Moon–I really think that you'll enjoy it!
[dcs_p]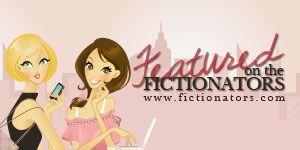 [/dcs_p]

Like this post?
Subscribe to our feed!