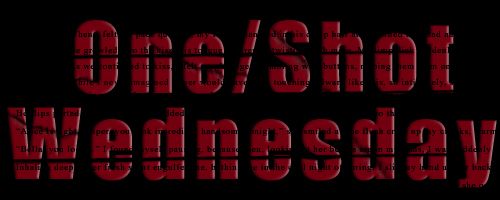 Yes, Please by Coquettishness
http://www.fanfiction.net/s/4432967/1/Yes_Please
http://twilighted.net/viewstory.php?sid=1246
Word Count: 8,395


Official Description: COMPLETE. One-shot. While out of town, Bella devises a way to finally seduce the ever virtuous Edward – with a little help from an unexpected source.
–
SnowWhiteHeart says: Alright, so my personal choice for One-Shot Wednesday is Yes, Please by Coquettishness. This was one of the first o/s's I've ever read, and yet it remains one of my personal favorites for a few reasons.
It's everything I look for in a fic– funny, clever, and sexy with a satisfying ending. PLUS Edward's a vamp. Om nom nom. Sorry, I like my Edwards the way I like my coffee– cold and sweet.
It starts off with an absolutely cringe-worthy premise… Renee tries to help Bella seduce Edward.
What-what-whaaaat? God, the idea of my mom helping me with anything sexual makes me want to vom, but Renee doing it is just charming and blush-worthy.
"Have you two been intimate yet?"

My mouth fell open, horrified. "What?"

"Have you had sex?" she clarified as if I hadn't understood her the first time. "Oh, don't look at me like that. I don't know what you kids are calling it these days. In my day, we called it 'making ends meet'. Has your end met Edward's yet?"

"Good God, there are children in the vicinity."

"Your father thinks you are," she continued, unabashed and ever oblivious. "Come on now. You can tell me."

I crossed my arms tight over my chest, cheeks blazing red. "We're not."

"Huh. I would have bet money on the opposite."

"I'm telling the truth!"

She looked at me, scrutinizing my face. "I know you are. I'm just surprised is all. Is that your choice or his?"

I shrugged an awkward shoulder. "His, mostly."

"Mostly?"

"Edward's a little old fashioned," I muttered. "He won't lay a finger on me."

"Is that all? Nonsense. Men are men, Bella. You just need to know how to crack the shell."

I looked at her, incredulous. "Are you … encouraging me?"
I looked incredulously at Renee, too, at this point.
The story continues with the darling mother-daughter pair buying lingerie and women's magazines.
Oh, and just because Edward can't read BELLA'S mind, doesn't mean he can't read Renee's.
/wink
"Goodness, look at the time. You both must be tired, what with the time change and all. Bella, why don't you come help me finish up with the bed linens? I want to show you something."

I looked at Edward helplessly. His face was scrunched up into a tight smirk, trying to hold in another bout of laughter. I was going to kill him when I finally got him alone.

Renée was lying about needing help. She already had the guest bedroom fixed up for us with the covers turned down. I noticed that the sheets didn't match the pillowcases, and the duvet cover was on backwards. Everything smelled strangely of dishwasher detergent.

She was digging in the drawer of the nightstand beside the bed, muttering to herself. "Now where did I put those things? Oh, here they are. You should always have these, just in case." She handed me several foil packets, and I stared down at them in horror. "These are condoms. Have they taught you about these in school?"

Downstairs, Edward howled with laughter.

Renée heard him and blinked at the doorway in confusion. "You don't think he heard me, do you? But he's all the way downstairs."

"H-he must be on his cell phone," I explained rather hastily.
Too funny.
Then, Bella decides to read up on her "How to Please Your Man"-type articles in Cosmo. You know, those attempts at bringing you new sexual information that never really tell you anything you don't know. Like "Ten Places He Wants You To Touch"– gee, his balls, really?
Anyway, this article leads Bella step by step in her seduction of Edward, and it's very hot.
He chuckled deep in his chest, and I felt it through the entire length of my body. "I was just wondering … because I don't want to mess up this lovely little nightgown … if I might remove it?"

"Mmmm…"

He must have taken that as a yes. He started at the thin straps, lifting his head to kiss the pulse racing in my throat as he slipped the gown from my shoulders and pushed it to my waist.

He stared down at me quite frankly, eyes dark and hungry. He lowered his head and kissed a nipple as he had before, brushing his tongue across the tip of it so lightly, it was as if only his breath had touched me. I trembled beneath him in expectation, willing to beg if I had to, but unable to remember how to speak. He took his time about it, but eventually he showed me pity.

"Beautiful…" he breathed, just a whisper against my flesh. Parting his lips against me, he took my nipple into his mouth and curled his tongue slowly around it. It was as if he'd taken an ice cube to me and somehow found a way to infuse lightning into it. I cried out as my back arched upwards on its own accord.

He reached up and clamped a hand over my mouth, stifling my cries so Renée wouldn't hear. And so I had no outlet. I stared up at the ceiling helplessly, eyes swimming with pleasure. Heat was building up in my abdomen, threatening to boil over at any second.

Edward chose that moment to finally lower his body down onto mine, nestling his narrow hips between my thighs. Whether he meant it to be or not, it proved to be my undoing. I ground my pelvis against his hard body once, twice, then exploded into a toe-curling climax. Thank goodness Edward had the foresight to cover my mouth; I would have never been able to keep the resulting scream at bay.

I have no idea how much time passed, but when I finally peeled my lethargic eyes apart, Edward was staring at me in amazement. "Well," he mused. "That was an unexpected response."
I don't want to spoil any more for you, but I will tell you that the ending is really clever. Anyways, I hope you enjoy this fun and sexy romp as much as I did.
And I hope you enjoyed the fact that I just called it a "romp".

Like this post?
Subscribe to our feed!