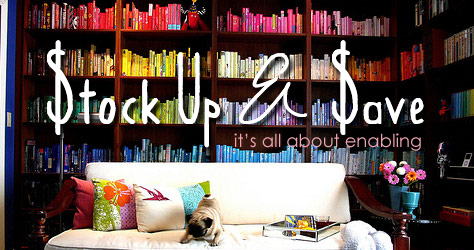 A couple of weeks ago, we told you about an awesome sale on Starcrossed by Josephine Angelini. It's only 99 cents until May 29, which is the date Dreamless debuts. We're always looking for good deals on books and thought you might like to know about them, too.
Why are we telling you this? We already let you know in our disclosure statement that we make a small percentage from the sale if you purchase something from amazon using our link. It doesn't cost extra for you, and it helps us pay for things like site maintenance and postage on giveaways (including our massive amazing Birthday giveaway that you should enter right now). Though we'd love it if you support the Fictionators through the use of our amazon associate link, that's not why we're letting you know about these deals.
These are books that are on sale and that we personally either have read or want to read. We'd want someone else to tell us if stuff we loved was on sale. This isn't going to be a regular feature or anything like that. We'll just let you know when we come across great deals, like these:
.99
Starcrossed by Josephine Angelini

Why we want it: Hell yes, we're still talking about this one. Caren really liked it, and you can't beat this price with a stick. Trust–everyone's going to be talking about this series later this month and you'll kick yourself if you don't take advantage of this deal. Check it out on goodreads and buy it on amazon.
What a Boy Wants by Nyrae Dawn

Why we want it: Okay ya'll. Read this part of the summary:

Courtesy of watching his mom's relationships, Sebastian Hawkins knows what girls need to do to get a guy. He has what he considers a PHD in hooking up. When he needs extra cash for a car, Sebastian starts up an online venture as The Hook-up Doctor, to anonymously help girls land the guy of their dreams. Of course, his services don't offer a happily-ever-after guarantee. He's seen firsthand getting together never means staying together.

And then he falls in love…

With the last girl he would expect…

Totally not in his game plan.

And at only 99 cents, how can we resist himthat? Check it out on goodreads and buy it on amazon.
$1.99
Fallen (Guardian Trilogy #1) by Laury Falter

Why we want it: Kate picked these books up on a whim back in January and found the whole series to be surprisingly fresh and unique, something pretty hard to find in the "YA angel genre". But really, the world here is just fantastic, and she quickly fell in love with the two main characters, Maggie and Eran. In fact, she *really* fell in love with Eran. He's this awesome mix of sweet and hot and just bad ass. And Maggie is a great female protag. The series is the author's first and it's self-published, so there are a few editing flubs, but all in all, it's a great and fun little series. Let's put it this way: she loved enough that she's already re-read it and she pounced on the author's newest series, Residue.
Check it out on goodreads and buy it on amazon.
Ruling Passion (Drake Chronicles #1-3) by Alyxandra Harvey

Why we want it: This is a set of three books: My Love Lies Bleeding, Blood Feud, and Out for Blood, about a family of royal vampires. There are two more books in the series, and for this price, we don't mind trying out the series. Check it out on goodreads and buy it on amazon.
$2.99
Because of Low (Sea Breeze #2) by Abbi Glines

Why we want it: This is the sequel to Breathe (which is only $4.99 right now). The whole series looks really cute and has been on Kassiah's TBR list for awhile.
Check it out on goodreads and buy it on amazon.
The DUFF by Kody Keplinger

Why we want it: This book is the reason today's list got started. Kass was looking it up for our giveaway, saw that it was on sale for less than $3 *eep!* and wanted to tell absolutely everyone to buy it RTFN. Did you read Caren's review? Did you see when Kassiah flailed all over the place about this book? If you only buy one book on this list, Fictionees, let it be this one. Trust, you don't want to miss out on Wesley Rush. OMG let's do a #readalong!

Check it out on goodreads and buy it on amazon.
Epic Fail by Claire LaZebnik

Why we want it: It's a modern take on Pride and Prejudice. While nothing can ever live up to that, a contemporary retelling should be fun. Plus, the cover is so cute! Check it out on goodreads and buy it on amazon.
L.A. Candy by Lauren Conrad

Why we want it: We (and when we say we, we mean Kass) don't know a whole lot about this book. The cover is pretty. latest book seems to be super popular. And it's on sale. We wanted to include it in case any of you were thinking about it and wanted to save some moolah. Check it out on goodreads and buy it on amazon.
Sophie & Carter by Chelsea Fine

Why we want it: Kass wants it because the cover is pretty. Really, we love BFFs to more stories and this one looks sweet. Reading the reviews makes it look kinda angsty, too. Check it out on goodreads and buy it on amazon.
Tempting the Best Man by J. Lynn

Why we want it: Best Friends to more? Love that. Plus, this one's adult, Fictionees. We want it because it looks fun. And hot. And because Jaime Arkin gave it five stars. ♥ Check it out on goodreads and buy it on amazon.
Don't forget that you can also still pre-order Fated by Alyson Noël and get a free pair of Feather Earrings. Do you like when we tell you about these deals? If you've read any of these, let us know your favorites. After all, it's all about enabling

ETA:I'm adding this awesome Kindle Fire cover that I found today (May 24) because it's only $6.99. I ordered it for my daughter and thought you might like to know about it. There are several colors available.

Like this post?
Subscribe to our feed!