http://www.fanfiction.net/s/5111035/1/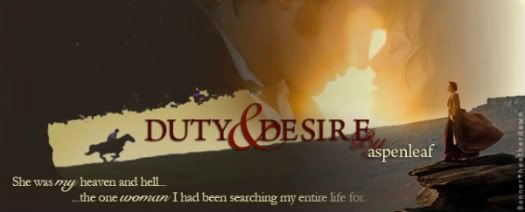 Official Description: Edward Masen was brought up in a world where responsibility to your family and class was everything. Tired of the endless pursuits of women he becomes more and more jaded. That is until; he meets his match…..
–
JAustenLover says: Once upon a time, I went on a quest to satisfy my craving for more information about the characters in the four books I had just finished reading in one intense, sleep deprived week. Characters that were in part based on one of my all time favorite books, Pride and Prejudice, written by Jane Austen in 1813.
That said, it seems awfully appropriate that I am here to review and recommend a story written by the lovely Aspenleaf that takes us on an incredible journey back to the world of early nineteenth century England with an adaptation of Austen's novel featuring Twi canon characters. This is not a simple re-telling of Pride and Prejudice. Aspen has added two additional themes to the story, as represented by the title, Duty and Desire and presented it from EPOV. The, er, 'Desire' is what earns this story an 'M' rating. In my opinion, Aspen has succeeded in creating magic. Her dialogue, imagery, and characterizations do an incredible job of blending the stories in such a way you are left thinking there is no one better to play Mr. Darcy than Edward. Bella, in the role of Elizabeth Bennet, is quite a sight to behold. For anyone who ever wanted to see Bella give Edward a piece of her mind, here is your opportunity.
Rather than lay out the plot and spoil the fun for those of you who have not read Pride and Prejudice, I want to share a couple of my favorite passages from this work in process story. Consider them 'teasers':
The 'Prejudice':
"And then suddenly the horrible truth hit me like a boulder; she was Isabella Swan, and her family was unsuitable. I could not entertain any designs with her, much to my utter and complete disappointment. I bowed in greeting and then turned in a vain attempt to gain control over my scattered thoughts."
The 'Desire':
"Edward…Edward…"

I opened my eyes to a bright light. Looking around I found I was lying in my meadow at Pemberley, the soft grass at my back. I sat up to see where the voice was coming from when I heard musical laughter behind me. I turned to look behind me, but again there was nothing.

"Edward…" The voice was clearer and familiar.

I turned back, and looking straight ahead, I saw Isabella walking toward me. She looked like a wood nymph, with flowers crowning her hair. Her beautiful brown locks cascaded around her shoulders and onto her back and chest. She was wearing a simple white gown.

"Exquisite," I murmured.

She laughed again and stepped closer, within my reach.

I stood and stepped forward enveloping her in my arms.

"Say you will be mine, Isabella. I need you more than you will ever know."

"Yes, Edward. I am yours." She smiled as she looked into my face.

I bent my head down to kiss her lips."
The 'Pride':
"I will confess, I was surprised by your proposal. I expected an offer of a very different nature. I expected by your continued behavior that you wanted nothing more from me than to be your distraction, or worse, your mistress."

Oh my Lord, she thinks I want her as a mistress? I could not have her thinking such things.

"I am a gentleman, Madam; I would never do you the dishonor.

"Yes, dishonor, while we are on that subject. Honor bound? I could have demanded your honor the first day we met. However, I have always sworn I would only marry for love. Why would I marry a man who can barely justify his reasons for wanting me in the first place? If that was not reason enough to refuse you, I can scarcely think of one better."
I should note that this story can definitely be enjoyed without having read Pride and Prejudice. If you have read it, this is a MUST read. Hearing it told from Edward's point of view (Mr. Darcy) makes it all the more sublime. Come join me on the journey. You won't regret it!
Kassiah says: JAustenlover did a fantastic job teasing you with this story. I am not usually into historical-fics, but I am a Pride-and-Prejudice-Mr-Darcy-loving-h00r. Aspenleaf's Duty and Desire is insanely good. The dialogue and depth of emotion are staggering. I find myself holding my breath in anticipation, thought I think I know what's going to happen. I can't say enough about it; definitely check this story out!

Like this post?
Subscribe to our feed!