Official Description: Debutante Bella is planning to follow Dad's footsteps. A chance meeting at a stop light with a beautiful boy on a bicycle gives her a new outlook on life. Is she willing to risk living life to the fullest with this fascinating, but damaged, young man?

Carpe Diem.
So, I'm going out on a limb here and assuming that most everyone saw, or at least heard of Dead Poet's Society back in the late 80s. Carpe Diem, Seize the Day was the theme. Savage7289 has managed to work this theme into her newest fic, Judging Books, making it an effective mantra.
Judging Books tells the story of a High-Society Bella, about to finish her Master's and move into a key position in her father's company. She is approached and entranced by a younger, mentally challenged, yet highly functioning Edward. Their attraction is felt immediately and Bella forces herself to look beyond the tattoos and piercings to the direct and beguiling behavior that is Edward's modus operandi.
She discovers things about Edward that the average person doesn't know: a childhood injury and the resulting surgery that keeps him from being able to read, the loss of his parents in a plane crash soon after, and that despite his scorn of traditional society, he is quite shy and polite. Edward challenges her previously ingrained ideals openly and bluntly, forcing her to choose and make decisions based on her instincts, not her pre-conceived notions. He challengers her to seize the day with him and possibly find her true mate.
Despite their differences they discover love and realize that without the glare of the outside world, they can exist quite happily in their own little bubble. Soon however, the outside world they so adamantly eschew forces them to make the hard decisions. Judging Books reminds us that we must look deeper before finding the true worth of a person, and by doing so we just might discover our own.
Gah, this is one of those stories that just… I don't know, warms you up? Makes you smile. This Edward – I just want to… put him in my pocket and keep him safe. He's been through so much (too much, really), and it's taught him that you should say and do the things you want to now, because you never know if there will be a tomorrow…
It made him endearing and adorable and I couldn't help but love him to pieces. Of course the title of the story told me that in some fashion, one or the other of these characters was going to be judged by their cover. And we found out pretty soon just who that was…
I always figured groups of boys hanging out on the corner ranged from about fourteen to sixteen, but this one had to be out of high school. He had a couple of days' worth of stubble covering his cheeks and neck, unruly, brownish-red hair and intense, bright green eyes. His full bottom lip was adorned with a pair of thin silver hoops through the left side, and a matching hoop went through his eyebrow. Three more hung from the lobe of his right ear. There was some dark, swirling tattoo wrapping around his left arm, and something more colorful just peeking out of the collar of his T-shirt, but I couldn't make out the details of either design. There was a thin gold chain around his neck, the front of which was tucked into his shirt with the chain pulled tight at the front, the lump of a charm of some sort hiding underneath the fabric.

"Would you go to dinner with me?"

"Excuse me?" There was no way I had heard him right. I mean – guys with piercings and tattoos didn't walk up to women wearing suits and heels to ask them out for dinner.

"See, you're really, really pretty," he shrugged, twisting his hips a little and making the bicycle spin in a full circle before facing me again.
When they met, as a reader, I felt just as caught off guard as Bella did, but not gonna lie, I probably would have gone to dinner with him, too. Because while he looked young, and was riding a bicycle in ripped up jeans, I was still intrigued.
I don't want to say too much because I'm afraid I'll give things away that I don't want to spoil! You should definitely check this story out if you're looking for something short, sweet and enjoyable to read. You won't be disappointed!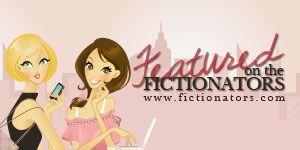 Like this post?
Subscribe to our feed!