http://www.fanfiction.net/s/5463683/1/The_Weight_of_Words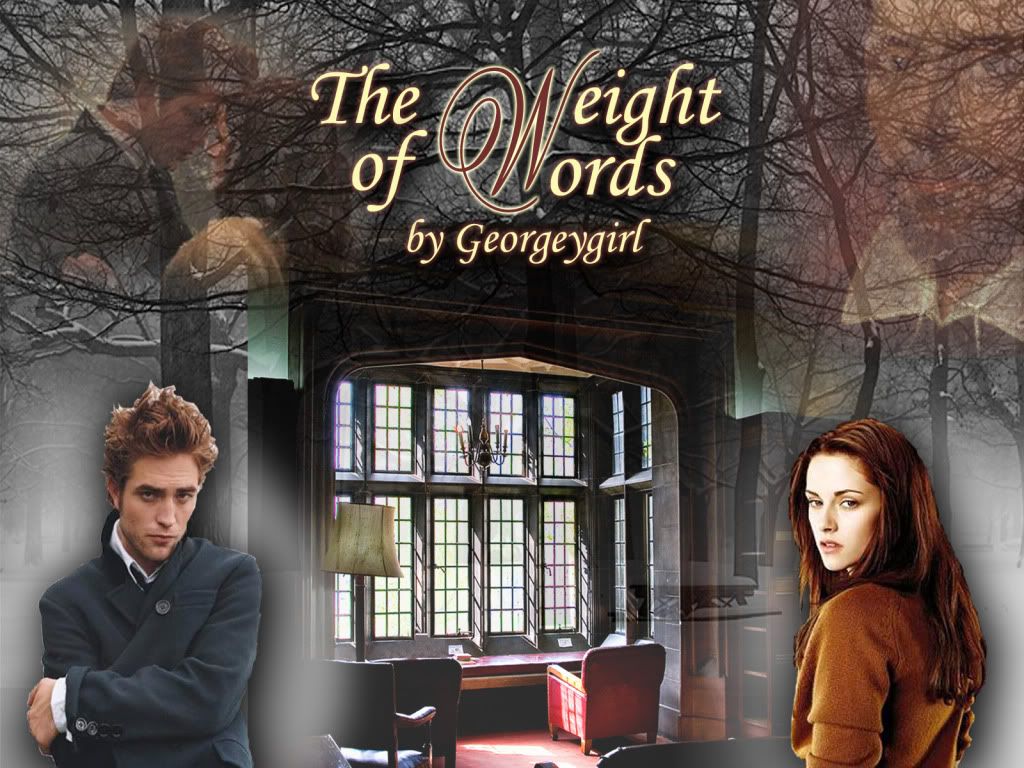 Official Description: Bella is in the final months as an undergrad student at U of T. When she meets the PhD candidate who will be the TA of her senior Shakespeare course, her world is turned on end . What do you do when the only man you want is the one you can't have?
–
ECYesPlease says: First of all, my thanks goes to ninapolitan for telling me about The Weight of Words. Her recs are always solid so I jumped into chapter 1 that very day she mentioned TWoW and I was completely sucked in. I love a forbidden love story and georgeygirl does an incredible job portraying her characters. Bella is a few months shy of her college graduation and Edward is the TA of her Shakespeare course. He has a bit of a mysterious past and this position is very significant to him. It's his second chance after a very unfortunate situation interrupted his life. Bella is very witty and smart. Her inner thoughts totally crack me up. I love her. She handles herself very well on the outside…yet she'll be thinking something like: "There was just something about him that spoke directly to my girly bits, you know?" (from chapter 4). I promise you'll adore this Bella. I know I do.
Moving on to Dr. Hobo, as Bella kindly refers to Edward in her head. This poor guy is so torn and at a constant battle with himself. He'll say one thing and do the complete opposite because he can't help himself. He's scruffy and always mussed up, but he has his reasons and you'll find it funny. Bella and Edward use Shakespeare as a sort of communication between each other and UNF, I love it. Don't let that make you think Edward is all girly, he's not. He's a total guy and that's what I love about him the most….and he definitely knows how to push Bella's buttons without even touching her. He also has a serious case of paranoia which is very understandable considering their circumstances. It's the perfect recipe for some incredibly strong UST as they try to function around each other…while literally counting down the days to graduation. There are the some bumps in the road that happen when they react irrationally. They're both in an extremely frustrating situation and each carry different weights on their shoulders…but they know that their potential together is worth it.
Considering all the secondary characters as well, I think they are wonderfully balanced. We get a lot of Edward and Bella with the perfect amount of scenes with the other people in their lives. The way they are connected is unique and refreshing. You'll love Jake as Bella's best friend and one of her roommates. They are very close, which only stirs Edward's jealous side even more. Rosalie is absolutely hilarious. Everyone has their place in the plot, but they're not overwhelming.
Now prepare yourselves…soon you'll all be signing up for snooker lessons from Edward….and you'll wish he would sext you in the library (I do). You'll melt if Edward and Bella's hands happen to brush against each other. I'm telling you, the UST is so strong.
Now hop to it! But take your time as you read so you can make it last longer. When I first started reading, Georgeygirl actually sent me a review reply and told me to slow down. LOL. Another bonus is that she seems to have a regular updating schedule, it's been every Sunday since I started reading.
Enjoy and leave gg some love!
AmeryMarie says: I love the Bard. Love him. However, I understand that he is not accessible for everyone, but the way Georgeygirl uses him in this story makes it hard to believe that. The girl has a seriously impressive grasp of his work, and the way she employs the use of not only the general themes, but also specific scenes and dialogue, proves it. To make me feel like even more of an uneducated, dilettante, she does all of it without being pretentious. Basically, to me, she is that girl that you really want to hate for being so perfect, but she is just too freaking nice to do so…which kinda makes you want to even more. Yeah. I mean that in the best possible way, btw.
This is a B/E fic. Bella is in college, and Edward is the gorgeous T.A. for her Topics in Shakespeare class. A whole handful of complications, misunderstandings, misfortune and bad luck – the kinds of things you would see in one of Bill's comedies, but without the cross-dressing – and they confess their attraction for one another.
Because T.A.'s, just like professors, aren't allowed to fraternize with students, it's got that forbidden, teacher/student thing going for it, only without the squickiness of Bella being involved with an older man whose also an authority figure. Complicating matters even more, is an incident in Edward's not so distant past that makes getting involved, or even the suspicion of being involved with a student in any way, extremely injurious to his academic and future professional careers. Of course, they can't stay away from each other, and so begin a clandestine non-affair. Yeah, 'cause they aren't getting it on, despite all they are risking. Edward and his damn morals.
The cloak and dagger nature of their relationship combined with the uncertainty that comes with any fledgling relationships and poor communication causes the misunderstandings to keep coming, but Georgeygirl doesn't drag that shit out unnecessarily. I have no clue where this story is going to go, or how much longer until it's finished but, as of this moment, I feel comfortable telling you to give it a read.
MF'er says: I could just kiss ninapolitan for her recommendation of TWoW! I believe there were panties and several unf's mentioned in regards to this Edward and of course, who isn't going to jump right on an unfy Edward? And oh, boy, was she right… Let me give you some hints: library, text messages and a motherfucking 'V' – if that doesn't get you, I believe that ECYesPlease and AmeryMarie have both given you ample reasons to go read, so what the heck are you waiting for?

Like this post?
Subscribe to our feed!