Official Description: She moves through her comfortable life without much passion, without much conviction. When she meets the man who can teach her the importance of treating transient life with respect and love, she has to take the grandest leap of faith she's ever faced.
"She's done playing safe. Done making small, cautious steps she defined as chances because she'd never tried them before. Chances aren't sure things, and isn't that what life is? Embracing that nothing is a sure thing?

She doesn't know.

But she's going to find out."
Don't you just love when characters have some big, great realization that life is more than just a day to day thing? That it's about taking chances, and seeing where the load less traveled will lead you. I do. Which is why I think y'all should read this fic.
I became a fan of Stella Luna Sky's writing after I read one of her one-shots a while ago. While I was rereading it a few weeks back, I clicked her profile to see what else she had written. And I found Grand Jeté, and have been in love ever since.
Bella is a college student and a dancer who knows she needs to branch out, but just isn't sure how to. Enter Edward, the mysterious guy who she's been noticing over the last few months in one of her classes. A chance smoke break leads to them talking, and the story sets off from there. There's more to Edward than just the surface though, as Bella finds out along the way.
I really like stories where the characters speak and have such a clear voice that you can't help but separate them from other stories. And that is so this story. The banter between Bella and Edward is great. It's funny and quick, and leaves you laughing (or sighing, or swooning, or choked up…). I really like this Bella—she doesn't take shit from Edward, and she gives him hell right back when he goes on pity party tangents. The premise is one that tugs at your heart strings, the writing is lovely, and the secondary characters are used in really great ways that add to the story rather than detract. I can't say enough good things about this fic. I hope you guys will read it and leave the author some love; it's one you shouldn't miss!
Grand Jeté is a fucking spectacular story. There's just no other way to phrase it, and you should stop whatever you're doing right now, and go read and review the story.
I don't even want to spoil a single thing about this story, because the way stella luna sky writes is so beautiful and not overdone, that I want you to experience it firsthand. There are no unnecessary words or descriptions here, as this story is currently 13 chapters and just over 52K words. SLS predicts the story will run only 20 chapters, something almost unheard of anymore in fic, but at the way it's pacing, it will come in right at novel-length.
The chapters are easy to read and a nice size, making this story a pleasure to sit down and dive into. There is some angst, but not without cause. This is one of the most real stories I've read, with real characters that you can identify with and fall in love with.
The lemons are there, but not overdone, and not lengthy. They suit the tone and feel of this story so perfectly, though. Each one is a drop of refreshment and connection between the characters, and doesn't feel added in to spice up the story or attract readers.
Bella isn't your somewhat typical weak female lead, and in fact, chapter 11 shows you all you need to know about her. She's brave, and fierce, and she's ready to fucking fight for what she wants (and needs) in her life, even when Edward is being … Edward.
This Edward also isn't your stereotypical feelings-gushing dude. He has feelings, he just isn't the most effusive person, and he's insecure. He has issues, and he knows it. He fears, and more than once, I was on the brink of tears while reading, so easily it was to identify with the feeling of new love and all of the insecurity wrapped up in it. Love doesn't generally come easily or fast, and making it work, it's not a snap of the fingers. It's work, and these two work at it. This line in chapter 10 is a great illustration of that:
"I wouldn't say it's easy," she counters, holding her hand out to him. "I would just say it's worth it."
This story is so beautiful and real, and the characters are so well written and touching. I'm so glad I dove in, and I can't wait to go back and re-read each chapter as I leave some review love.
It's easy in life to forget about what's important. We all get caught up in the minutiae and take things and people for granted. Grand Jeté is a heartwarming story about living life to the fullest, even when facing death.
Bella feels drawn to Edward in ways she doesn't understand. He's sexy and mysterious, and unnervingly straight forward. She wants to understand him, to really know him, but he won't let her in, despite wanting her more than he's ever wanted anyone before. He thinks he's protecting her because he doesn't feel free to love. Cancer has made him feel like loving him is an unfair thing to ask of someone.
"I didn't think anyone would ever want to love me," he whispers against her cheek. "The disease – it's not pretty. A relapse could happen any day. Any time. Right now, there could be cancer cells reforming. Love isn't easy to begin with, but when you put this into the equation, it can be impossible."
She shakes her head and kisses him again. She feels so fragile, like the air around them is going to shatter if she breathes too loudly. He groans quietly against her lips.
"This is going to sound cheesy… but it was never an option for me," she says quietly. "I knew, going into this, that I would love you. That you would change my life. That you would teach me."
"What could I teach you, Bella? You have everything at your fingertips. You're beautiful, healthy, really fucking intelligent. You're so… talented, with dancing and cooking and photography… and with people. You're gentle. You can handle anyone. Me, Emily, your mom – we're all different people, totally different. But you care for each of us, and never try to change us. You just – you just care. What can I teach you?"
She kisses him again because she can, because she's so overwhelmed with this moment. "You teach me why all of that is important."
Despite his fears, he eventually lets Bella in, and their relationship becomes intense and passionate. They laugh and love and even fight like any normal couple. She makes Edward feel alive for the first time in a long time, and he finally feels like he has a reason to fight. They're adorable together, and their sexy times leave you wanting more.
"Space invader," she grumbles, kicking off her flip-flops and sitting gracefully on bed. Far, far away from his body.
"No, no," he chides, and grabs at her foot. He yanks her in his direction, and she screeches. "Come here." He pats his chest.
He's so weird. So strange – doesn't he have any sense of chronological order? Date first, kiss second, make love third, cuddle in bed fourth.
"I have to know," he says as she crawls over that way, "if we fit together this way. If we don't… then what's the point?"
"Right," she murmurs, because she doesn't really understand, but she wants so much to be close to him. She lays her head to his chest, and it's like his heartbeat is right there, with no flesh covering its sound.
Even though they are happy, there is always more lurking under the surface. He's had to endure chemo and all the struggles that go along with it. But the last thing he wants is pity, and that makes him independent, almost to a fault. Neither of them wants to face the possibility that his disease could creep back into their lives at any time, even though it never really left. It is a part of him, always.
He shrugs after a moment. "One night, Alice and I talked about what being cured really means, and how many people never see that day. Do you want to know the statistics?"
She blanches. "No, I really don't."
"You need to know them. They aren't awful, but there's still about half a chance I'll die from the disease within the next five years."
"Edward, for god's sake," she snaps. "I said I didn't want to know."
"I don't know if I can really wrap my mind around it," he continues. "Not reaching my thirtieth birthday. Not watching my hair turn grey, or my eyes turn wrinkled in the corners. All these signs of aging that people take for granted, I want. Is that weird? I remember talking to this old man once, in the hospital. He had leukemia too, but a kind that really only occurs in senior citizens. He said to me, 'I don't understand plastic surgery. I wear these wrinkles like a badge of honor."
I had the hardest time picking quotes for this review, because there are too many great ones to narrow down. This story takes a very realistic look at moving past a horrible disease to live an enriched life. Don't let this difficult topic deter you from reading this wonderful story. It's not watered down, nor is it overly sappy and depressing. It's just an honest look at love and life, told by someone who has a renewed lease on life.
I promise you'll love this one.
What else can I say? I love this story, and I love this author. Read it, or you're missing out on something amazing and beautiful.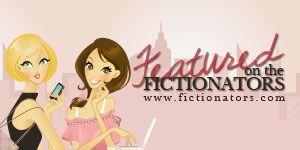 Like this post?
Subscribe to our feed!