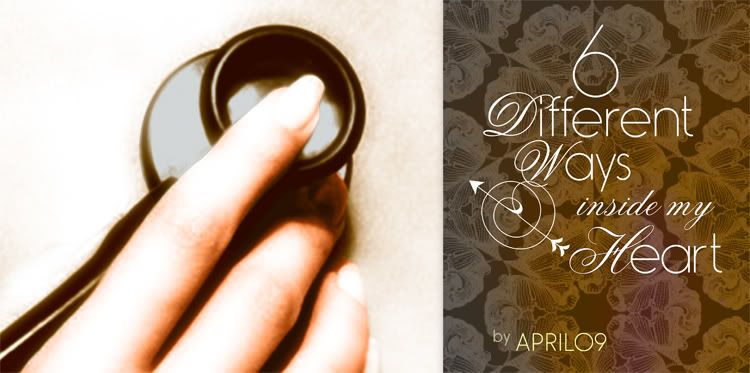 Official Description:
Bella & Edward meet when she is diagnosed with a life threatening disease & he is recovering from knee surgery. She confides her fears to him; he changes his life because of her. A journey through the confusion, awkwardness, pain & beauty of first love.
Word Count: 89,854

I don't have much luck with fic diving, so I rely on recommendations from others. I kept seeing teasers for this story on A Different Forest, but was hesitant to read it because it seemed very heartfail-ish. The teasers were so good, though. So good, that I started reading. I don't regret that decision.
Six Different Ways Inside My Heart is a high school fic with canon pairings. It is all BPOV. We learn right up front that Bella is sick. I was nervous because, I am a nurse, and it's hard reading a story where there is medical stuff and the author doesn't have a clue what they are talking about. But, april09-TW has a clue. She is a doctor.
Bella meets Edward during her hospitalization. He seems sort of familiar with things and it leads to Bella wondering if something more is wrong with him than what he says. But, that's not even really what the story is about. It's about a girl going through a difficult time. We can only imagine what it's like for her. The story is also about a boy, a boy who is drawn to this girl and wants to be there for her during this difficult time.
I like all of the characters. Bella is a sweet girl, just trying to make it through. Edward is the stuff of teenage girl dreams with a sweet personality to go along with it. The gang is all there, with a few different other characters. It is complete, which is a plus. She posted an epilogue, which wasn't really necessary, but oh man. I loved it!
I hope you give this story a shot, even with this horrible review, she really deserves more reviews than she's got.
I spent all day/night reading this lovely story yesterday, after seeing the banner and catching it in our rec list, I decided since it was complete that I wanted to give it a chance. I'm so glad I did. Poor april09 must think I'm crazy after the flaily reviews I sent to her, lol.
This is a story about beating the odds. Not just in life, but in love, too. It's about learning just how much you can handle and getting pushed to your breaking point and finally realizing that no matter how bad things get sometimes, they can and usually will, improve.
Bella is a sixteen year old high school student who, after some illness, discovers that she's suffering from leukemia. On her first night in the hospital, she meets Edward and there's just this instant connection between the two of them that will warm your heart. These two fall fast and hard and they experience some bumps along the way, but that's how life is sometimes, especially when you're a teenage girl suffering from cancer.
And in this case, Bella's lucky enough to find a boy who loves her through her illness. Who stays by her side through thick and thin and all the in betweens. Their story is beautiful and heartbreaking and I'm getting rambly, but I really loved it and I think you will, too. So go read it, and leave april09 some well deserved love!
This is one of those stories that I don't really understand why it's so under-appreciated. It's amazing. It starts off with Bella freaking out, thinking she might be pregnant:
This is it, I thought as I regained focus in the nurse's office. It was what I had been denying. I'm pregnant. Who gets pregnant the first time anyway? Who gets pregnant while using a condom? A condom that broke part way through a half ass attempt at losing my virginity with a guy I hardly knew and didn't really care about. That's what I get for wanting to get it over with.

But as I sat in the doctor's office-with my mom in the waiting room-waiting for the doctor to come back to me with the results of the pregnancy test, her words started to make more sense to me. If you're mature enough to have sex, then you're mature enough to talk to your parents about the pill. Except it didn't matter. Because I'm not going to have sex again. For now. And I'm not pregnant.
Turns out, she has leukemia. And she meets Edward in the hospital, where he is recovering from a knee injury.
This story has angst, but it's not overwhelming. It's realistic, and it's hopeful. What it is is a sweet story about two people who meet each other in the most unlikely of places and fall in love. It's complete, and I really hope you'll check it out!
[dcs_p]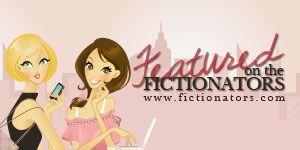 [/dcs_p]

Like this post?
Subscribe to our feed!