Are You Ready To Get Teased, Fictionees?
It's Monday, and you know what that means! Teaser Time! Missed the cutoff? NO PROBLEM! Feel free to leave your teaser in the comments of the post!
Just a reminder that if you find something new on Teaser Monday, please review and let the author know where you found their story!
Chapter 35 of A Love So Broken by mafaldac
Chapter 24 of Accidentally in Love by Missus T
Chapter 3 of Beginning Again by Bells Masen Cullen
Chapter 10 of Changing My Course by twilover76
Chapter 8 of Dress You Up by MazzyStarla
Chapter 16 of Driven To Distraction by AbstractSong101
Chapter 5 of Finding the Light by lilblackcloud
Chapter 6 of Fix You by chocaholic123
Chapter 8 of Hearing Damage by 12th mimic
Chapter 11 of Heavy by LolaCullenx
Chapter 20 of Illusion of Innocence by ttharman
Chapter 24 of Lumina by samrosey
Chapter 41 of Make Me Believe by Lost In Fanfiction
Chapter 61 of Monster by The.Bloody White.Wolfxoxo
Chapter 3 of One Day by MizzFictionista
Chapter 15 of The Choices We Make by Artemis Leaena
Chapter 24 of The Fantasy Basket by JenEsme
Chapter 9 of The House of Glass by LuckyStar815
Chapter 6 of The Man in the Long Black Coat by CrackedFic
Chapter 27 of The Other Way by Honeybeemeadows
Chapter 31 of The Search by Amber1983
Chapter 8 of Tip of the Spear by Robsmyyummy Cabanaboy
Chapter 16 of Yosemite Decimal by MagTwi78
Chapter 35 of A Love So Broken by mafaldac
Summary: A story about a love broken by life. By lies and betrayal. By accidents and stupidity. A story about one boy and one girl hitting the bottom and climbing their way back up. ExB/AH Written based on WitFit prompts beginning July 17, 2012 .
There were boxes everywhere. Newspaper. Garbage bags. I wiped my forehead with the sleeve of my shirt, looking around. Mixed in between the mess were my things, waiting to find a home in my new place.
My new place less than thirty feet from the only thing more tempting to me than alcohol could ever be.
Bella.
The same girl who now sat just on the edge of my kitchen counter, legs dangling. She looked like a little kid in one of those too-big chairs. Her hair was a mess, and the sweatshirt she wore hung loosely from one shoulder. Even in all her disarray, she was still the most beautiful thing I'd ever seen.
Catching me staring, she smiled at me, wiping down another dust covered glass as she lifted it from a box. "You're really here," she said.
I smiled right back. "I really am."
Chapter 24 of Accidentally in Love by Missus T
Summary: A personal ad for a fake fiancée leads to something they never expected. Two lonely souls discover that faking it might be the best thing that ever happened to them. ExB AH
Our first real argument, if you could call it that, was about her birthday and the fact that she wanted to pretend it didn't exist. At first I thought it was a bizarre vanity thing, something about her not wanting to get older, but as she rambled, I realized it was something else.
"Birthday's aren't a big deal for me. They're like, just another day. I mean, maybe it's a day where I'd get dessert when I wouldn't normally, but I don't need a party or anything."
"It's not really a party, just dinner with Ang and Garrett and your dad."
"My dad? Holy fuck, Edward! How did Charlie get involved in this?"
"Well, you see, when a man and a woman-"
She put her hand firmly over my mouth and rolled her eyes. "I know how Charlie was involved in that, but how did he get invited to this birthday, whatever, you have planned?"
"Oh, um," I ran my hand over the back of my neck, "I called him."
"You called the chief? And he didn't tell you how I felt about birthdays?"
"Well, he said you wouldn't want me to make a big deal out of it."
"And what did Angela tell you?"
"No parties."
"Seriously, two people warned you and you still planned something. I should call Charlie right now and tell him to shoot you."
"Overreact much, love? We're going to dinner. That's it."
She huffed, looking really pissed off. I stepped closer and put my arms around her. She stayed stiff for a second before she relaxed, putting her forehead on my chest.
"We won't even sing happy birthday," I whispered, trying to soothe her.
"Alright," she sighed, sounding defeated.
"You want to tell me why birthdays are taboo?" I ran my hands slowly up and down her back. "I mean, I'm planning to be around for a lot more of them and, just so you know, I love my birthday. So we should find some middle ground, you know?"
Find the author on Twitter: @Missus_T_
Chapter 3 of Beginning Again by Bells Masen Cullen
Summary: TH Bella is a young disabled woman that has had a hard life but has been able to learn to live with it. However, there's so much that a person can take and when the people she trusted most betray her, she makes a drastic decision in hopes of a better life
When I finally lifted my eyes, he was looking at me with an amused smile. Really? He almost kill me twice and he's amused? Well, maybe I was being overdramatic, but that didn't stop me. "You can't stop looking at that thing?" I said, giving him my best glare.
He laughed. "It helps me meet pretty girls," he said with a smirk and a wink. Shit! Don't blush, don't blush, don't blush! Instead I deepened my glare. He laughed again. "Look, I'll give you my number. Just call me when you get the shirt cleaned and I'll pay for it."
I was dumbfounded. "That isn't necessary," I managed to say, forgetting my angry façade, but he had already torn a piece of a carton of cigarettes and was writing on it.
"I have to go, but I hope to hear from you soon," he said, smiling while handed me the piece of paper.
Find the author on Twitter: @BellsMCullen09
Chapter 10 of Changing My Course by twilover76
Summary: Sparks fly when two strangers collide in the dark. Will Edward star in Bella's future, or will the politics of her life be too much for him to handle?
Before Rose could question me further, they called out for first class to board. We gathered our things and made our way onto the plane, settling down in the quiet cabin. I texted Edward to let him know our flight would be taking off soon and smiled at his answer.
Hurry. I miss you.
As soon as we were in the air, Rose turned to me. When she didn't talk, I raised my eyebrow at her. It was like she was hesitating to say something.
"What?"
It was odd for her to hold back with anything.
She pursed her lips, watching me for a few seconds and then turned away. "Nothing."
I blew out a gust of air. Now she was making me nervous.
"What?" I asked again.
"Shit," she muttered. "I told Emmett I'd never be able to keep it to myself."
Anxiety flared inside me. If it was something coming from Emmett, it probably had to do with Edward.
"Please, Rose. You can't not tell me now."
What could it be? Was this all a sham? Did Edward have other girls I didn't know about and lie to me? Was I being completely foolish falling for him?
Find the author on Twitter: @twilover76
Chapter 8 of Dress You Up by MazzyStarla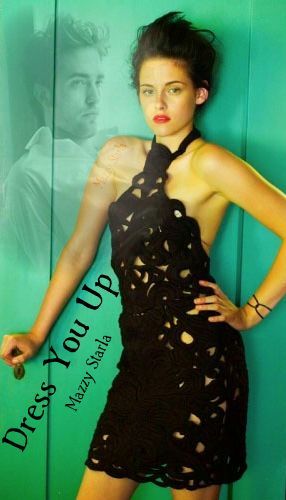 Summary: Bella's got everything she needs. Her own boutique, her best friend and the kind of life she always dreamed of. What happens when she finds something that she never knew she needed? All Human/Romance/Drama
Alice. Alice is at my door. Her eyes are darting back and forth between me and Edward with a serious look of "What The Fuckity Fuck."
Maybe I can just shut the door. He can run and hide and when I reopen it, she'll just think she's seeing things. That he was just a figment of her imagination.
This is a great idea!
As I begin to put my fail-proof plan into motion, the pizza guy walks up behind Alice.
"Um. Pizza delivery." The young guy smiles and starts to read from the bottom of the receipt. "It says here to not let the tall guy pay. He's a stripper and the money's been up his butt-crack."
Dear Lord baby Jesus. He wasn't supposed to read that out loud!! It was just supposed to deter him from taking his money!
The pizza guy looks up at Edward. "Dude. That's just wrong."
Alice tucks some bills in the guy's front pocket and takes the pizza from his hands. "Here. Keep the change."
Alice turns toward us.
"Alright you two. I've got your dinner. Now move out of my way and start talking."
Find the author on Twitter: @MazzyStarla
Chapter 16 of Driven To Distraction by AbstractSong101
Summary: You meet all kinds of people when you're a driver for a living. Carlisle thought he had seen it all, but when Edward Masen's eyes met his in the rear-view mirror, a whole new world opened up to him. Carlward slash. AH. Rated M for language and lemons.
I've been a bit lost since Edward disappeared through security an hour ago. I finished off the food that Emmett had packed up for us, even though I wasn't especially hungry. Edward has been texting me occasionally, but I think he's catching up with the work he missed over the last few days, so I haven't heard much from him.
Right on cue, my phone buzzes and, after checking around that no one was heading for my car, I pull it out of my pocket to read his message.
My good mood is ruined when I see that it's an email, and it's not from Edward.
To: Carlisle Cullen
From: Tanya Denali
Carlisle,
Care to explain to me exactly why I saw you kissing Edward Masen at Heathrow earlier today? You're free after your drop-off this afternoon. Come and see me.
Tanya
Oh, shit.
Chapter 5 of Finding the Light by lilblackcloud
Summary: He lives in the spotlight. She hides in the shadows. Can he help her find the light.
My excitement levels were rising now. I was still pinching myself at the fact that I had landed this job. It was the first thing that had gone right for me in the last four years.
As I dozed my thoughts drifted to Charlie, my dad. I hadn't seen him in three years and I missed him a lot. The last year I'd spent in Forks, the small town in Washington where I'd grown up, had been draining. It wasn't just Charlie's disappointment I had to deal with, the whole town had their own opinion on what had happened. There were the looks of pity from those who had supported me and the snickers and whispers from those who had outwardly supported me but secretly hoped I'd failed. I was going to be the hometown girl who made it but instead I had failed spectacularly.
Chapter 6 of Fix You by chocaholic123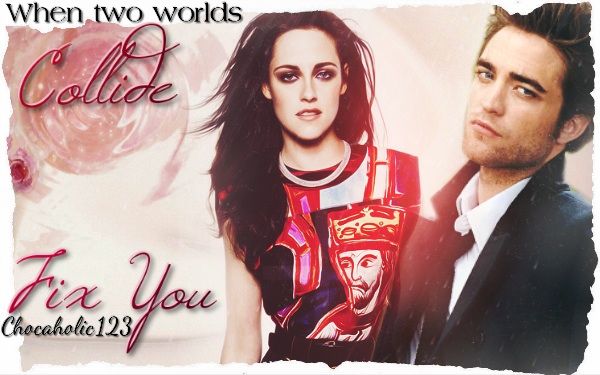 Summary: Two lives. Different worlds. The ripples from this twelve year collision course will last forever.
Tyler was still regarding her with interest, his pencil firmly wedged in between his teeth as he began to softly chew on it.
"Okay. Let's agree that if you score an interview with Fatal Limits, AND if you write a good enough article, then I'll put you on a three month trial." His smile now was genuine, making his face light up in a most frustratingly delicious way.
"Thank you!" Bella was incredulous, finding it hard to believe that out of nearly a hundred applicants, she had been given a trial. She felt like doing a little celebration dance.
"I'll warn you now; I'm a pretty hard taskmaster. I've been known to make grown men cry with my editing. I don't take any bullshit, and if you're after an easy ride, then this isn't the job for you."
She looked back at Tyler, taking in his serious face. His deep blue eyes were open wide and his mouth was closed in a firm line. He had the expression of a man that didn't take any shit at all—bull or otherwise.
"I'm not after any kind of ride, thank you very much," Bella replied pithily, returning his stare with a piercing one of her own. "And a lot bigger men than you have tried, and failed, to make me cry."
"I'll take that as a challenge, then."
"Please do."
Find the author on Twitter: @chocaholic12345
Chapter 8 of Hearing Damage by 12th mimic
Summary: The Cullen's side of New Moon as seen through Carlisle in present time and Edwards diary eyes. We see Edward's attempt at tracking Victoria.
Crawling up behind her, I can smell the fear rolling off of her in the wind. Her breathing is so loud she does not hear my quiet stalking movements. I savour the moment; her frantic fear the only thing that has made me feel alive in months.
My teeth glisten from the venom that has now filled my mouth. My nostrils flare and fill with the scent of rosemary and mint and I feel the lust for revenge in the pit of my stomach.
Victoria. Must. Die.
Find the author on Twitter: @12th mimic
Chapter 11 of Heavy by LolaCullenx
Summary: Bella is sent to a therapeutic boarding school where she meets bad boy Edward. Sparks will fly, but can each overcome their past to move forward with their future?
I felt as if someone was watching me, so I looked up. Edward was standing at the opposite end of the aisle I was sitting in, smiling.
I quirked an eyebrow, "What are you smiling about?"
He leaned up against a shelf as he continued to smile, effectively making me squirm.
"I've never known what it's like to look at someone and just smile for no reason, until I met you," he said softly.
Stunned by his admission, I felt my body warm all over. I went to respond, but I was interrupted by a familiar voice.
"That's not true."
I looked to where Esme and my mom stood quietly. Esme took a step forward and looked between Edward and I, her eyes watery.
"You used to look at Lizzie like that. Any time you were in a room together, I would often catch you staring at her as she played. Of course, you would quickly look away if I ever caught you, but I knew. You loved her, just as you must love Bella."
I looked at Edward. His knuckles white, as he clutched a boot in one hand, his other hand trembled at his side. He wasn't looking at me, or Esme, but the pain that was ripping through his body was evident to us all. I got up and walked towards Edward, ignoring Renee's suggestion that we should check out the gallery across the street. Obviously, trying to give Esme and Edward a moment alone.
As I approached Edward, I could see out of the corner of my eye that Esme was watching us. She had tear-stained cheeks and I knew that, more than anything, she wanted to be the one comforting her son.
He was still staring off at some random point over my head, his jaw clenched. I brought my hand up and cupped his face. After a moment, he looked down at me. I could feel him trembling beneath my hand, and I could see the tears that threatened to spill over. I thought back to something Edward had said to me on the roof of the hotel our first day in Park City.
There's a war going on inside my mind.
It's not that I didn't believe those words before, but now I could see them to be true. My beautifully broken boy, indeed had a war going on inside of him. I took a deep breath as I tried to stay strong for him. I knew that he could overcome this, accept the situation for what it really was.
"It's okay," I whispered. He leaned into my hand and I heard Esme take a few steps toward us and grasp Edward's hand. His eyes darted between the both of us as he nodded.
"She's right, baby, everything's okay. It was never your fault—it will never be your fault," Esme promised.
Find the author on Twitter: @LolaCullenx
Chapter 20 of Illusion of Innocence by ttharman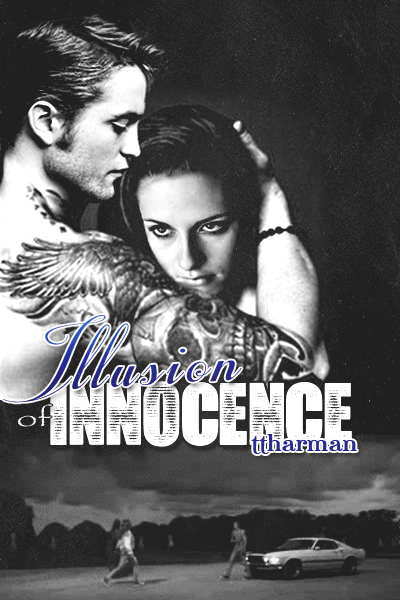 Summary: He thought she was innocent, she thought he hung the moon, together they are a force to be reckoned with. Can he be everything she wants and needs or will he break her heart along the way? Possessive/Tattward/Olderward Banner made by Soapy Mayhem. Written
Once we're all out of the limo, we make our way into the lobby. You can feel the excitement radiating off the three of us. As we turn to make our way to the Ball Room, I see Stefan standing in the corner. He smiles as soon as he notices me. Really? What the fuck does he not understand about I'm not interested in him? He must really be trying to get into Charlie's good graces. As for me though, even if he was the last guy on the face of this earth, I wouldn't give him the time of day.
"Stefan, what're you doing here? Waiting for someone?" I really hope he's not waiting for me.
"I'm waiting on you, of course. I told you Charlie asked me to accompany you to your prom," he smirks.
Oh for the love, I'm about to smack the shit out of him, for sure.
"Stefan, if I remember correctly I told you I was coming with my girlfriends and have no desire to be here with you. Now if you'll excuse me, I'll be on my way. I'm sorry you wasted a Saturday night coming here, but I've got no interest in you. And again, I have a boyfriend," I remind him.
"Yes, Charlie told me all about him. Older, tattoo artist, in rehab, right? Sounds like a winner to me," he says, rolling his eyes. "Why would you choose someone like that anyways, when you can have someone like me?" he questions.
"Excuse me, but I believe the lady said she has a boyfriend and she's asked that you leave her alone."
Find the author on Twitter: @ttharman
Chapter 24 of Lumina by samrosey
Summary: All he thinks about is her, and what he sees when he's with her; the lines, colouring her special, he sees the fast paced stutter of her flowing beauty and he smells her, wants to taste her. She thinks college is awkward, like a test before the actual stu
I want more though. I want his hips pressed to me, my legs wrapped around him. I want it all. I want him to undress me, I want him to see me. Not like before. Not like when he fell into my room. I want him to see me as if he's seeing me for the first time. And I want to see him. I want to go all the places I've never been, and then do it all again before I'm just a weak human, susceptible to stronger, more special, non-human things. I want to be able. I want to be in full working order.
I want Edward.
Take my clothes off. Just…take them off.
"Take them off."
"What?"
"I mean. Do you want to?" I grip the edge of his shirt as if it's my life boat.
"I want to." His words are like being at sea for months alone. I was just waiting, waiting for him to talk to me. Waiting for him to touch me. This day is the rest of my hope, and I'm using it all. Using it all up on him.
On this. On us.
"Okay, kiss me again." I beg him, and pull him back down. I imagine this is where his heart would be, beating against my own.
Find the author on Twitter: @samrosey
Chapter 41 of Make Me Believe by Lost In Fanfiction

Summary: Can Bella and Edward help each other believe in love, that they deserve love? Or have the trials and tragedies of life made this impossible? A story of misunderstandings, friendship, tragedy, perseverance and love. All human, canon pairings, HEA, Sexy ti
"Edward, I almost lost you just a few weeks ago. It's going to be really hard for me to leave you guys, even for a few days, but it's something I have to do. Please believe me when I say that I'll be back, because I will."
I go up on my tiptoes and kiss the side of his mouth. My hands fist in his hair and pull him down to me.
His body slowly relaxes into mine and he responds to my kisses.
When we separate, he goes back to washing the dishes, and I finish clearing the table. I can see him nod before he speaks.
"This will be good. I've got some photography shoots and edits to catch up on. It will be good," he says like he's trying to convince himself it's true.
It is good, he just doesn't know it yet.
Find the author on Twitter: @lostinff
Chapter 61 of Monster by The.Bloody White.Wolfxoxo
Summary: I'm nothing but a monster fed with flaming fury and running with bloody hands. There's no hope left until one harmless glance chances logic and binds two enemies together in a twist of fate. Can the escape from this hell be found in an irresistible dimple
Rockets of color release searing whistles as they shoot into the inky-black sky, puncturing the black with their brilliant colors—crimson, purple, gold, and green. The bursts of colors explode in bursts of raining sparks, lighting up the night sky. Masculine hoots and hollers rate each display while the girls giggle and gasp behind them. I study a line of yellow as it rises before opening with a boom. The sprinkle of its heat scatters across the sky before fading to black.
Taking advantage of the brief moment of darkness, I slip into the forest, unnoticed by the group of half-naked people shouting drunkenly to the sky as another round starts.
I start at a jog. One, two. One, two. Two, one. One, two. The air—stuffy weight in my lungs—enters and exits my body in a steady rythym. It's not long before the voices mute and the bass pounding from the radio fades into nothing.
After a good half-mile, the trees flicker. A massive oak stutters before me, diving into a crooked lean before snapping back into place in the blink of an eye. My breaths are thick and dry in my throat. My bare feet whisper across the brittle ground below as I start to build speed. A knot clenches in my stomach, tight and solid.
And then, out of nowhere, the world's engulfed in flames.
Find the author on Twitter: @TBWW1
Chapter 3 of One Day by MizzFictionista
Summary: Each new day brings some inspiration into the life of travel writer Edward Cullen, but today, he just might find his muse. (AU/AH and rated M for language)
It's been about half an hour since takeoff. I've got my iTouch on, bopping my head to the music.
In the seat next to me, Bella is curled up and fast asleep, her legs tucked against her petite frame beneath a blanket. Her expression is serene, leading me to briefly wonder what she could be dreaming of.
Just then, one of my favorite tunes comes on. I can't keep myself from lip-syncing along.
Been all over the world,
Done a little bit of everything
Little bit of everywhere With a little bit of everyone.
All the girls I've been with,
Things I've seen, it takes much to impress
But sure enough your glow
It makes your soul stand up from all the rest…
Something pokes at my arm. I turn in Bella's direction to find her wide awake with a hand over her mouth, trying to stifle her laughter. "I enjoy hearing your voice, Edward, but unless you want to give this entire plane a free concert, I suggest you pipe down."
Fuck. This is why I shouldn't be allowed in public.
"Um," I say, floundering for some sort of response. "Thanks, I think?"
Bella nods, giggling. "No problem."
I need to divert her attention. "So you like my voice, huh?" I ask, smirking over at her.
She avoids my question, resorting to hiding under the blanket on her lap. Mission accomplished.
"Come out, come out, wherever you are."
"Fine," Bella grumbles, reluctantly showing her face again. "By the way, what song was that? Those were some interesting lyrics."
Uh-oh. "How much did you hear?" I'm hoping it was just the last few words.
"I believe it started along the lines of 'all the girls I've been with'? Yep, sounds right. Do tell."
Now it's Bella's turn to smirk while I wish I could bury myself in a hole somewhere.
Chapter 15 of The Choices We Make by Artemis Leaena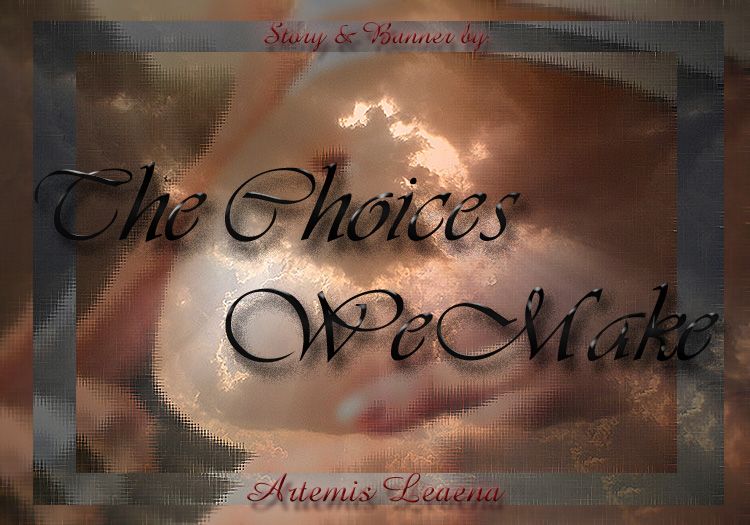 Summary: If he could go back in time & change the one decision that shattered Bella's faith, trust, & love, Edward would do it in a heartbeat. All he can do now, though, is live with the decisions he's made & try to earn back what he blindly threw away. A story ab
Alice started rubbing my back and making comforting little shushing noises, probably trying to soothe both my ire and my screaming muscles. I had to wonder if her ministrations were more for my benefit or hers as she angrily tapped something out on her touch screen phone. I felt her tiny body shaking beside me and knew that if I looked up, I'd see murderous rage written all over her face. Like me, she took insults to herself quite well, but she'd fuck a bitch up if they messed with her friends or family. Alice Cullen was small, but she was vicious.
I was finally able to breathe again without fear of retching and reached for some toilet paper to wipe away the tears and drool coating my face so I could rasp out, "I know what you're thinking, Alice, but they're petty, jealous jackasses, and they can't hurt me any more than I already am."
"This doesn't hurt just you, Bella. You're family, and when you mess with one of us, you mess with all of us. That fucking bitch is going to learn what it means to mess with a Cullen!"
"Ali, while I appreciate the sentiment …" and I did, to the point of wanting to hug the shit out of her, but fear of sudden movements put the kibosh on that desire "… I feel the need to point out an obvious glitch in your mafia-esque vendetta logic."
"What's that, sweetie?"
Deep breath … okay, not too deep, I didn't want to hurl again. "I'm not a Cullen," I whispered, afraid that if I said it any louder it would rip a bigger hole in my chest than it had when still floating in my head.
Find the author on Twitter: @artemisleaena
Chapter 24 of The Fantasy Basket by JenEsme
Summary: This is a story of what happens AFTER the happily ever after. It is the story of two women, two marriages, both on the brink of breakdown. It follows Bella who is struggling with the throes of new parenthood, a new house, and a new attitude from her once-
"Mama, wook! T-wex!"
As the kids played happily with all their new loot, it was the adults' turn to open gifts. We'd drawn names and agreed to exchange things that were 'handmade or heartfelt' since we all had so much already. None of us needed any more useless expensive toys, neckties, or scented lotion. I had sneaked around with my camera earlier in the week and asked Edward to climb up the tree that held his childhood treehouse to help make the perfect gift for Esme. As she lifted the familiar looking basket out of a tissue paper-laden gift bag, she blinked a few times and looked my way.
"What is this, Bella?" she asked, nervously. I grinned at Edward. We'd succeeded in flustering the unflappable Esme Cullen! I took the recognizable velvet bag out of the basket and handed it to her.
"Why don't you see what's in here?"
Please come have a look and leave a review to let me know what you think.
Find the author on Twitter: @JenEsmeFF
Chapter 9 of The House of Glass by LuckyStar815
Summary: When you're seventeen, you believe in Prince Charming. When you're twenty-four, you're tired of waiting for him and try to settle for less. When you're thirty, you know for sure he doesn't exist.
My alarm woke me up, but as I groped for my iPhone, it was silent. I stared at it, blinking, until there was a movement and a muffled groan behind me and the annoying sound stopped. He kissed my shoulder before rolling out of bed. "It's too early. Sleep."
I opened my eyes again at eight to find him standing in front of the mirror, tightening his slim black tie. He was ready to start the busy day – his suit sharp, his shirt crisp, his hair slicked back.
"Morning," I said.
"Morning." He smiled, bending over to kiss me. His scent was so fresh and clean. "How are you feeling?"
"Much better. It only hurts if I move."
"This is why you need rest. I've left Advil here for you." He pointed at the bottle sitting on the nightstand next to the glass of water. "I'll pick up your prescriptions on my way home. I have some meetings I can't cancel but I'll be back as soon as I can."
I frowned. "Please don't change your plans because of me. I'll be fine, you don't need to-"
"Don't forget to apply an ice pack every hour," he cut me short with a grim look. "Breakfast is in the kitchen. There are take-out menus on the counter; order something for lunch. I gotta go. Call me should you need anything."
I reached for his perfectly knotted tie and straightened it. "Thank you. Good luck at your meetings."
He sighed and pressed his lips to mine again, careful as if he was afraid something neither of us was able to handle would transpire.
Find the author on Twitter: @LuckyStar815
Chapter 6 of The Man in the Long Black Coat by CrackedFic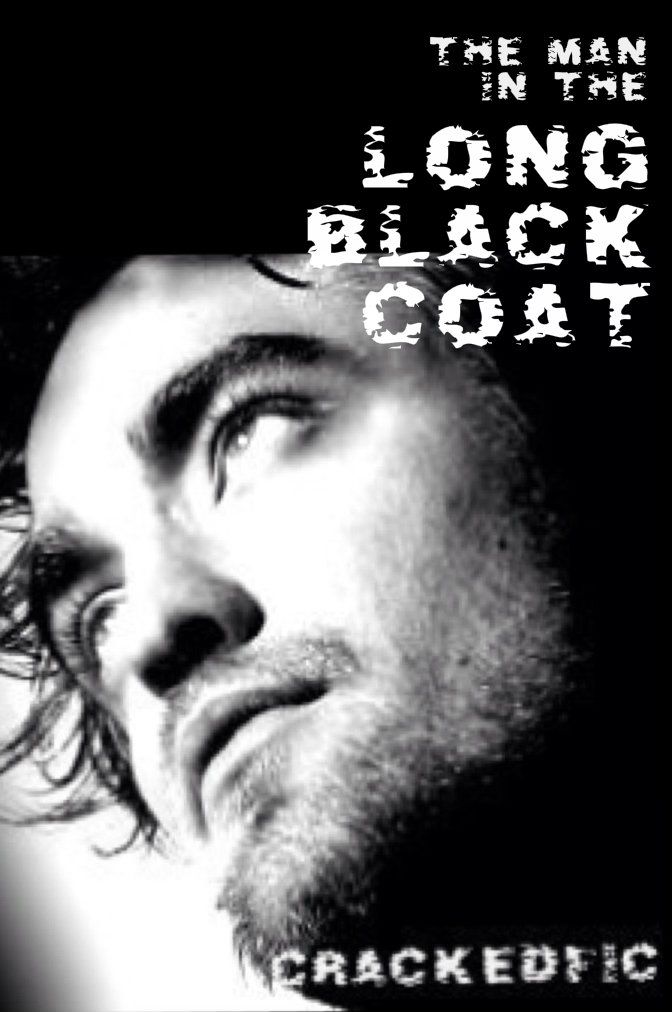 Summary: A confident man with a dark secret arrives in town, ready to make it his new playplace. But when he runs into a teenage girl with a secret of her own, his confidence is shaken, and his life may never be the same again. Vampward. Darkward.
She turned to walk back into the house, but Charlie reached out and put his hand on her shoulder. "Don't go," he said. "Have a cup of coffee with me. We should talk."
Bella rolled her eyes and shoved her hands into the pockets of her tattered jeans. She looked toward Edward hiding in the woods and smiled.
"Sure, Charlie. I'll have some coffee. What is it you want to know?"
She sat down with her back to Edward and crossed her legs at the ankles.
"This guy," Charlie said. "The tall man I saw you dancing with last night. Who is he?"
"His name's Edward," she said. "He's new in town. I don't know. I just thought. I was just trying to be nice."
"Bella." Charlie sighed.
He got up and began to pace. He waved his arms about.
"That doesn't make any sense," he said. "You spend the whole of your senior year in high school studiously avoiding making any friends. You drop out two days after your eighteenth birthday, a month shy of graduation. You don't talk to anyone about why, including your own father. And yet I'm supposed to believe that some stranger comes to town and you've all of a sudden become the Forks Welcoming Committee?"
Bella said nothing. She stared into her coffee cup. Blinked. Got up from her chair and walked to the railing. She stared at Edward. He smiled, despite himself.
"Listen, Bella," Charlie said. "I know it's been hard these last couple of years. Your mother -"
"Don't you dare," she said, turning around. She balled her hands into fists. "You have no right to talk about her. You're the one who abandoned her. You're the one who let that asshole into her life."
Find the author on Twitter: @CrackedFic
Chapter 27 of The Other Way by Honeybeemeadows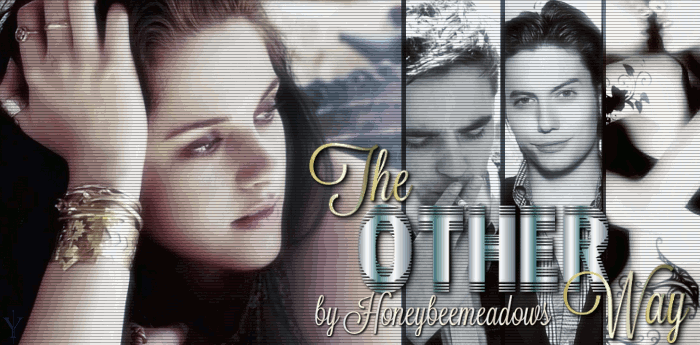 Summary: Men, like jewels, require a setting. Even if the setting is the last place you'd expect.
Rated M for language, lemons and other fun stuff.
"Bukowski," I exhaled and she nodded. "Why isn't it in English?" I was still tracing the font, scripted text that looked like something pulled off an ancient stone found buried under a sand dune in the desert somewhere. Alice shrugged beneath me, huffing under her breath and biting her lip before she spoke.
"So that no one can read it."
I gulped, sure in an instant just who she didn't want reading it. "Edward?" I asked softly, still tracing her ribs and resisting the urge to press my lips to every word, head full of the images they conjured. Heart picking up speed as Edward's elephants found themselves entwined with Alice's peacock feathers. Dandelion seeds dancing together and a cityscape mashed up against mother nature.
The white dove landing softly on the intricately tiled floor of a mosque.
"Don't tell him," she whispered.
"I think he's in love with you," I swallowed painfully. "He won't admit it."
"He's just convinced that he owes me his life. He gets confused." Alice shook her head, a healthy gust of air billowing into the villa, adding a dram of much needed lavender buzz to my clenched stomach and reeling head.
"Does he owe you?" I asked. The way he looked at her with something behind his eyes that bordered up on religious reverence was really only explained by a moment tainted by a battle over that very thin line between life and death. A moment on the brink that bonded them forever. As though they'd spent centuries with each other, lifetimes rolled over and over and over until they started blending together and maybe she'd saved his life in each and every one.
Chapter 31 of The Search by Amber1983
Summary: When Bella Swan moves to London to escape her painful and humiliating past her new life is knocked off its axis by her charismatic and ambitious boss, Edward Cullen. Can Eddie unravel Bella's secrets and get what he wants without revealing his own demons.
We barely make it up the stairs before Edward presses me against the wall, already lifting my shirt and sliding his fingers over my satin bra.
My heart begins to race when he finds all the achingly familiar spots on my throat, neck and chest. I could never have imagined our physical connection would remain so potent after this long but if anything, the more we have each other the more we want each other.
He tugs my top over my head while I quickly undo his shirt buttons, impatience eventually causing him to pull that over his head too. He drags me close, pressing my bare breasts tightly to his skin and we both release a small hum of pleasure.
I run my tongue along the skin of his shoulder and slip my hand down to find his pants already undone. He groans my name when I slip my hand inside and find him needy and pulsing.
"So fucking hard. All for me?" I ask him in a teasing voice, just to drive him crazy.
"Always, baby," he grunts against my throat and presses my hand closer onto him.
Find the author on Twitter: @AmbersPen
Chapter 8 of Tip of the Spear by Robsmyyummy Cabanaboy
Summary: The "tip of the spear" – in the military, they're the front line; the initial attack that draws first blood. As a CACO in the USMC, Capt. Masen delivers that leading blow, too. He's accepted that love & commitment aren't for him…until she opens the door.
"Bella!" I call out after her. "You sure?"
As she's being led to the stage, she looks back at me, "Of course I'm sure, this is gonna be awesome!"
My head is bobbing and weaving all over the place trying to spot Bella in the crowd up on the stage, but it's no use. I think she disappeared behind a screen they have set up on either side of the platform. About five minutes pass and the drum beats start again as three men and three women selected from the audience– Bella included– come take their places along the front of the stage.
I get the feeling that the costume was optional, considering how much of their original outfits four of the six people are still wearing, but knowing Bella, she wanted to participate fully which is why she's standing in front of over a hundred people in nothing but a skimpy grass skirt, some kind of leafy bra, a leafy crown and leafy anklets. Her hair is down and flowing and she has the brightest smile on her face…she outshines them all. She's beyond stunning. And showing off way too much skin in the presence of these half-drunk luau goers, as far as I'm concerned.
Find the author on Twitter: @RobsmyyummyCBoy
Chapter 16 of Yosemite Decimal by MagTwi78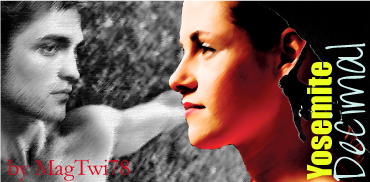 Summary: Bella has nailed her dream job as Seattle Times' newest Outdoors writer. She's found new friends and is settling into life in her new city. Things are coming together for her, but an arrogant stranger sends her reeling at every turn. Will her new life be
Resisting the temptation to dash over and throw myself at him, I walk with feigned calm toward the booth and hope along the way that my knees will stop shaking. As the conversation where he shared his history with Garrett was pivotal in our relationship, I have a feeling this will be the same.
The waitress is standing beside him. She's holding a tray daintily in one hand; her hip is jauntily pushed out. The other arm is wrapped around her waist—well, more like her ribcage. She looks like she's trying to push her boobs up as high as she can. She smiles sickly-sweet at him, a tongue ring teasing along her teeth. Her efforts are wasted—he's not even looking at her.
"Edward?" I interrupt her blatant eye-fucking, my words coming out breathily. The waitress gives me a fleeting glance as Edward snaps his head up to look at me.
He smiles, almost as if he's laughing a little. He orders a drink, and I do the same. When he holds out his hand, indicating that I should sit, I slip into the booth and let myself sink into the leather. I immediately spot a half-empty pitcher of water and clean glass on the table and pour as I speak.
"I'm so sorry I'm late." My voice rasps, and I quickly drain the water glass and refill it. "Thanks for meeting me," I tell him earnestly. "I didn't want to have this conversation over the phone."
Find the author on Twitter: @magtwi78
Thank you to the authors who participated this week!
If you'd like to be included in next week's post please fill out our web form no later than Sunday evening by Midnight… There are no restrictions, if you have something you want to tease, we're happy to share it with our readers (we ask that you keep it under 500 words, though). Teasers will be listed in alphabetical order according to the name of the fic.