Are You Ready To Get Teased, Fictionees?

Morning Fictionees!
Just a reminder that if you find something new on Teaser Monday, please review and let the author know where you found their story!
Chapter 20 of A Beautiful Mess by Livie79
Chapter 10 of A Dove's Cry by karenec
Chapter 12 of A Wilderland by phoegurl
Chapter 10 of Aloha 'Oe by NoelleSeven
Chapter 8 of Any Way the Wind Blows by Miss Baby
Chapter 2 of Between the Soil & the Sky by xNimC
Chapter 2 of C'est La Vie by busybrie
Chapter 4 of Celebrity, Deconstructed by AmoreBella88
Chapter 3 of Cutlass by TKegl
Chapter 23 of Dear Maggie by Jenny0719
Chapter 1 of Detente by SqueakyZorro
Chapter 9 of Dirty Laundry in My Diary by ttharman
Chapter 10 of Disregarded Consequence by SweetLovinCullen
Chapter 3 of EXPOSURE by RandomCran & MOG
Chapter 25 of Following Faith by Jen328
Chapter 11 of Full Circle by JenRar
Chapter 39 of Going Under by sparklnfade
Chapter 10 of In the Woods by Oprah Winfrey
Chapter 20 of Little Buttons by ChocolateLover82
Chapter 1 of Long Way from Heaven by KristenLynn
Chapter 2 of Metal Pointe (BPOV) by bnjwl
Chapter 0 of Metal Pointe (EPOV) by theonlykyla
Chapter 31 of Mind the Gap by LuckyStar815
Chapter 2 of Nine Days to Eternity by Artemis Leaena
Chapter 16 of Not Going There by luckyirishtart
Chapter 4 of Original Six by CullenBug
Chapter 7 of Red Kryptonite by SaritaDreaming
Chapter 68 of Squeeze My Lemon by Dirty Cheeky Monkeys
Chapter 24 of Stolen Dreams by Shasta53
Chapter 30 of The Breakers by les16
Chapter 14 of The First Time by todream
Chapter 14 of The Search by Amber1983
Chapter 12 of When the Dust Settles by She is Divine
Chapter 45 of Words with Friends by Nolebucgrl
Chapter 36 of Words with Strangers by Nolebucgrl
Chapter 20 of A Beautiful Mess by Livie79
Summary: Tormented by the past, Bella struggles to find her self worth. A musician at heart, her soul lies on the lines of her paper. A would be one night stand turns her world upside down. Can Bella see past her imagined flaws and allow someone to love her? ExB
I heard a giggle behind me and spun around to find Bella leaning against the door frame, a wide smile on her face. She was so fucking beautiful when she smiled. Especially that smile, my smile, the one that never seemed to leave her face these days.
"Oh you think it's funny do you?" I sneered playfully. She looked around the room blankly.
"Who me?" She feigned innocence, her eyes wide with mock surprise. I narrowed mine, a smirk pulling at the corner of my mouth as I took a step in her direction. Her jaw snapped shut, her eyes glinting as real surprise took over her features.
"Yes you," I taunted lowly, moving across the kitchen until I was directly in front of her, my chest brushing against hers. I reached for her chin, tugging her face up as I dipped my head, touching my lips to hers. I slid my fingers around to cradle the back of her neck, my other arm winding around her waist, pulling her flush against me.
She sighed against my lips, her arms reaching around me until her fingers were locked together and pressing between my shoulder blades. I nipped her bottom lip before molding my lips to hers again, my tongue softly stroking hers. The way it felt when I kissed her was like nothing I'd ever experienced before, it was like we were made to kiss only each other, forever. I loved kissing her, touching her. I loved everything about her.
"At least they have their clothes on this time," Maggie joked, causing Bella and I to jerk apart. Alec laughed, wrapping his arms around Maggie from behind before leaning down and kissing the side of her neck, both of them grinning at us.
Find the author on Twitter: @livieliv79
Chapter 10 of A Dove's Cry by karenec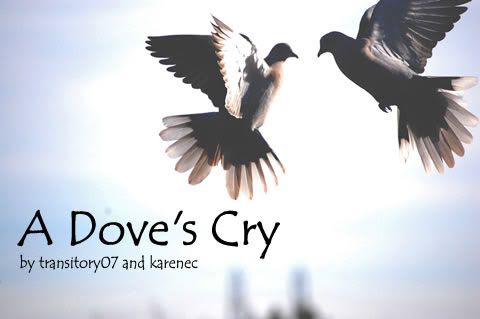 Summary: Bella's innocence was taken from her at a young age; the secret has dominated her life ever since. When she meets a reluctant vampire, Bella decides to ask his help in seeking revenge.
"You were asking about Alice," I prompted once the waitress had gone off to fill Bella's dessert order.
"Oh, it wasn't important." Bella directed her gaze at the tabletop, her hand coming up to fiddle with her hair.
I recognized her tells well enough by now to know Bella was keeping something from me. I didn't know her well enough, however, to feel comfortable pressing her for the information.
Find the author on Twitter: @karenecwriter
Chapter 12 of A Wilderland by phoegurl
Summary: Bella Swan has a destiny. A hunter of the dark, she was always meant for the world they tried to rip away from her. When her past refuses to stay past she finds herself in the fight for her life. AU-New Moon. Things have changed.
Neither of them said anything for a long time. Bella searched his face for anger or disgust but could not find them. He looked very deeply sad and even though she knew it would make her hurt more, she just wanted him to hold her. She wondered whether it would be worth it, just to feel his arms around her once more. Just once.
"He was trying to hurt you." He said, topaz eyes burning into brown.
"That doesn't excuse anything." She replied wearily. "He didn't deserve to … he didn't deserve that just because I was angry. I had so much power over him and I … I abused it. I thought, just because I'm strong that … that I can use that strength whenever … against normal … I don't have the right to make that kind of decision."
Bella felt hysteria in her chest and took deep breaths to stop the tears in her throat. She wished she had the spoon back, just so she had something to distract herself with.
As though he could read her mind, Edward stood up and turned the kettle on. The kitchen was so small that she could reach out and touch him. She wondered whether she could ever be near him and not want to touch him. That he was so close, but so far, made it almost impossible to concentrate on not crying.
Chapter 10 of Aloha 'Oe by NoelleSeven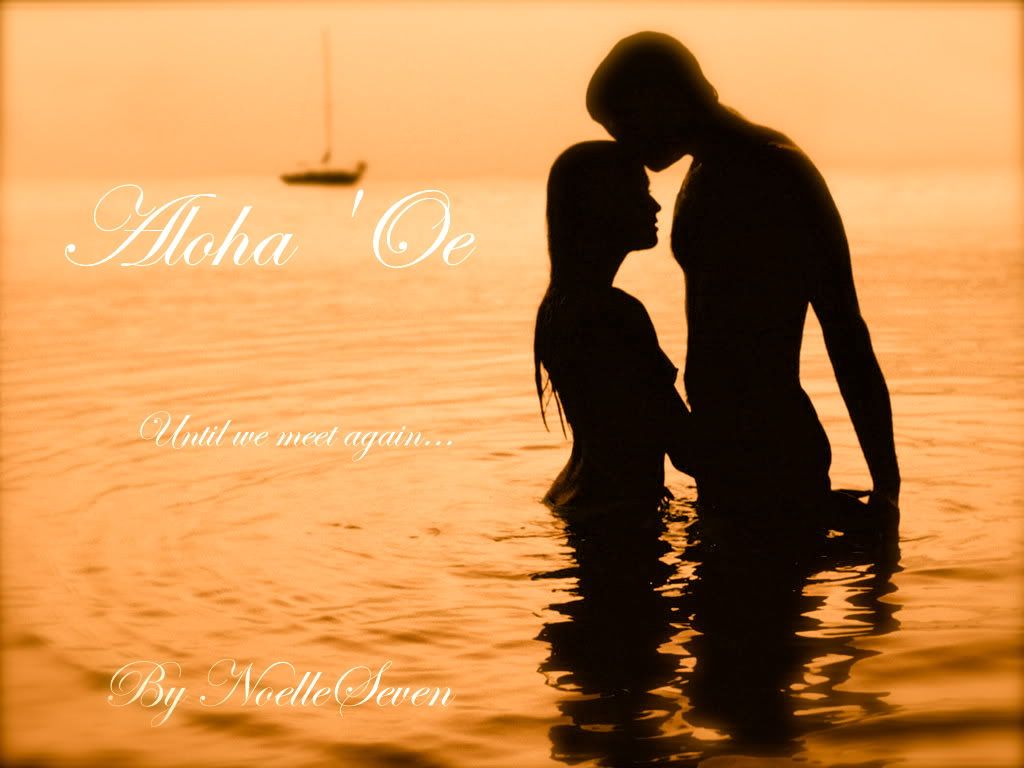 Summary: This is a story about growing up, and the people who come in and out of our lives. Some are gone forever, and others only until we meet again.
His father was telling the truth. Bella was gone. She didn't want to go with Edward, and she didn't want to be with him.
Edward staggered backwards, leaning heavily against the car. He was all alone. There was no one else. He was alone. His cell phone buzzed in his palm, and Edward allowed himself the small amount of hope that it might be Bella, but he clenched his eyes shut when he saw that the message was from Sam.
"When are you and Bella planning on getting here? Got everything ready for you two."
His fest clenched so hard, Edward thought he was going to break his phone. He typed out a hasty reply, the words on his phone screen sinking into his brain and his heart.
"Bella's not coming. It's just me. I'll be there in two days. Getting a new phone. Text you when I get it."
Before he could think twice about it, Edward jumped into his car and took off, making his way towards the roads that would lead him down to California. As he passed all of the familiar sights of Forks, his foot pushed down harder on the gas. He needed to get out of here. He needed to escape. As he sped past the Welcome to Forks sign, he clenched his teeth together and gripped the steering wheel as tight as he could. There was nothing welcome about Forks, and there never would be.
It was then that Edward Masen vowed that he would never return to Forks again.
Find the author on Twitter: @NoelleSeven
Chapter 8 of Any Way the Wind Blows by Miss Baby
Summary: When fate brings a jaded young doctor to the small town of Forks, he expects nothing out of his stay but a shot at redemption. Little does he know that a new patient and a mysterious young woman will turn his exile into the experience of a lifetime.
"Ouch!" a young man who'd just sauntered into the bar, wearing filthy jeans and a well-worn Mariners cap grunted, rubbing his ears in reaction to Rachel's high-pitched squeal. "You may want to check your voice, sis. I think even bats were able to hear you."
"Oh, shush!" Rachel playfully scolded, whacking him square in the chest as she tugged him towards their booth. "Edward, this is my brother Jake. Jake, this is Edward."
"You're the new doc around town, ain't ya?" he asked, plopping down next to him with a brass that made Edward's hackles rise almost immediately. "Izzy told me about you."
Find the author on Twitter: @missbaby25
Chapter 2 of Between the Soil & the Sky by xNimC
Summary: In between dreams and reality, there is a place where happiness lies. One must not make the mistake of relying on one or the other. As the ultimate daydreamer, Bella Swan learns this lesson the hard way. A lesson in the form of Edward Cullen, her new best friend.
He's tall, that much is certain. He's got legs that could go on for days, stretched out under the seat in front of him. Bella takes in the dark blue sweatshirt and the jeans, appreciating his physique. Her eyes land on his lips, how they're pursed in a concentrated pout as he reads.
He's actually pretty easy on the eyes, she decides. A little too pale and slightly dorky, but he's fairly attractive nonetheless.
The light streaming in from the window next to them bounces off his hair, a color that reminds her of burnt embers in a fireplace.
Finally, Bella's subject of observation stops reading with a sigh. He nods to himself and then leans back in the chair, pushing his glasses up.
Then, he stiffens. It appears that he can feel her eyes on him, and he can probably even see her smiling at him from his periphery.
He looks at her from the corner of his eye, keeping absolutely still as though he's the prey to her predator.
After a beat, he finally turns his head.
Bella sees the color of his eyes for the first time; deep, vibrant green, the color of dampened leaves.
It reminds her of one of her most favorite nail polish colors- a rich viridian called Wandering Vine.
The boy raises his brows so that they disappear into the bronze flop on his forehead. There's recognition in his eyes, though most of it is overpowered by surprise and a great deal of wariness.
"Hi," Bella says cheerfully.
Find the author on Twitter: @xNimC
Chapter 2 of C'est La Vie by busybrie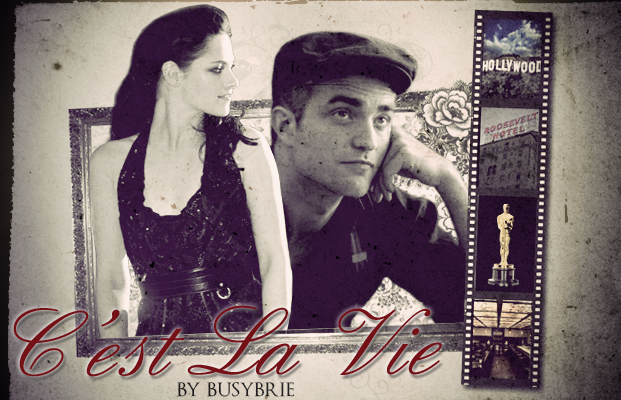 Summary: A continuation of my Age of Edward contest entry. Hollywood, 1929: Actress Bella Swan's life seems perfect, but something is missing. When she meets musician Edward Cullen in a hotel speakeasy, she discovers love despite all boundaries, but can it survive?
As I turned down Melrose Avenue, looking at the boarded up hotel windows and pubs, I finally saw someone sitting at the end of the street. He was perched on a wooden crate, plucking the strings of a well-worn guitar, and as I drew closer, I could hear the soft humming under his breath. He didn't seem to mind the rain as it fell upon his shoulders, the fedora doing nothing to shield his face from the drizzle. Rain droplets rang as they plinked into a tin cup by his ankles. As I approached him, clearing my throat to gain his attention, he looked up in surprise.
"You shouldn't be out in this weather," he finally said, his fingers moving up and down the guitar neck rhythmically. I also knew I shouldn't be speaking to a strange man on my own, but as I looked at the pocket watch again, I knew I didn't have another option. "You'll catch cold."
I sighed. "Could you direct me to the Mayfair Hotel? I'm in a bit of a hurry."
I listened carefully as he directed me what sounded like four or five blocks to the east, and I wondered if I should even bother. He moved to speak once more, but at the mentioning of the last direction, I quickly hurried back from where I'd come, giving him a halfhearted wave goodbye. I didn't have time for idle chatter, and if I moved quickly enough, I would have just enough time to reach the hotel before the auditions closed entirely.
Find the author on Twitter: @busybrie06
Chapter 4 of Celebrity, Deconstructed by AmoreBella88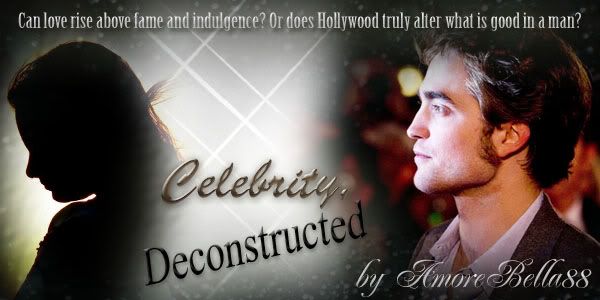 Summary: Edward Masen and Bella Swan, high school sweethearts who married young, have their lives turned upside down when Edward is "discovered". Celebrity, tragedy, alcohol and excess dissolve what seems to be indestructible… or does it? Can love rise above fame and indulgence? Or does Hollywood truly alter what is good in a man?
Bella hurried into the shower, and in record time she was out with a towel wrapped around her body and one around her head. When Rosalie and Alice came into her room, they found Bella with her hands on her hips in front of the closet door with a confused look on her face.
"Alice will do your hair and make-up while I find something for you to wear. Now, do you want something that screams, 'Oh Edward, do me against your Porsche?' or 'I'm so innocent all of my panties are white?'" Rose asked as she spun Bella to face her.
"Isn't there something in the middle?" Bella didn't want to be either of those, she just wanted Edward to notice her, maybe take her on a date at some point.
"Of course there is. But the underlying message here, Izzy, is what kind of impression do you want Edward to have of you?" Alice confirmed as she stepped up to the clueless girl.
"I- I think, uh… I'm not a hoochie?" Bella stuttered.
"White panties it is. Go beautify, I'll figure out your clothes," Rose said.
Find the author on Twitter: @AmoreBella88
Summary: Isabella Swan is certain notorious pirate, Edward Cullen, murdered her father and stole his prized cutlass. Out for revenge, she sneaks onto his ship, but Captain Cullen claims she has the wrong man. A tale of the search for truth…and treasure of course.
"No, you don't understand!" Isabella struggled against the strong hands holding her. "Please, allow me to explain!"
The two guards ignored her pleas, pausing only to strip her father's cutlass from her body before forcing her through a low doorway. She cast one last frantic look over her shoulder, but Commodore Hunter had turned away to address a member of his crew.
Isabella fought a surge of panic and tears. Her wet clothes dripped on the wooden floors as she stumbled down the narrow hallway, and she shivered, her muscles still aching after her long swim. Only desperation had kept her arms reaching, her legs kicking, as she fought against the crashing waves, the crown ship disappearing then reappearing as she topped every white-tipped crest. She'd thought the Intrepid would be her salvation. Instead, she'd been treated like a common criminal.
The commodore had looked down his nose at her distastefully as she heaved and panted, trying to catch her breath.
"Please…please…" she managed to gasp out, before ceremoniously falling to her knees and vomiting on the deck. Wiping the cuff of her shirt across her mouth, Isabella stood on shaky legs only to face Hunter's icy blue eyes, no longer curious, but hard and cold. It only took a moment for Isabella to determine the reason why. Behind him stood the passengers of the Enchanted Lady, including the woman who'd pled to keep her mother's necklace. She pointed a shaking finger at Isabella in accusation, her head held high.
"He's a thief," she said in a firm voice, "one of the pirates who besieged us, the murderous monsters!"
Hunter had spared not a moment ordering that Isabella be thrown in chains.
"The crown does not tolerate piracy," he snarled at her.
"No…I'm not…" Isabella's heart raced, and the words in her defense would not form on her lips. She still could not catch her breath.
"Fear not. You will be treated fairly and will stand trial," Hunter assured her blandly. "But if found guilty, be assured you will hang."
Find the author on Twitter: @Tkegl
Chapter 23 of Dear Maggie by Jenny0719
Summary: A heart leads Bella back home to Forks… and to the brother of the woman who donated it.
"We don't have to do that again," I told him.
His eyes shot to mine as he stopped mid-step, full of fire. "The fuck we don't," he snarled.
"Wh- What?"
The pacing resumed. "I'm not letting that shit win, Bella."
I blinked. Over and over again as I tried to figure out if I'd heard him correctly or not.
"You're sure?"
He gave me a hard look.
I took that as a yes.
Find the author on Twitter: @JT040708
Chapter 1 of Detente by SqueakyZorro
Summary: Edward and Rosalie had shared a mutual antipathy since Carlisle changed her and brought her home. When their bickering threatened to ruin the first real vacation he and Esme had ever taken, the couple decided they'd had enough: they left the bickering kids by themselves on a deserted island. A whole month with nothing to do but keep from ripping each other apart. Rated M for lemons.
"This is all your fault! If you would just stay out of my head for five minutes, you wouldn't hear things you didn't like."
I knew responding in kind wouldn't help anything, but I couldn't stop myself. "I can't just turn it off, Rosalie. It doesn't work that way."
"Well, no one said you had to comment—I was keeping my thoughts to myself, trying to be polite, but no!" she spat. "Mr. Edward I-Know-Everything Cullen couldn't possibly withhold his wisdom! Wisdom—hah!"
"Your idea was completely ridiculous! How could you seriously consider—"
"Who said I was seriously considering anything? I was just thinking, Edward—just letting my thoughts flow. And it was none of your business anyway."
She stalked off down the beach before suddenly halting. Whirling to face me once more, she extended one foot and drew a line in the sand.
"There. Pretend that line goes through the whole island. You stay on your side, and I'll stay on mine. That's the only way we'll both survive this month with all of our limbs attached—not that I care about ripping yours off, but it would be nice for Carlisle not to find us in need of a doctor when he and Esme pick us up."
I started to respond, but she raised a hand imperiously, cutting me off before running swiftly out of sight.
Find the author on Twitter: @SqueakyZorro
Chapter 9 of Dirty Laundry in My Diary by ttharman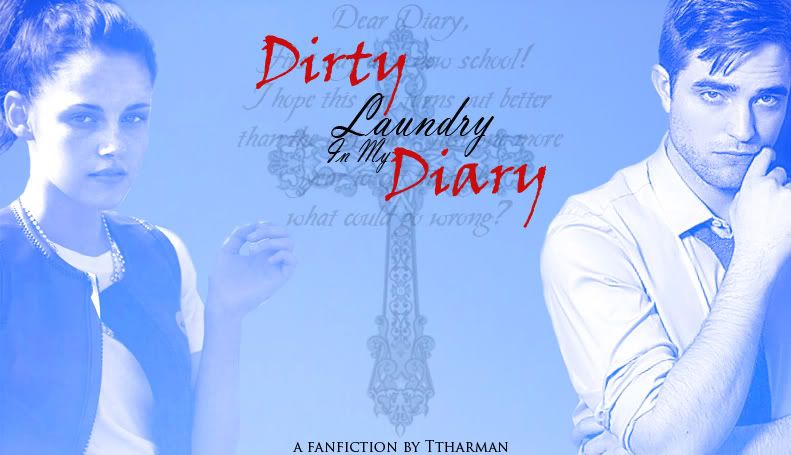 " width="50%" />
Summary: Dear Diary-First day at a new school! I hope this one turns out better than the last one. Just one more year to get through, what could go wrong?
"Jessica, I have nothing to say to you that has not already been said. So you can stop with all of this BS that you are trying to put out there, okay?" I said to her as I looked her in the eye, trying to be as brave as possible. I wasn't scared of her or anything like that. I was losing my patience and I knew my temper would get the best of me if I let it.
Find the author on Twitter: @ttharman
Chapter 10 of Disregarded Consequence by SweetLovinCullen
Summary: Edward's walls go up the moment he feels an intense attraction to Bella. He fights against it and Bella but ultimately he gives in and the consequence will change both their lives forever. But will it be for the better or worse? Rated M. Tattward. ExB. AH
I felt Edward tense beside me and I knew what I'd see if I looked up at him. "Fuck, Bella. If that's what you're trying to achieve you can go now. I can't… I can't open up about that shit so just fucking drop it, okay?"
Tears smarted my eyes and I jumped up, ignoring Edward's calls as I headed to the bathroom, locking the door behind me. I sat against it hugging my knees. It seemed that even when he was trying he could be cold.
I buried my head on my knees and closed my eyes, trying to stop the tears that were trying to escape.
"Bella, open the door."
Edward's fists banged against the wood but I didn't move. I couldn't, not after that. "Bella, please. Come out."
Find the author on Twitter: @Ninnie_89
Chapter 3 of EXPOSURE by RandomCran & MOG
Summary: Edward Masen is a talented but struggling actor. Bella Swan is a successful but bashful Hollywood publicist. When sparks fly on a Sci-Fi thriller movie set, Bella finds herself putting out fires and straddling something bigger than headlines. AU/AH/OOC.
Jasper and Edward took the elevator to the top floor. Edward had never been in a hotel like the Four Seasons before and it didn't occur to Jasper that Esme would have been the one to vacate the lavish suite.
When Carlisle opened the door, revealing an intoxicated smile and a star-struck chippie wearing a bedazzled cowboy hat in the background, Jasper knew that he had made an error.
"Oh. Hello, Carlisle." Jasper never lied to his actors unless they were on camera. "I'm looking for Esme."
"She's all the way down in 202. And what's he doing here?"
Jasper looked at Edward and back again. "He's with me, Carlisle." His tone suggested that it was explanation enough, but Cullen had a particular bone to pick with his choice of company.
"Did you know that while I was naked and stinging and frantically trying to wave over this guy and that hippie costumer of yours…they just waved back at me like we were passing each other in hot air balloons!" Carlisle waggled his fingers dramatically at Edward to accentuate his point.
Jasper smirked. He had not heard that part of the story, but finally understood why Alice was the first to lock her production trailer and disappear that afternoon. He made a mental note to complement her sometime in the future.
"I'm sorry about that, Mr. Cullen," Edward offered. "We couldn't tell what you were up to over there. If you wanted someone, why didn't you just call?"
"Because that bitch threw my phone in the toilet!" Carlisle's blasted.
Almost instantly, Edward felt his heart pounding and his nostrils flaring. His complete urge to immediately mash his fist into Carlisle's Beverly Hills nose was overwhelming…intoxicating. Instead, he allowed himself a few glorious gory visuals as Jasper sternly concluded the exchange.
"I want to see you and Esme on set, day after tomorrow at seven a.m., and believe me, if I'm not convinced that you two can work together BETTER than what I have seen so far, I will fold this production and go shoot my superhero movie."
Find the author on Twitter: @RandomCran
Chapter 25 of Following Faith by Jen328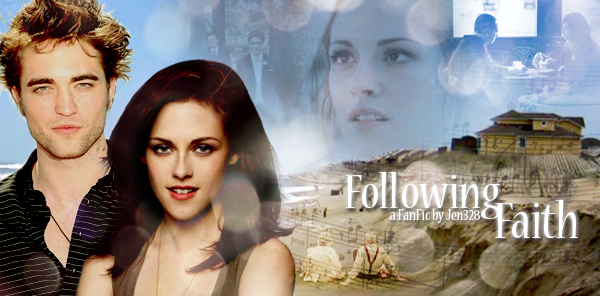 Summary: Leaving the rain behind, Bella starts over in a small, coastal town. One glimpse of her and Edward is lost. Is it love at first sight or something more? A story of risking your heart – risking it all – to discover what you had all along.
The countdown to Savannah began and on day seven, Edward caught Seth on his way from the store to his new apartment. He'd become the perfect tenant, insisting on paying rent now that he was working with Paul at his shop and hoping that once he had enough saved he could buy in as a full partner. He filled in at Change Your Tune when they were short-handed, so much so that Edward put him on payroll as a part-time employee.
"Hey Seth, you got a minute?" he called from his office, where he'd been holed up, focusing on paperwork before the trip.
"Sure, Edward, what's up?" Seth sat down, his brown eyes smiling, as usual.
"I need to ask you a question – well, not really a question, I guess…" Edward began awkwardly.
"Everything all right?" Seth asked mildly, curiosity in his voice.
"Yeah, I'm just not used to this. Listen, you're the closest family that Bella has. I know she's reconciled with Renee, but they're still in the beginnings of that – and well, you're her brother. And since her father's gone…"
"I'm not sure where you're going with this, man," Seth hedged.
"You know that Bella means the world to me, so I wanted to ask…"
Find the author on Twitter: @Jen_328
Chapter 11 of Full Circle by JenRar
Summary: Edward left Bella in New Moon to keep her safe. Not all monsters are immortal, and fate usually gets its way, no matter how hard you fight it. There is a baby in this fic, but no, it is not half vampire/half human. You will find out in the near future more about her. Rated M for a reason, including a bit of adult language and a lot of adult situations.
"Is it…" she started, before shaking her head and trying to stand up again.
Holding her firmly, I kept her in my lap and frowned. "Is it what, love?"
She sighed. "Is it easy for you? To stop, I mean."
Never letting go of her, I laughed ruefully. "It's easier in some ways, and harder in some ways," I admitted. Before she could scramble off my lap, I rushed to explain. "Before…my bloodlust and my worry about hurting you made stopping unavoidable. I wanted you as much then as I do now, but no matter how much I wanted to continue, I couldn't."
I took a deep breath before continuing. "Now, it's easier to stop, because I know we have eternity. There's no rush to do anything now before we can't anymore. But love, if you think it's easy?" I shook my head. "It's not. I want you…"—I huffed a laugh—"so fucking much, I can't stand it. I've spent a year and a half wanting you. And now, when I can actually do something about it, stopping is the hardest thing in the world. I can't… God, Bella, I can't explain how hard it was to stop just now. Even now, I can barely keep my hands off you."
Find the author on Twitter: @JenRar
Chapter 39 of Going Under by sparklnfade
Summary: It's been ten years since the summer Bella Swan's life changed. What will happen when she comes face to face with the reason for it? She went under once, will she go under again? AH ExB
Unconsciously, I lick my lips as I watch his hands rub sunscreen across his chest. The muscles in his arms tighten and flex and God, time has been really good to him.
Edward looks up and catches me staring, and I look away quickly even though I know I've been caught.
"Did you need some sunscreen?" he asks, and I can almost hear the smirk in his voice.
"I put some on when I went upstairs to change," I explain, my hands a little flaily. When I chance a look at him from the corner of my eye, I can see he's looking, too, and I hope he appreciates that I remember what purple does to him.
It always was his favorite…
Find the author on Twitter: @sparklnfade
Chapter 10 of In the Woods by Oprah Winfrey
Summary: Bella has a serious case of writer's block. A retreat to a gorgeous, isolated cabin in the mountains is just what she needs. The only problem? She's not alone and this mysterious, surly stranger is not looking for company. M for language and lemons. AU
Edward was right.
I suck at chopping wood. I make few valiant attempts, only narrowly missing my foot with the axe by mere inches. Wordlessly, Edward places his hand on the axe handle and takes the deadly instrument away from my grasp. I'm kind of mortified. There's no firewood left and I can't even manage this simple task. All those times I'd secretly spy on him, he made it look so effortless, natural, even sexy. As if the axe was just an extension of his well-muscled arms.
"We're going to freeze tonight," I tell him, apologetic.
"No we won't." He smirks at me. He wraps his good arm around my waist and pulls me close, placing a kiss on my lips. My distress is temporarily displaced. He's been kissing me all morning, but the newness hasn't worn off yet. I don't know if it ever will.
Chapter 20 of Little Buttons by ChocolateLover82
Summary: A fortunate encounter while wandering the city may lead Edward to realize that, perhaps, not everything is lost. But is he ready? AH, ExB.
"Okay, we'll kiss when we get back then." Before she moves away, I catch her in my arms.
"Don't you dare, I need my fix now. We won't be able to kiss like this there. Well, without making it into the papers, that is."
"Shut up." She laughs and looks even more beautiful like this. All ready for a party, but not caring about messing up her hair or anything else.
"But now that you asked, I did bring you something." I take the box out of my pocket.
"I saw it online the other day and I thought you'd like this, but you don't have to wear it if you don't want to, I mean maybe you have-"
"Edward, stop rambling and give me the damn box."
"Sorry. So bossy."
Rolling her eyes she opens it and giggles when she sees what I brought her.
"Just something for good luck."
Find the author on Twitter: @Choclover82
Chapter 1 of Long Way from Heaven by KristenLynn
Summary: Edward hates February 14th. When Emmett drags him to an anti-Valentine's Day party, a blast from the past might just turn Edward's least favorite day of the year into the best night of his life… AH/fun, fluff/EPOV
Valentine's Day sucks.
It's supposed to be this great Day of Love, but everyone knows that's a load of crap. It's really just a made-up holiday that was created solely for commercialism. Rumor has it that the greeting card companies and chocolate companies got together and conspired to create some fake holiday to boost sales.
I really don't give a shit why or how Valentine's Day came about. All I know is that I hate it.
I didn't always feel this way, but years of having bad things happen on this particular day have jaded me a bit. On Valentine's Days past, I've broken bones, failed tests, totaled cars, received college rejection letters, and even had my proposal of marriage turned down. All of this is why, at nine o'clock in the evening on Tuesday, February 14th, 2012, I'm lying on my bed, alone, and feeling rather depressed.
I didn't have a date. I didn't give or receive a card or gift. I didn't go out to dinner. I didn't pass go, and I definitely didn't collect $200.
This is the one day of the year that I've learned to just ignore. It's better to pretend it doesn't exist. Lay low and play it safe. Stay in.
So why the hell I agreed to go to a party with Emmett, I'll never understand.
Find the author on Twitter: @KristenLynn1121
Chapter 2 of Metal Pointe (BPOV) by bnjwl
Summary: Collab with theonlykyla PunkRockward and Ballerinella have known each other their whole lives, they want to love each other but many twists, turns and bad decisions stand between them. Is love enough? Rated M for drug use, adult language and lemons
The suggestions got more demanding the older we got. I think it was due in part to the fact that Ed and Elizabeth allowed Edward to express himself. His hair got longer and his music expanded to include genres of music that were outside Renee's comfort zone. Quite frankly it scared the hell out of me that I would one day lose Edward, no matter if it was because of my mom or to another girl, the possibility alone scared me. He got me, he never pressed me to be something I wasn't. In fact he encouraged me to be me, nothing else. He and I complimented each other, I made up for what he lacked and vice versa. Edward and I both had things we needed to overcome emotionally. That was part of why we worked, he supported me and I returned the favor.
It also did not help that the older we got the more attention Edward garnered for his looks and music. By the time he was in seventh grade he had formed his band Rage with Jasper, Garrett and Eric. They were good and that says a lot when we attended a school where everyone had a talent of some sort. They began to play regular gigs and developed a following. Eventually they learned how to make their own CD's and sold them. I watched from the sidelines as Edward tried to handle the new found fame.
Find the author on Twitter: @bnjwl
Chapter 0 of Metal Pointe (EPOV) by theonlykyla
Summary: Punkrockward and Ballerinella have been in love since they were four yrs old…but will that love survive as they each set out on the journeys they are destined to travel? Can they make it back to each other while facing their own separate tragedies?
"Mom, I'm goin' to the fort." I yelled as I streaked down the stairs and hit the back door.
I ran as fast as my feet would take me through the backyard and up the tree to the small fort that my dad and I had built last summer. It was my third favorite place to be in the whole world because it was mine and Bella's secret place.
When she was able to sneak away from Renee, she'd climb up the steps and we would talk and play for as long as we could get away with. I had seen her crying on the back porch steps and I yelled at her from my bedroom window to meet me at the fort. So, I wasn't surprised when I got up there and she was already there. Her tears had stained her face with streaks of brown from the dirt on the steps up and the floor where she sat.
"What's wrong, Princess?" I asked as I scooted over to sit beside her.
"Renee is making me go to that dance school full time when school starts. She doesn't care that I will miss my friends, well, that I'll miss you or that I don't want to be a ballerina anymore." Bella looked up at me with big fat tears hanging on the rims of her beautiful brown eyes. Even at ten years old I was a sucker for those looks that she gave me.
I wrapped an arm around her shoulders and tugged her closer to me. "It'll be okay, Princess. I'll figure out a way to make it all better, I promise." I laid my head on hers and tried to think of something.
Finally after a few minutes her tears slowed down and I almost screamed in excitement, "I've got it! Bella, I know how we can make it work….and ohhhh it's going to make Renee sooo mad." I couldn't fight the big dopey grin on my face as she stared at me with unknowing excitement in her eyes.
"What? What?" she asked as she giggled.
"You know that I got invited to attend that school, too? You know, for my piano and music writing and stuff?" I asked and she waved her hands around for me to finish.
"Well, what if I went too? That way we'll still get to see each other and be friends at school….and you know it'll make your mom mad 'cause she doesn't like us to be friends at school." I said as her eyes suddenly got sad again and she looked down at her hands.
Find the author on Twitter: @theonlykylaff
Chapter 31 of Mind the Gap by LuckyStar815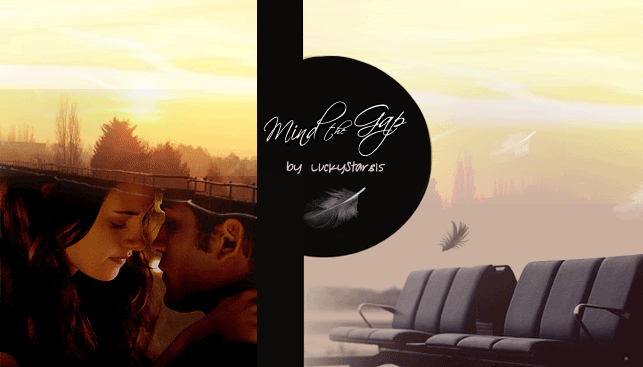 Summary: When Edward and Bella throw themselves into a long-distance relationship, they don't realize that sometimes the mileage is not the biggest obstacle in the path of love. Stephenie Meyer created Edward; I made him say "Bloody hell." AH.
"Edward never talks to me," Dad accuses, shooting me a sideways glance.
I open my mouth to protest, but Dr. Smith raises his hand to stop me. "Carlisle, why don't you say it to Edward directly?"
Dad half-turns to face me. "You never talk to me."
"Bullshit," I snap. "I call you every other day to report how I'm doing."
"Edward, what do we say about judging?" Dr. Smith reminds softly. "Please let your father finish his thought."
I huff.
"That's not what I meant," Dad continues, "you never share anything important with me. You always choose your mother for confessions, constantly avoiding me."
I shrug. "You never seem interested."
"But I am."
"Then you never show it."
"You don't take anything from me, either." Dad sighs. "How many times have I offered to help you financially? And you always refuse my money."
"Wait, wait, wait." I gasp for air. "How does that go along with your calls for responsibility? In my book, being responsible means earning one's living. Isn't that what you taught me?"
"Edward, we can discuss responsibility on our next individual session," Dr. Smith meddles. "Carlisle, how does that make you feel?"
"I feel rejected. Useless. And it hurts."
I throw my head back and rub my eyes. That's a lot to take in.
Find the author on Twitter: @LuckyStar815
Chapter 2 of Nine Days to Eternity by Artemis Leaena
Summary: Edward has taken it for granted that his best friend, Bella, would always be waiting for him…until she wasn't. Now, he has nine days to convince Bella to be his eternity.
"So, are you really into this show?" I cocked my head to the side, furrowing my brows in confusion over why Bella was watching this obviously gay douche tell these women what wedding dress to buy. Whatever. I smoothed my features and turned back to her with a challenging grin. "Or do you feel like having your ass handed to you at some Wii Bowling?"
We were a perfect pair: me with my angelically innocent smile and Bella with her narrowed devil eyes and predatory grin that made her perfect lips curl. God, this woman ensnared my every sense in her trap of loveliness.
"Oh, I think I can hold my own, Mr. Cullen. Why don't you set it up and prepare to get served?"
"That's tennis, sweetheart."
I blew her a mocking kiss and laughed at the false anger that scrunched up her face, breaking into rumbling guffaws as I lithely caught the remote she lobbed at my head. A few minutes later I was handing her a controller and shoving the coffee table off to the side so we'd have more room to play. I was a champion at this game – that was why I chose it – and knew the key to success was to treat the game as if it were real. For my plan to work, I needed every advantage a guaranteed win would give me.
Find the author on Twitter: @artemisleaena
Chapter 16 of Not Going There by luckyirishtart
Summary: When a dangerous job leaves Bella striving for balance, and an uncertain future leaves her yearning for normalcy, will a familiar face from her past risk all her careful plans? AH
"So, uh, what happened last night?" he asked, shifting a little on his feet.
"What happened?" I asked, the heat beginning to burn in my cheeks. "Let's see, you came by unannounced, took my daughter without permission, failed to inform me and took her fifty miles away. What does that sound like to you?"
"I—,"
"Then my babysitter, who was supposed to be—safe here for the night, ends up in a rollover accident with severe injuries."
"Is she going to be okay?"
"I don't know, she's at Harborview undergoing surgery as we speak."
He looked down at the ground for a minute before replying, "I just wanted to see my girl, I mean, I was out here…seeing a friend and I didn't think it'd be a big deal." The semi-whining tone in his voice set my teeth even more on edge—if that was possible.
"Well, it is. And I plan on calling my lawyer first thing Monday morning. As a law enforcement officer, James, you know how detrimental this kind of stuff to a child is."
Find the author on Twitter: @luckyirishtart
Chapter 4 of Original Six by CullenBug
Summary: The Detroit Red Wings have a host of hot NHL talent including all three of the Cullen brothers. Join them on their journey of travels, hockey, marriage, babies and a happily ever after. Usual suspects, mostly cannon pairings, snark and citrus. ExB
"Awe, what the hell are they doing here?" Edward grumbled when we pulled into my parent's driveway.
"Are you actually surprised?" I asked as I put the car park. I gotta say that I thoroughly enjoyed the drive back. Bee has some massive power, way more than I'm used to in my little Bug. I'm kinda thinking it's time for an upgrade, if Edward has no problem dropping sixty thousand on car for himself, surely I can get a new car too.
"I thought we were just grilling with your parents, I didn't know it was a party." Edward sticks his bottom lip out and pouts at me.
"Oooh, my poor Baby," I croon and lean over to tug on his lip with my teeth. "You're gonna have to share the Chief today."
"But I don't wanna," Edward kept-up the whiny voice.
I kissed his cheek and got out of the car to head for the front door with Edward sullenly following behind me. As we reached the porch I turned to look at him. "I remember a time when you dreaded climbing these steps," I said to him with a smirk on my face. "You used to be scared of the Chief."
"I wasn't scared, I was just nervous."
I couldn't help but laugh at him, and it wasn't a quiet chuckle, it was a full-on, out-loud belly laugh. Apparently my Dad heard me because the front door just opened. He stepped onto the porch with crinkled eyes; the sure sign that there was a smile on his face hidden underneath his mustache. "Hey Baby Girl, what's so funny?"
I stood up and launched myself into my Dad's arms. He caught me with a quiet groan and wrapped me up in a big hug. In the meantime, my Mom, Edward's parents, Rose, Emmett and the kiddos have wandered out to the porch as well.
Once I quieted my chuckles, I answered my Dad. "Edward said he wasn't scared of you when you first met." I couldn't contain my giggles, and my Dad started laughing right along with me.
Edward glared at me before speaking up, "I wasn't scared, just a little nervous is all."
"Oh, c'mon Ed, you remember what your first words were to me after 'good afternoon Sir, I mean Chief, no I mean Sir'?" My Dad used a squeaky voice to impersonate Edward which had us all snickering.
Chapter 7 of Red Kryptonite by SaritaDreaming
Summary: Edward Masen: Bounty hunter. Isabella Swan-Hunter: Bail jumper. He's hired to bring her back for trial, but he's not prepared for what happens once he gets a taste of her. Death, lies, betrayal, toxicity, hope, desire. Who will survive? AU/Lemons
My attention is drawn to the front door, which swings open. Four figures emerge slowly, and my jaw clenches involuntarily.
"Wait here," I instruct, stepping out of the car.
My eyes light on the representatives here to deal with me. Carlisle, my sire. Esme, the mother figure I could never find it in myself to be angry with. Alice, the meddling psychic. And Jasper, the sneaky empath I'm sure to clash with—the control he tries to visit on others merely angers me further. When my eyes roam over him, his lip curls with disdain.
Come back now that you need the useless vegetarians, huh?
I bare my teeth at him, and Carlisle shoots him a look. "Jasper," he says in a quiet voice, and that's all that's needed to get Jasper to toe the line. What loyalty the great doctor inspires. I both love and hate Carlisle, the feelings at war within me. They swirl and dance against one another like yin and yang, black and white.
Find the author on Twitter: @SaritaDreaming
Chapter 68 of Squeeze My Lemon by Dirty Cheeky Monkeys
Summary: A weekly posting that is an exercise in lemon writing.As authors we're often challenged with writing a complete story, but we have the need & desire for lemons.This is a outlet to work on those skills. So stretch those lemon muscles & squeeze our lemon.
This week we have something unique, a classic lemon that needs some new love, written by the fabulous Mrs. Cope, enjoy to teaser: "Well, Bella, you're probably wondering why someone as handsome and muscular as myself is still single and on a blind date. It's a long, sad story."
Bella's teeth bit into the side of cheek as she tried to focus on what he was saying. She could feel her attention pulling her through the booth, back to the table behind her where the beautiful man still sat. She smiled weakly at her date.
"I was married once, you should know that right up front. I was an exceptional husband, tried to give her everything. But what I didn't know is that she planned to take everything," Jacob went on, his voice loud and grating. "I won't say bad things about her, but I will say this: she gives female dogs a bad name, if you know what I mean."
"How long were you – "
"I don't hold it against women, they can't help it," he went on. Bella slumped in her seat. It was clear this was Mr. All-About-Me, another night wasted. She tried to shrink into the vinyl of the booth as heads turned, giving dirty looks to the incredibly loud annoyance. "Women have their times of the month, I know that, but she, well, let's just say she had it in reverse; she was only pleasant one or two days a month. Even my mother, saint that she is, didn't like her. Mama said the day my ex-monster came to live with us, 'That girl is no good.'"
"And no one's ever going to be good enough for him," a musical voice said from behind her. She shot bolt upright in astonishment. She knew that voice; it was the beautiful man who was directly behind her. Her face was stunned into a mask of surprise, her eyes wide and the corners of her mouth turning up slightly. "Not even someone was as lovely and vivacious as you."
Bella blinked and tried to swallow the excitement that stole her breath. "Well, Mama was right. She always is. When I was a little boy, she said 'Jacob,' she said, 'You're going to go far.' She was right about that, too. I mean, look at me! I'm a self-made man. I started at the bottom, washing cars at Victory Volkswagen, and now I'm a consultant for auto repairs. If all goes as scheduled, I'll be promoted next month to head consultant, and then we'll see what's what. Yeah, I'm a catch, but I'm willing to take a chance tonight with you."
"Chance my ass. He's lucky to even see you, if he's seeing you at all," the voice cooed. "If I were at your table, I'd know I was the luckiest man in the world. We wouldn't waste time with words; they wouldn't be necessary. You'd see the light in my eyes."
Find the author on Twitter: @DirtyCMs
Chapter 24 of Stolen Dreams by Shasta53
Summary: Bella and Edward were ready to become parents as seniors in high school, but tragedy ended their dreams and pulled them apart. Ten years later, they reunite, but all is not what it seems.
Tanya and I returned from the bathroom together, chatting amiably. Edward stood as we walked back to the table, eying me with concern. I just gave him a small smile and sat back down. Tanya didn't have too many more questions, but she did give me her number to pass along to both Aron and the Cullens. She agreed that doing a single national show was best and felt like it would play better if we were all together. Without my emotions getting in the way, I could appreciate that Tanya truly did have a great mind for this.
"It was great to meet you," Tanya said as she hugged me before we left. "Take care of him."
"I will. Thank you, Tanya. Call me when you get a plan together," I responded. I watched as she embraced Edward briefly. He looked uncomfortable, but patted her on the back.
Find the author on Twitter: @Shasta53
Chapter 30 of The Breakers by les16
Summary: After spending 7 years in prison, Edward gets a new start in the fishing village of Corea, Maine. Can a little girl and her mom, Bella, see beyond his past and can they all find love again…or will the ocean swallow them whole?
EPOV
"Dad!"
"Your sister sounds rather upset. What do you say we go see what all the fuss is about?" I ask and grin when my son gives me a toothy, gurgling smile.
At just shy of a year old, there is no doubt that he's the most incredible thing to ever happen to me … outside of his mother and sister of course.
I stand up from the couch where we've just had a nap and hold him with his back against my chest. His little legs kick as we walk, most likely because he thinks he's getting food but it's just as possible that he hears Peyton muttering to herself in the kitchen.
She's not quiet, never has been.
A slam of the refrigerator door makes Sam jump in my arms though like most things, he laughs at Peyton instead of being startled by the noise. A happier baby I'm not sure there has ever been in the history of … well, ever. Seriously, if my boy isn't smiling, I worry. From the moment he made his entrance into the world, eight days early and in the middle of the night, he's always had a smile on his face. Sometimes I wonder what in the world he sees or thinks about … then I wonder if it's just that he knows he's been loved and cherished from the time he was no bigger than a lima bean.
Peyton slams a glass down on the counter with a huff before she pours some apple juice, mumbling the whole time. I can't help but chuckle when some of it sloshes over the side and splashes on the counter.
She scowls, looking from the spilled liquid to the glass like it's the glass's fault it can't keep all the juice inside.
"Better stop that. Your face might stay that way … then what will Brody think?" I sing song his name, though I'm pretty sure there's a scowl on my face, too.
Damn kid, he's like a bad weed, always popping up even when I think we've gotten rid of him.
"Dad." She huffs, rolling her eyes when she turns around.
I will never, ever, as long as I live ever, tire of the way it sounds when she calls me Dad, even if like now, she's trying to be annoyed with me. She looks so much like Bella at times it's down right scary, especially when she does that little eyebrow quirk where the middle lifts into a perfect peak. Kind of like she's doing now.
Find the author on Twitter: @les_sh_16
Chapter 14 of The First Time by todream
Summary: (Twenty years after Breaking Dawn) Twenty-year old Renesmee Cullen has just been wronged by her boyfriend. Jacob Black has just seen Bella for the first time in twenty years. Alone and hurt, both Jacob and Ness run, only to have a chance meeting on an elevator. Sparks fly and then the fallout begins. Rec'd on The Fictionators. AU
From the moment we found out we were pregnant, it has been a roller coaster ride of emotions. When Carlisle had to sit Jacob and me down to explain what would probably happen, Jacob was a basket case. I knew of the risks. I remembered what happened when my mother had me… How could I ever forget?
But more than anything, I was worried about my husband.
When Grandpa Carlisle mentioned that the baby would have to be extracted by someone's vampire teeth opening up my womb, Jacob hit the roof. We both knew my skin was impenetrable, but hearing the reality of it was tough for both of us.
Giving birth the old-fashioned was was out of the question for me. There would be no way my skin would dilate and efface the way a normal human's would. Grandpa explained to us how my birth canal wouldn't accommodate a little human being pushed through it. I couldn't even be sliced open with the sharpest scalpel known to man.
It pained me to make Jacob go through this. I often retreated back to my old thinking, feeling he deserved a human girl who could pop out babies every couple of years without any problems at all. But then I would think about how he loved me more than I could fathom. He'd go to hell and back to make me happy, and more importantly, I knew he wanted to be a daddy so much it hurt.
When it was all said and done, we had a plan that covered every possible problem we could ever encounter, but there was one part that my husband didn't like.
He was not to be in the room during the birth.
He protested, argued, and pouted, but when it was what I ultimately wanted, he gave in. I knew it was harsh, but I didn't need him worrying over me. I needed to concentrate on bringing a life into the world in the second most unusual birthing situation of which I was aware. I couldn't have my husband questioning my grandfather's years of medical wisdom in the middle of the big event. I knew he wouldn't think twice about arguing with anyone over my well-being, and I couldn't be the one diffusing a fight. I'd end up throwing him out of the room anyway, so why not take preemptive measures?
I was totally fine with our months of planning. I had mentally prepared for everything I could fathom. I anxiously awaited the moment our child would come into the world and was at peace with what could happen–good or bad. I, however, didn't plan for one thing…
The pain was from hell.
Find the author on Twitter: @3todream
Chapter 14 of The Search by Amber1983
Summary: When Bella Swan moves to London to escape her painful and humiliating past her new life is knocked off its axis by her charismatic and ambitious boss, Edward Cullen. Can Eddie unravel Bella's secrets and get what he wants without revealing his own demons…and his heart? AH. Britishward. Rated M for language and lemons.
He tugs gently. "What would you say if I tore these in half right now and kept them in my pocket all day?"
My breath hitches and I try to make sense of a mind that's turned to mush.
"Um, I'd say that was incredibly hot but also that I'm going out tonight straight from work and I'm not sure how you'd feel about me walking around commando in a crowded bar."
"Hmmm, how well you know me, Miss Swan. Yes there is no way I'm letting you close to other men like that."
He pauses, I feel his breath in my ear and then -
"Well I guess this will have to do then."
He slips his fingers inside my underwear. I cry out in surprise and arousal and he quickly places his mouth back on mine to swallow my sounds.
"Edward, what are you doing?" I gasp out, even though it's pretty obvious.
His voice is a throaty growl.
"I'm making you come."
Find the author on Twitter: @AmbersPen
Chapter 12 of When the Dust Settles by She is Divine
Summary: Where do you go and what do you do when war takes away everything that matters to you? Army Sergeant Edward Cullen has to find out and learns new, important lessons about family, friendship, and love along the way.
"I am not your personal Barbie doll," Rosalie argued in a weak voice.
"Hush." James put his finger up to his lips. "You look just like one, and my momma wouldn't let me play with them when I was little. Stupid old heifer. So, you need to help me fix that tragedy."
Rose hung her head. "Fine."
My best girlfriend was too nice of a person, and James had just used that to his advantage. However, I was a bitch, so I was about to be a good friend. I was taking one for the team.
"James, knock it off. You know how uncomfortable Rose gets. Just…do whatever to me," I said, cringing.
"Well, had you taken my advice and jumped on the perfection that lives next door to you, we could be getting ready to pick out your perfect wedding night outfit. However, since you continue to live indenial…no fashion show for you." James was pushing it, and if he didn't knock off the taunting, I was going to make good on my threat to cut up his clothes.
Find the author on Twitter: @shelikethesound, d_inspiration
Chapter 45 of Words with Friends by Nolebucgrl
Summary: Bella Swan has a major crush on a major star, Edward Cullen. They have an obsession with the same game. Can they connect through Words with Friends and become more than that? Time will tell!
I crept back into the bedroom and stuck the outfit in the bathroom before tip-toeing over to Edward's side of the bed. He was so adorable when he slept, all messy hair and pouty lips and sexy bare chest. Crap, focus, Bella. I flipped on the alarm again and slipped the note I'd written yesterday onto the nightstand.
Rise and shine, young Mr. Cullen. I'm afraid it's a school day, but at least it's Friday, so you have the weekend to look forward to. Let's see if we can send the school week out with a bang, why don't we? Your clothes are in the bathroom and school will be in session at eight AM sharp. Don't be late!
It would end with a bang alright. I headed downstairs where my outfit for the day waited. I took a quick shower, not wetting my hair because I wanted it dry when I put it up. I slipped into my beige bra and panties purchased by Rose and then pulled on my skirt and a regular white blouse, unlike the one that I'd worn in the picture I sent him. I wanted to actually look like I might in the classroom, except for the thigh highs that I pulled on. I twisted my hair up in a bun and pinned it neatly. My glasses completed my own look and I smirked at myself in the mirror. Edward wasn't going to know what hit him.
I heard him coming downstairs so I ducked out of view in case he tried to sneak a peek. He didn't appear to though, because he was a good boy. No surprise there. I watched the clock anxiously, waiting for it to strike eight. I slipped on my heels, grabbed my prop books and marched down the hallway. I'd toyed with doing a real lesson plan, maybe teaching Huckleberry Finn or something but I liked Rose's idea better. Big shocker that was. We'd have to see what Edward thought about it.
Find the author on Twitter: @Nolebucgrl
Chapter 36 of Words with Strangers by Nolebucgrl
Summary: EPOV Companion Piece to Words with Friends. Movie star Edward Cullen is done with women and focused on his career. A stranger reaches out to him via Words with Friends. Will her words change his mind?
"Good morning, class!" Her voice was bright and cheery as she strolled into the classroom. I whipped my head around to see her and nearly swallowed my tongue at the sight that met my eyes. She was my every fantasy come to life. She was wearing a black fitted skirt that fell to her knees, a white blouse, much more demure than the one in the photo and her own pair of glasses and black high heels. Fuck me. Her hair was up in a bun, just like it had been in the photo. My hands were actually reaching for her, wanting to get in there and mess up that perfect librarian hair she was rocking. I stifled a groan and shifted in my seat as she reached the desk and set down the books she'd been holding. I'd totally missed that she was carrying anything; I'd been too focused on the hotness in front of me. It was probably a damn good thing that I hadn't a teacher that looked like her in high school. I would have failed out, although then I'd get to take her class again so there was a bright side.
Bella came around to the front of the desk and leaned against it, resting her gorgeous ass just barely on the wood. She had a professional smile on her face, not too friendly, but not too forbidding. I wanted to attack her, but that's not how a good nerd would behave. I looked away from her, focusing on my own knees in an attempt to keep myself from acting inappropriately too early in the game.
"As you may know, today is a very special day." It was? I looked up and saw her gazing at me, a slight smile on her lips. "Instead of our normal lesson plan, I've been asked to talk to you all about something very important." What was this? Where was she going? I was baffled. "Initially this was supposed to be covered in health class but budget cuts have dictated that we do things a little differently." Health class? Oh, wait a minute, surely she wasn't…
"So consider this Sex Ed 101." Oh, fuck me, she was. She smiled brightly and held up a hand. "Enough with the laughter and the jokes, please. I know most of you have been through this before, hopefully with your parents instead of your friends. And I'm not naïve enough to think some of you don't have hands on experience."
I groaned and shifted in my seat. I needed some hands on something pretty soon.
Find the author on Twitter: @Nolebucgrl
Thank you to the authors who participated this week!
We need your help! We want to make Teaser Monday even better, if possible, so we've set up this form where you can submit your ideas for changes or additions to the post each week. We're eager to hear from you so please don't hesitate to tell us what you like, what you don't like and what you'd like to see added. We promise not to hold it against you (unless of course, you ask us to…).
If you'd like to be included in next week's post please fill out our web form no later than Sunday evening by Midnight… There are no restrictions, if you have something you want to tease, we're happy to share it with our readers (we ask that you keep it under 500 words, though). Teasers will be listed in alphabetical order according to the name of the fic.
Thanks to everyone who gives us support, sends in their recs and just generally makes our lives in the fandom more entertaining. We couldn't do this without all of you.
See you next week!!

and

Like this post?
Subscribe to our feed!