Are You Ready To Get Teased, Fictionees?

Happy Monday, Fictionees!
Just a reminder that if you find something new on Teaser Monday, please review and let the author know where you found their story!
Chapter 16 of A Dove's Cry by karenec
Chapter 18 of A Scarlet Night by prettyflour
Chapter 14 of A Wilderland by phoegurl
Chapter 1 of An Empty Glass by tanglingshadows
Chapter 17 of An Italian Winter by Raum
Chapter 14 of AnyWay the Wind Blows by Miss Baby
Chapter 9 of Celebrity, Deconstructed by AmoreBella88
Chapter 9 of Cutlass by TKegl
Chapter 29 of Dear Maggie by Jenny0719
Chapter 13 of Dirty Laundry in My Diary by ttharman
Chapter 16 of Disenchanted Lullaby by MJinAspen
Chapter 10 of Don't You Remember by BellaClary
Chapter 130 of Drowning, not waving by Bower-Of-Bliss
Chapter 23 of Full Circle by JenRar
Chapter 46 of Going Under (OUTTAKE) by sparklnfade
Chapter 12 of His Cimmerian View by WeeKittyAndTAT
Chapter 8 of In the Clouds by SunshineGal3
Chapter 2 of Ladies Night by TwiLucy_UK
Chapter 19 of Last Call by Robsmyyummy Cabanaboy
Chapter 7 of Letters from the Grave by junebugjazzy
Chapter 23 of Little Buttons by ChocolateLover82
Chapter 4 of Lucky Girl by zaza724
Chapter 5 of Nine Days to Eternity by Artemis Leaena
Chapter 8 of Rm w/ a Vu by AngelGoddess1981
Chapter 8 of Second First Chance by Shadowed by Passion
Chapter 3 of Shattered by Lacrimosa Moon
Chapter 17 of Snapdragon by PrettyKittyArtist
Chapter 74 of Squeeze My Lemon by Dirty Cheeky Monkeys
Chapter 30 of The Earth, It Trembles by ginginlee
Chapter 17 of The Search by Amber1983
Chapter 19 of The Songs Of Angels by DeltaDawn'sDreams
Chapter 2 of Theory by LJ Summers
Chapter 2 of Watching Her by les16
Chapter 51 of Words with Friends by Nolebucgrl
Chapter 42 of Words with Strangers by Nolebucgrl
Chapter 16 of A Dove's Cry by karenec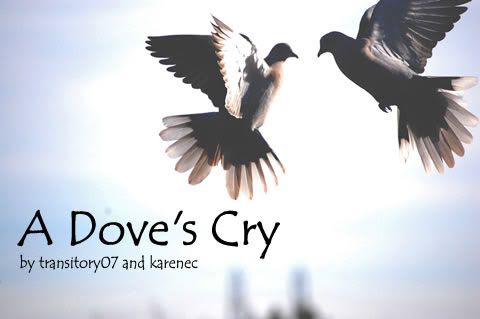 Summary: Bella's innocence was taken from her at a young age; the secret has dominated her life ever since. When she meets a reluctant vampire, Bella decides to ask his help in seeking revenge.
Spending so many hours in the car with Bella had heightened my senses exponentially. Within minutes of being separated from her, I was a bundle of jangled nerves, strung tight and in danger of snapping. I fought to keep myself from pacing around the room, my hands twitching and my teeth clenched against the desire grinding inside me.
I used the remote to turn the television on, letting the theme song of an old sitcom wash over me while I struggled. With a shaky breath, I made up my mind to take a shower, seeking comfort in the hiss of the hot spray. But images of Bella filled my head with stunning clarity and I froze in place.
Find the author on Twitter: @karenecwriter
Chapter 18 of A Scarlet Night by prettyflour
Summary: In a world where power is held in a precarious balance, what will happen when dark and light collide? AU/Fantasy
Maria's coven rejoiced as a lightening storm caused a brush fire that burned into the sunrise. It was slow moving between the sparse trees, leaves that were glowing in embers, smoke casting a grey sky. The heat, the flame, the polluted air- it was already starting to resemble what Alice had foreseen. An unnaturally dark morning and a smoking skyline, an omen for what was to come.
Find the author on Twitter: @cindijo
Chapter 14 of A Wilderland by phoegurl
Summary: Bella Swan has a destiny. A hunter of the dark, she was always meant for the world they tried to rip away from her. When her past refuses to stay past she finds herself in the fight for her life. AU-New Moon. Things have changed.
She had tried to sleep. She had tried to lose herself in the comfort of Diane's embrace, but it had just felt wrong. Diane's arms were too hot, they were too soft, they were too dark, and her heartbeat was uncomfortable against Bella's back. Bella had no right to wish for anything else. Not after what she had done.
She got ready in a haze of movement, sitting down at the kitchen table after an indeterminable amount of time, waiting for the others to arrive. Diane moved past her in silence, leaving with the tacit agreement that she would meet Edward and Jasper downstairs.
Bella caught her wrist before she could leave.
"I thought you were taking the flowers?" she asked quietly.
There was a pause that felt long, but was probably only a few moments.
"It can wait."
"No, it can't."
Bella stood and walked to the beautiful flowers on the kitchen counter. They were still in the plastic jug that Edward had placed them in, undisturbed, a memorial to that brief moment the day before when Bella had thought that everything was going to be all right.
She took a single yellow flower from the bunch because Diane had once told her that Jo reminded her of yellow. She had not exactly understood what Diane had meant but it was obvious now, thinking back on it. Diane had always looked at Jo as though she was being blinded by the sun.
Bella wordlessly held out the flower.
Diane sighed. "Bella, I'm not sure I—"
"Please," she implored. "For me."
Uncertainly, Diane took the flower. She looked sad as she leant forward and pressed a warm kiss against Bella's hair.
"I'll see you later," she promised, cradling the flower in her palm. "Love you."
Bella nodded, but she didn't say it back.
Diane left.
Chapter 1 of An Empty Glass by tanglingshadows
Summary: Struggle. Push and pull. A deep ache for two things. Can he heal himself even after he thinks there's nothing to heal for? Can he get the girl back if he does? A story about what drives us, changes us, and how things go wrong for all the right reasons.
She was gone, and I was the one who forced her away. I didn't tell her to leave or say that I didn't want her anymore. I was just being me, and she couldn't take it anymore.
I couldn't blame her.
Find the author on Twitter: @tanglingshad0ws
Chapter 17 of An Italian Winter by Raum
Summary: Edward's rebellion began for a reason; it still holds true and brought him to Italy. His life's been predicated on revenge for decades; forgiveness seems impossible. When he meets Bella, only a winter separates him from his last prey and his own destruction.
"I've imagined it so many times," she murmured. "Speaking with Mike's parents, telling them that…" A sob interrupted her words.
I stopped the car and embraced her. "I don't want you to regret – a day, a month, or twenty years from now – not speaking to them or having spent more time with your parents."
"I'm not ready," she stammered.
"You will be," I tried to reassure her. "I'm not asking you to decide anything right now. Just consider it."
"Would you come with me?" Her voice was hesitant. If there was even a small chance that she might think about going back home, I couldn't lose it.
"I want to." I kissed her forehead, keeping her close to my chest. The thought that in a few weeks I wouldn't be able to go with her anymore tore me apart. "I promise you this," I whispered to her. "If for any reason I won't be able to come with you, remember today." I drew her even closer to me. "Remember this moment. Wherever I'll be, my heart will stay with you," I vowed.
Find the author on Twitter: @RaumTweet
Chapter 14 of AnyWay the Wind Blows by Miss Baby
Summary: When fate brings a jaded young doctor to the small town of Forks, he expects nothing out of his stay but a shot at redemption. Little does he know that a new patient and a mysterious young woman will turn his exile into the experience of a lifetime.
"How was church?" he asked next, cautiously sipping his coffee.
"Good. Rachel was asking about you," she started, a small smile arching on the corners of her lips. "So was Isabella Harrison, by the way."
"Oh?" Edward tried to play it off as nothing significant even though inwardly it felt like anything but. "What did you say?"
"Nothing," she shrugged, her brows shooting upwards a little as she gave him her most skeptical look. "I'm your sister, Ned, not your pimp."
"Oh," Edward repeated himself, hating the heat that rose to his cheeks. "Right."
"What's going on, Ned?" Esme didn't seem to be as satisfied by his very meaningless reply as he'd hoped. "I thought you were going out with Rachel?"
Find the author on Twitter: @missbaby25
Chapter 9 of Celebrity, Deconstructed by AmoreBella88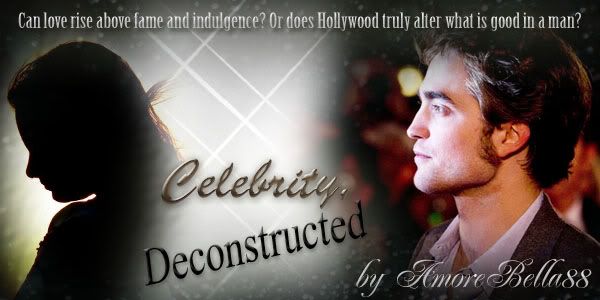 Summary:Edward Masen and Bella Swan, high school sweethearts who married young, have their lives turned upside down when Edward is "discovered". Celebrity, tragedy, alcohol and excess dissolve what seems to be indestructible… or does it? Can love rise above fame and indulgence? Or does Hollywood truly alter what is good in a man?
"I'm a big girl, Edward. I don't need babysitters," she scoffed, merging into the airport lane.
"I know you don't. But it'll make me feel better if I knew you were letting them check in on you from time to time. I kind of love you, you know," he said, squeezing her hand and giving her a lopsided smirk.
"You can't do that to me. It's not fair," she huffed.
"And what's that?" he asked, facing her with an amused expression on his face.
"Play the protector card. It does things to me," she defended, squirming slightly in her seat. It was the damn smirk from hell that always made her insides get all squishy feeling, made her incredibly turned on.
He leaned over and nuzzled her ear. "Then why don't you turn around and take us back home? I can always catch a later flight."
"Ohh, don't tempt me, movie star."
Find the author on Twitter: @AmoreBella88
Summary: Isabella Swan is certain notorious pirate, Edward Cullen, murdered her father and stole his prized cutlass. Out for revenge, she sneaks onto his ship, but Captain Cullen claims she has the wrong man. A tale of the search for truth…and treasure of course.
Bella swiped at her cheeks again, squaring her shoulders before returning to sit across from Edward and take another sip of rum.
"You seem to be acquiring a taste for that," he said with a grin. "Perhaps we'll make a pirate of you yet."
She smiled, and Edward couldn't explain the rush of relief that swept through him at the small gesture.
"So," she said. "If you didn't kill my father, how did you come to possess his cutlass?"
Edward raised a brow. "First of all, it's my cutlass," he pointed out. She opened her mouth to argue, but he cut her off. "As for how it came into my possession, I liberated it from the man I believe killed your father."
Sufficiently distracted from true ownership of the sword, she asked, "And you still won't tell me who that is?"
Edward looked down at his plate with a frown. His instincts warred within him. On the one hand, he hesitated to reveal too much to her, not so much because he feared she would go off on her own. Surely by now she realized that her best chance to find her father's killer lay with him.
No, his concern was more about revealing too much about himself. Aside from Whitlock and, to a certain extent Alice, no one knew what drove him. Why he was who he was – had become who he'd become.
"I think we've moved beyond secrets, don't you think, Captain?" she added. "If you want me to trust you, perhaps it's time you did the same."
Perhaps just a little. Perhaps he could tell her just a bit, for Charlie's sake. And then maybe, just maybe, she would trust him enough to provide some information of her own.
Find the author on Twitter: @Tkegl
Chapter 29 of Dear Maggie by Jenny0719
Summary: A heart leads Bella back home to Forks… and to the brother of the woman who donated it.
"Bella," he murmured, putting his fingers under my chin and tipping my head up so he could see me. Lips found my forehead, and then skimmed over my flushed skin to my cheek… down to my chin…
"You'll get sick," I warned meekly.
To my nose now, a quick kiss before moving to my lips. It all seemed so sweet, but there was more… a swelling of something beneath the surface.
Fear.
"Let me take care of you," he whispered just as his lips brushed over mine.
Find the author on Twitter: @JT040708
Chapter 13 of Dirty Laundry in My Diary by ttharman
Summary: Dear Diary-First day at a new school! I hope this one turns out better than the last one. Just one more year to get through, what could go wrong?
We were always making out, and each time going a little further than the time before. Edward had been to second base more times than I could even count that week. I guess with him things felt different; one I trusted him, and two we had been hanging out for almost five months now.
While the teacher droned on, I thought about last night, when Edward and I were 'doing' homework at his house.
"Edward," I panted….
**
"Ms. Swan, can you answer the question please?"
Oh shit, here I am caught daydreaming about my sexy boyfriend in the middle of class.
Find the author on Twitter: @ttharman
Chapter 16 of Disenchanted Lullaby by MJinAspen
Summary: AH. Rose's life was on the verge of absolute perfection—the ring, wedding bells, babies and lullabies. Then, one day, she learned Happily Ever After didn't really exist.
Edward's call continued as he parked in the pharmacy lot and we exited the car to enter the building. Before he was off the phone, while we were standing in line, I got a call from Riley that I probably should've ignored.
"I can't talk long," I said in lieu of an answer. "I'm at the pharmacy, and you know they give you dirty looks when you use your phone here."
"Why are you at the pharmacy?" he asked. "Did Mr. Wonderful give you crabs?"
He snorted at his stupid joke.
"Gross," I said. "No."
"Are you dying?" He chuckled, and I heard him light a cigarette.
"No-"
He interrupted me. "Pregnant?"
Shit.
"Hello?" Amusement tinged Riley's voice. "Rose, dear, unless your phone died, I'd say we have a lot of catching up to do."
I looked up to see that Edward had ended his call and I had his full attention. I must've been wearing an alarming expression on my face because he was frowning as he mouthed "what?" and cocked his head to the side.
I tried to shrug it off by rolling my eyes and shaking my head—probably looking more like I was having a seizure. I mouthed the word "Riley" and Edward nodded, seeming to understand that if Riley was involved any drama was probably disproportionate.
"I gotta go," I told Riley. "Call you later?"
"You better," was Riley's only answer before I quickly disconnected the call.
Find the author on Twitter: @mjinaspen
Chapter 10 of Don't You Remember by BellaClary
Summary: Bella & Mike are getting married in two days but she can't let go of her past and the secrets within it. What happens when someone comes back for one last dance? AH, Lemons, Rated M
"I went to see Jacob yesterday." His voice was so small and muffled behind his hand I didn't know if I had heard right.
Did I hear that correctly? He went to see Jacob?
No. No. No. No.
"What!" Green eyes moved to mine, silently telling me I had heard correctly. I felt the anger rise within me, my stomach immediately feeling sick.
He went to see him. Out of all people. Jacob.
"I had to." His voice was small and low, his eyes now on the floor.
"What! Why!?" I stood up and backed away from him as quickly as my legs would take me. How could he not see how much of a betrayal that was to me? Jacob had killed my mom and he was visiting him? What was he thinking?
"Isabella, please." He pulled his hand through his hair, his eyes coming up to meet mine. "Just let me explain."
Find the author on Twitter: @teamhptwilight
Chapter 130 of Drowning, not waving by Bower-Of-Bliss
Summary: She's the swim instructor who teaches the Daddy and Baby Classes. Although he's a forbidden man, her attraction to the new daddy, Edward, is instantaneous. Can Bella drown her libido and maintain her professionalism? B x E x H2O equals slippery when wet.
Then Esme joins in, "Looks as though I'm going to have to start reading this blog too! Sounds like fun."
"Whenever I read it, I want to jump my husband afterwards," Rosie confesses.
"What I'm dying to read, is next Sunday's review. I want to know exactly what Tony did to Rie to make her come so hard that she gave him a black eye," Leah says.
All the women around the table burst into laughter… except for me, because I'm trying hard to pretend that I have no idea what they are talking about.
"Speaking of black eyes," Leah continues while arching an eyebrow, "how did you get your black eye again, Edward?"
All eyes, including mine turn to look at my boyfriend, who I now realize is standing right behind me.
Although much of the bruising has faded, a small yellowish-purple bruise is still evident just below the lower lid of his right eye.
Find the author on Twitter: @bower_of_bliss
Chapter 23 of Full Circle by JenRar
Summary: Edward left Bella in New Moon to keep her safe. Not all monsters are immortal, and fate usually gets its way, no matter how hard you fight it. There is a baby in this fic, but no, it is not half vampire/half human. Rated M for a reason, including a bit of adult language and a lot of adult situations.
Looking back, I should have know things were going too well. Edward was back, and he still loved me; even though it hadn't come the way or time I'd wanted it to, I was a vampire and would be with him for eternity. My thirst and behavior were anything but those of a typical newborn. I was well on the road to having everything I wanted. I'd begun to think everything was going to fine, that nothing was going to happen to take away my greatest wish.
And then one of my greatest fears had come true…
Find the author on Twitter: @JenRar
Chapter 46 of Going Under (OUTTAKE) by sparklnfade
Summary: It's been ten years since the summer Bella Swan's life changed. What will happen when she comes face to face with the reason for it? She went under once, will she go under again? AH ExB
Having a daughter is hard. Having a teenage daughter who likes to push your buttons? Impossible.
"You know she doesn't mean it, Baby," I whisper.
Bella sniffles a little. "I know."
"She loves you."
"I know."
I squeeze her hips. "So do I."
Find the author on Twitter: @sparklnfade
Chapter 12 of His Cimmerian View by WeeKittyAndTAT
Summary: Bella at age thirteen is left with nothing more than a fake ID, and two year old twin half siblings to care for. She makes due knowing it is up to her to give them a good life and education, she was never given. Working as a cleaner at the university five years later, she meets Professor Masen a man who believes all women are out to hurt, or destroy him. Can an uneducated Bella teach him something? What will happen when Bella is another woman who has hid the truth from him? AH/18+only/Rated M.
Jasper sets the bag he carried down, and lets out another sigh. "Edward, as your friend I am here if you need to talk. As a psychologist, I strongly recommend that you talk to someone soon. Edward, I do mean soon, because you're not helping anyone by getting so worked up. What just happened is a form of an anxiety attack. Your fear almost caused you to have another panic attack. They are not just going to go away. You need to talk to someone to help deal with it."
I look at him, then close my eyes and pinch the bridge of my nose. "You can't help her if you stay on this path, Edward. She needs to talk to someone too. Just think of how you would feel if she doesn't talk to someone. What if it was her who keeps putting it off, and you have to watch her slowly lose it and get closer and closer to the edge."
I nod my head at him, fuck I would drag her to see someone if I have too. "Make me an appointment, for at night not during the day. Just let me know when it is, I will be there."
Jasper nods his head at me. "Have a good night, Edward." My head rests against the door after Jasper leaves. I feel the restriction in my chest, the sharp pain, shortness of my breaths and my heart is pounding. What is fucking wrong with me, I can't believe I get myself so worked up about Bella, but fuck I am so fucking glad that was not why he was here. It doesn't mean that she is okay. She could be lying hurt in the fucking park all beaten and broken. Well, more broken than what she is. Fuck, don't think like that. Zafrina would have called me by now. Bella is fine. She is at home in bed. I'll get to see her tomorrow; when I drop off the bags of clothes. If she is all right, that is. She didn't go to the police the last time. Maybe they went after her again, knowing she is an easy target. God only knows if it has happened before. Just because she went home, doesn't mean that she's okay. Anything could have happened. Fuck, it is after midnight, it's not like I can go over there and knock on the door. I just want to check on her, but if I go over there she will think I am nuts.
I pace my floor pulling at my hair. I should call her. I would know by the sound of her voice if she okay or not. Fuck, I can't call her at this time of night. Why in the fuck can't she just take the fucking bus, instead of walk? You know what, just fucking call her. Fuck!
I pick up my phone and dial her number. Just after four rings someone picks up.
Find the author on Twitter: @teamalltwilight
Chapter 8 of In the Clouds by SunshineGal3
Summary: She's a dreamer whose feet have been forced to the ground. He's a believer in that one's dreams are the path to true happiness. Everyone has always called her crazy – he thinks her crazy is nothing short of perfection.
I tsked as I crawled across the bed and picked up the guitar before settling back into his lap. I'd always been too scared to hold any sort of instrument, considering that my clumsiness almost made it a sure bet that I'd destroy the thing. For some reason, though, his acoustic felt right in my hands. I positioned it into my own lap, just taking a moment to study this object that Edward cherished so passionately. This was his reason for waking up in the morning. This was his motivation for keeping up with the mundane "to-dos." He wasn't devoted to music because he had to be. He wasn't devoted to it because it was a necessity. He was devoted to it because it made him truly and genuinely happy. How amazing must that feel?
He grasped my hands loosely, placing one on the neck of the guitar and the other on the body. His cheek rested against mine as he stared down at my fingers, which were exploring the strings. I giggled a little when I actually struck a chord, feeling almost giddy at the small sound. I felt him smile against my skin. "Pretty cool, huh?"
"Pretty cool," I agreed.
"You wanna learn how to play?"
Find the author on Twitter: @sunshinegal3
Chapter 2 of Ladies Night by TwiLucy_UK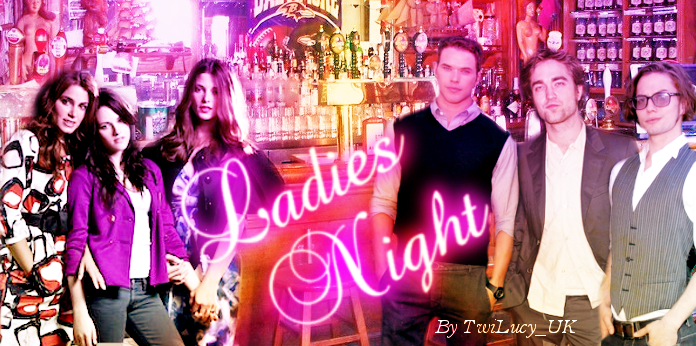 Summary: When Bella goes to her best friends' Ice Hockey Team's Ladies Night, she's just looking for a bit of fun but will she get more than she bargained for? AH. Bella & Edward. Hockeyward. Rated M for language and lemons.
"Right ladies, next question. Edward Cullen's favourite number is eleven … True or false?"
I bit my lower lip as I pondered my response. I knew that he wore number eleven on his jersey but if that was his favourite number, surely that question would be too easy? Or this a trick question? I went with my gut of false so I grabbed my ass. I noticed Rose and Tanya do the same while Jessica placed her hands on her head. I hope the bitch doesn't win.
"Want to give us the answer Edward?" He was passed the mic as he slowly started to walk down our little line-up. I felt like I was on display, just for him, it was hot. He continued to walk around the back of us, "Hmmmm nice view at this side boys." I felt him stand behind me and stop as my pulse quickened. He purred down the microphone, sending shivers down my spine, "It's false. My favourite number is sixty-nine. Great ass …. grabbing." Oh God. I felt like spinning on the spot and just launching myself at him right then but I held it together long enough as Edward continued to walk back to his place in front while Jessica stomped back to her seat, giving me an evil look. Whatever!
Find the author on Twitter: @LoopyLu_13
Chapter 19 of Last Call by Robsmyyummy Cabanaboy
Summary: The past she's struggling to remember is the time he'd rather forget… Can they move beyond the scars and forge a new beginning together or have they missed their Last Call? Edward & Bella. AH, Rated M for language & eventual lemons.
"So she's at her parents' place right now?"
"No. Last I knew, she was spending the weekend in Philly with her girlfriends from the club."
"Oh, the club…s'cuse me." Jazz laughs through his nose.
"Please, don't get me started. Seems that Hollywood has gotten to her head and she only wants to spend her free time at the country club with a few of her long-lost friends who make the cut these days. I thought I left all that fucking caste system crap behind me at the Flanders. I need this shit like I need a hole in the head," I spew, feeling myself get more and more fired up.
"Yeah, but at least you know Bella's not like that. Well, not anymore, at least. I mean, I remember some of those outrageous stories you told me about her… I thought you were crushing on the anti-Christ years ago. God, I can't even believe it's the same girl we're talking about."
Find the author on Twitter: @RobsmyyummyCBoy
Chapter 7 of Letters from the Grave by junebugjazzy
Summary: "Dead girlfriend, anonymous letters that might be from said girlfriend… did I mention I may be going crazy?" Edward and Bella were both in a car accident, he survived but she didn't. Or so it seems. Edward starts to receive letters from someone claiming to be Bella. Could it really be her or is someone playing with him?
How do you know? From what you've told me, the letters can only come from Bella. Take a chance, Risk it all. You just might be surprised. Emmett said.
"Stop it. Can't you see how much it kills me to admit that the woman I love is dead and someone is mind fucking me? I want so badly to believe that the letters are actually from her but they aren't. She's dead and never coming back." The thought shattered my heart into a million more pieces but it had to be done. I had to stop seeing Bella, where she wasn't. I was driving myself crazy.
"Why are you rationalizing this?" He asked.
"Why aren't you rationalizing this?" I countered
Emmett looked at me for a minute, shook his head, and with a sad smile said, " Your right. I should be doubting your sanity and insisting that you go visit our neighborhood shrink, is that what you want? But what if it's true? What if by some miracle Bella is alive and you could actually have the chance to see, touch, and talk to her again. Can you really rationalize and ignore the possibilities and the words of your beloved?"
Find the author on Twitter: @robojazzy
Chapter 23 of Little Buttons by ChocolateLover82
Summary: A fortunate encounter while wandering the city may lead Edward to realize that, perhaps, not everything is lost. But is he ready? AH, ExB.
"Monsieur Cullen," Irina follows me as soon as I get to my studio on Thursday morning. "Mademoiselle Martin requested a meeting with you as soon as you're available."
"Tanya? Did she say what she wanted?" Tanya never makes an appointment, she just shows up and tells me what she wants.
"No, but she said it was urgent."
It's a little past 9:00 am, and I'm already dreading the day if Tanya really needs to speak to me this bad. And here I thought that my last day at work, before flying out tonight, might've been a little easier.
"Okay, do I have time now on my schedule?"
"Yes, sir, your first meeting is at 10:00 am."
"Tell her to come now then, Irina. Thank you."
Five minutes later, a worried Tanya enters my office and locks the door behind her.
Find the author on Twitter: @Choclover82
Chapter 4 of Lucky Girl by zaza724
Summary: "Wise guys, shy guys, and sly lover boys with big bad bedroom eyes. I never loved a man I trusted as far as I could pitch my shoe 'til I loved you. I'm a lucky girl." M for language/lemons. Canon couples. AU/AH
Six miles in forty minutes. Better than yesterday. I slow down to a brisk walk to cool down and enjoy the crisp, spring air. I look out to the river and see four, six-man sculls gliding out across the surface and hear the coxswain calling out an even cadence of 'Stroke. Stroke. Stroke.' Taking a seat on one of the many benches along the towpath, I sit and watch.
Washington is in bloom. Cherry blossoms and magnolias burst from their dormancy in fine frenzy and the golden green of new grass and leaves color the trees. I can't recall the last time I was able to appreciate a spring like this. I've only been here a few short weeks but I know I'm really going to like it here. I get up from the bench to go back to the apartment to shower and get ready for the day. A female jogger passes me by and I take a look back at her. She's turned to jog backwards obviously interested in looking back at me. She's pretty cute; but a thought barges into the forefront of my consciousness: She's no Bella.
Find the author on Twitter: @zaza724
Chapter 5 of Nine Days to Eternity by Artemis Leaena
Summary: Edward has always taken it for granted that his life-long friend, Bella, would be there waiting for him … until she wasn't. Now he has nine days to convince her to be his eternity. AH, OOC, EPOV, M for language & lemons
My hands were on her hips – to steady her, nothing else – and she was blushing the most enticing shade of pink; she looked as if she'd been caught doing something naughty. We danced awkwardly around each other, mumbling nervous morning greetings, until our positions were reversed, and I was looking down on where she stood on the landing.
"You going to get some breakfast?"
No, Cullen, she was on her way to board a shuttle to the fucking moon. Of course she was going down to breakfast. I wanted to smack myself upside the head for that doltishly lame question. Instead, I smiled sheepishly while ducking my head and rubbing the back of my neck with one hand. When I met her eyes a moment later we both dissolved into chuckles – giggles in her case.
"I guess that was a pretty dumb thing to ask."
"Yeah, but you were kind of cute asking it. Have you eaten yet?"
"Uh … yeah, I have. But maybe we could … um … play something when you're done?"
Find the author on Twitter: @artemisleaena
Chapter 8 of Rm w/ a Vu by AngelGoddess1981
Summary: Bella, a struggling student at Arizona State, returns to her dorm room one afternoon to find her boyfriend in bed with her roommate. Unable to look at either of them, she moves out of her dorm, seeking refuge at her parents' place until she can find another room to move to. Since it's halfway through the semester, there are no other rooms available, so she takes to the classifieds. Just how good is the view being advertised? AH – Bella/Edward Romance/Humor Rated NC-17 for language, adult situations, and later, lemons . . . because this is fanfiction after all.
When I arrive at work, Kate's busy serving a short lineup of customers. I slip behind the counter and tie my apron around my waist before preparing a few of the drinks in the queue. Once the line has cleared, Kate and I start cleaning.
"How's it been this morning?" I ask, wiping the spilled milk droplets off the counter.
Kate's busy checking the levels of all the flavoured syrups. "Not too bad. How was your night? You're moved into your new place now, right?"
"I am. I just finished moving in last night. Spent my first night there and everything." I laugh lightly. "I actually forgot where I was when I first woke up. It's hard to believe I even live there."
"I won't lie to you," Kate kids, "I'm a little jealous you found such an amazing place for practically nothing."
"Oh, believe me; I'm still in shock about how much it is. Though, I probably would have paid top dollar for it just to get out of my parents' house." My lips turn up into a wistful smile, knowing that it's not just the house that had enticed me to move in. "And the owner . . ."
"Yeah?" Kate inquires, moving closer to me and resting her hip against the counter, her back turned on the till.
"He's just so . . ." Suddenly, the door to the café opens, and I see a very familiar face. "Edward."
Kate giggles. "What is that? Some kind of code?" She begins batting her eyes over-emphatically. "He's just so . . . Edward."
Using my towel, I swat her arm and move around her to the till to greet our newest customer. "Edward, what are you doing here?"
Find the author on Twitter: @AngelGddess1981
Chapter 8 of Second First Chance by Shadowed by Passion
Summary: What would you do if you knew then what you know now? Would you make the same choices? Would you change every decision ever made? What will Bella do when she gets a second chance at life?
My bouncing knee stopped as I felt Edward place his hand on it. "Are you okay?" he asked, whispering into my ear.
I nodded.
"Bella, you're not okay. Talk to me, please."
I sighed and turned my head toward him. His eyes were sad. This is why I had avoided looking at him. It hurt me to know he was hurting because of me.
I might as well just ask and get my worry out there and then maybe we both can be happy.
"Edward, what happened last night?"
"What do you mean?"
"Why were we in bed together?"
Find the author on Twitter: @nanas_mommy_
Chapter 3 of Shattered by Lacrimosa Moon
Summary: Some would do anything for their heart's desire. Bend the laws of physics, live a lie, defy their family, even sacrifice their mate. In their minds, the end justifies the means. But, in the aftermath, more than one life could be shattered.
Jane eagerly approached the woman who lay helpless on the ground. She looked up at Jane and grabbed the end of her cloak.
"Please, please help me," she begged.
"Oh, your poor thing," Jane crooned, then a smile slowly crept across her face, and a moment later, the woman was convulsing on the floor, foaming at the mouth.
"Jane. Don't play with your food," Athenodora snapped as she lifted a rosary that hung around the neck of the small dark woman that lay lifeless in her arms. She put it on and admired how it gleamed on her décolletage before tossing the body aside.
"Yes, Jane, that is cruel," Sulpicia said as she gently laid the body of an elderly woman next to her dead companion.
Jane narrowed her eyes at Sulpicia, broke the woman's neck with a flick of her wrist, and sunk her teeth into soft flesh. A trickle of blood slid down the woman's neck, blending with her dark red shirt. "Oops, I missed a drop," Jane said and she bent down, slowing licking her throat clean.
Find the author on Twitter: @LacrimosaMoon1
Chapter 17 of Snapdragon by PrettyKittyArtist
Summary: Once upon a time, a girl fell in love with a boy. He gave her a ring and promised her forever. No one told her there'd be an expiration date on her glass slippers. What's a girl to do when she stands to lose everything? She fights. Hard. EXB AH AU
"Mommy," she said quietly.
"What's up, angel?"
"Do you think you and Daddy will get back together? Daddy said no about getting a divorce, but you didn't say anything."
I hadn't even realized that I didn't answer. I was so busy trying to defuse the situation between Tanya and Edward that it completely slipped past me. I honestly didn't even want to acknowledge it.
"I don't want a divorce, Charlotte. I love your daddy, very much. I think we have to learn how to be nice to each other, though. We're just taking a time-out, like I told you before. Please don't let it worry you, all right? We'll work through this and we'll be even better. That's what I want for all of us."
Nodding, she looked up at me. "I noticed that you guys don't kiss and stuff as much. You guys are always mad now."
I shook my head sadly. "We're working on it, okay. It's not because I don't want to kiss Daddy, I think we just forgot how important it is to kiss and hug each other. Just like I never forget to kiss you guys goodnight and in the morning before you go to school, I can't forget how important it is to kiss Daddy, too."
She smiled. "I know you guys love each other because my friend's parents aren't like you guys. I sometimes used to get embarrassed when you guys flirt and stuff," she giggled.
I leaned in and pressed my forehead to hers. "Daddy thinks it's funny to tease you guys. He can be a brat."
"He's cute, though, huh Mom?" she sighed. I have a cute Daddy."
Find the author on Twitter: @prettykittyff
Chapter 74 of Squeeze My Lemon by Dirty Cheeky Monkeys
Summary: A weekly posting that is an exercise in lemon writing.As authors we're often challenged with writing a complete story, but we have the need & desire for lemons.This is a outlet to work on those skills. So stretch those lemon muscles & squeeze our lemon.
This week we have a returning squeezer, Nicia. Enjoy the teaser: On my way down the corridor someone stepped out from the toilet and almost bumped into me.
"Hey, wa-" My angry retort cut off as my gaze lifted up, and up, and up, until I met the chocolate brown eyes of the guy I'd been eying up earlier that morning. "Oh."
"I'm sorry." He bent down gracefully and handed me the shopping bag I'd dropped before standing back up again. "I didn't mean to bump into you."
My eyes widened as my interest grew. He had an accent. I wasn't sure where it was from, but he definitely wasn't English, Canadian, American or Australian. A flirty grin crept onto my lips as I took my bags from his outstretched hand, jumping slightly when a small electric spark shocked me as our fingers touched.
Say something!
"That's ok." I grinned. "Maybe you can make it up to me somehow."
It wasn't my best line, but it seemed to do the job as his eyes lit up with definite interest.
"I'd love to. But," He glanced at his watch. "I have an appointment right now. I'm filling in for Dr. Zeklos. If you leave your details with the receptionist at the front desk, I'd be more than happy to call you straight after and make arrangements."
My spirits lifted, and then my stomach dropped.
He was filling in for Ivan. My gynecologist. And I was supposed to be his next appointment. I couldn't have him looking at my lady parts if I wanted to get down and dirty with him.
"Sure." My voice was practically a squeak as I turned on my heel and almost ran back to the waiting room.
The receptionist glanced up as I approached the front desk. "I need to make a new appointment."
Find the author on Twitter: @DirtyCMs
Chapter 30 of The Earth, It Trembles by ginginlee
Summary: A girl, a boy, a God, a life, a rebirth, an escape, an attempt at living again.
She can't keep herself from running through the hallway, her feet light and quick, coming to an abrupt stop at her bedroom door. Unlatching the door and walking inside, Maggie sits up in her bed, obviously never having fallen asleep, her eyes wide and alert in the moonlight streaming through the window. Bella nods furiously, saying nothing, and the two girls slip shoes on their feet, jackets around their shoulders, and grab their makeshift duffel bags. Getting to the front door is easy, but the loud creaking of the screen door and the uneven floorboards of the porch aren't easy to navigate.
Each sound, each second, is matched by the triple beat of Bella's heart, a deep thud-thud-thud as adrenaline floods through her, making her head feel like it's about to burst. Taking the keys from Bella, Maggie examines them quickly, heading over to the large van.
Find the author on Twitter: @ginginleelee
Chapter 17 of The Search by Amber1983
Summary: When Bella Swan moves to London to escape her painful and humiliating past her new life is knocked off its axis by her charismatic and ambitious boss, Edward Cullen. Can Eddie unravel Bella's secrets and get what he wants without revealing his own demons…and his heart? AH. Britishward. Rated M for language and lemons.
"So, this is my room, obviously," he chuckles a little nervously.
It is simple and tidy, with a double bed, a chest of drawers, a built-in wardrobe and rows of shelves containing a few books and DVDs. And almost as much sheet music as I glimpsed downstairs.
Edward puts our bags down and closes the door while I run my fingertips along the spines – classical, rock, modern, jazz, you name it – every type of piano music you can think of. Clearly, it was more than just a hobby.
"There is so much music here, Edward," I say and I feel him wrap his arms around me from behind and place a kiss on my neck.
"Hmmm." he mumbles.
I turn and loop my arms around his neck. "You must be really good."
He shrugs, "I suppose I used to be. I doubt I remember how to play most of that now."
He captures my face in his hands and distracts me with his mouth for a while.
"Why have you never mentioned the piano before?" I ask when we come up for air.
"It's not part of who I am now. I don't play any more."
"Why not?" I press.
"I just don't." He says it with a finality that I decide not to push upon.
He turns me around and guides me backwards, urging me down to the bed. I sit and he kneels, placing a leg on either side of me on the mattress. He stares at me so intensely that I can't help the heat that spreads across my face and chest. He strokes my cheek and mutters "stunning."
"It's so strange, having you here," he says softly. "Do you have any idea how much of a turn on it is having you in my childhood bedroom?"
My attempt to form a response dies in my throat when he gently nudges me backwards to lie down while he follows suit, half covering my body with his. He finds my mouth again and kisses me deeply. I lace my fingers into his windswept hair and groan a little. When Edward hears the sound he pushes our bodies closer and I hook my leg around him.
"Fuck," he says, breathless. "I'd love to take you right now."
Find the author on Twitter: @AmbersPen
Chapter 19 of The Songs Of Angels by DeltaDawn'sDreams
Summary: Edward is known as "The Heartless Lion" He is ruthless to anyone fool enough to try and befriend him. But can a woman's near fatal accident in a parking lot warm his frozen heart? Can Bella trust another hard man after having suffered James' cruelty?
Beep-beep…beep-beep…beep-beep…
Bella lay beside Edward in the dimness of the hospital room they now shared. She held his right hand gently as she watched his chest rise and fall with each breath. The doctors had promised her that he would wake up soon and she wasn't about to close her eyes until he did, despite her mental and physical exhaustion.
Beep-beep…beep-beep…beep-beep…
The hypnotic beeping of Edward's heart monitor allowed her thoughts to drift back over this morning's traumatic events. She'd shot a man today…she'd killed James. Her mind examined every minute detail of their encounter, trying to find a scenario that would have made any difference but, as far as Bella was concerned, he'd been a dead man the instant he put a gun to Alice's head. If she hadn't killed him, he would have killed not only her and Alice, but Edward, too. He'd given her no choice and she refused to regret the outcome. The sick bastard wasn't going to blacken one more moment of her life.
Beep-beep…beep-beep…beep-beep…
Bella remembered the mass confusion that had descended on the scene when the police and paramedics had arrived moments after Emmett had pried the gun from her frozen hands. Mike had taken charge of removing James's body, taking the gun from Emmett for evidence, and securing the crime scene. Alice, Edward and Bella had been transported to the hospital where Alice and her unborn babies were examined and released into Jasper's care. Bella was treated immediately for her cuts and bruises but, on doctor's orders, she would remain in the hospital with Edward for a couple of days to monitor the concussion she'd received when she hit her head on the coffee table. Edward had gotten the worst injuries. He was hospitalized with bruised and fractured ribs, a severe concussion and several stitches on the back of his head. He'd remained unconscious the whole time.
While waiting for Alice's discharge papers, Jasper had scrolled through the contact list on Edward's phone looking for an ICE number. There, he'd found Carlisle's number and took the liberty of phoning to inform him of Edward's condition. From that moment on, both Bella and Edward were treated like royalty. A custom king-sized hospital bed was moved to a private room, since Bella refused to leave his side, and highly qualified doctors and nurses attended to their every need.
Beep-beep…beep… beep… beep… beep..
Her head jerked up at the sudden change in Edward's heart monitor.
Find the author on Twitter: @RobsFan-tasy
Chapter 2 of Theory by LJ Summers
Summary: Originally written for TwiFicPics' "Talk Nerdy to me Challenge," this is a story about how Geeky Edward meets stunning Physics TA Ms. Swan and, well, talks nerdy to her. She's different, though, and he has theories about why. Edward/Bella AU
"As applied to physics? The quantum theory of superposition?"
I nodded. "Yeah. The quantum effects are theorized only to affect the smaller structures. Subatomic." I wasn't a grad student, but I had made good use of my first two years of college when Physics was just my minor. Plus, I'd done research.
She moved even closer to me and I felt every muscle in my body tighten against the urge to press her up against the nearest table and grind into her. Her lips parted and I could smell her breath; the same floral scent that always followed her. " The subatomic particles also affect much larger and more complex structures," she said. How the hell could she sound so suggestive while being so technical? The gold in her eyes seemed to darken, and I felt like I could fall into her eyes forever.
"Larger…?"
"Uh-huh." Lids lowering, she whispered, "Want me to show you how much larger?"
Chapter 2 of Watching Her by les16
Summary: She's his Drummer Girl. She plays. She dances. She's got secrets. He watches her. If he comes out of the woods will she let him in or close the doors forever? Daily Updates. AH.
EPOV~
We've been practicing for hours. I'm sweating like a pig, my gray t-shirt long gone, when I hear Jasper whistle. "Nice ride," he drawls as his eyes are fixed on the road behind me.
I turn … and feel all the air leave my lungs. Adrenaline pumps through my veins so fast I get dizzy, and not from the sun beating down on me either. "It's her," I murmur too quietly for either of them to hear me. Thank God.
Her gleaming black Escalade heads in the direction of town and it's about all I can do not to make some excuse to the guys so we can leave and then I can follow her.
"Who the hell is that?" Emmett wonders aloud, juggling the soccer ball as he talks.
For some reason I play it off, wanting … needing to keep her to myself for a little longer.
"Probably just some guy traveling through town on their way to La Push." My tone is casual, indifferent. I'm anything but.
Find the author on Twitter: @les_sh_16
Chapter 51 of Words with Friends by Nolebucgrl
Summary: Bella Swan has a major crush on a major star, Edward Cullen. They have an obsession with the same game. Can they connect through Words with Friends and become more than that?
Alice sat back down next to Emmett, her expression of joy obvious. "I am! In fact, I just got the best news! I got hired for the internship at Seattle General! I'll be starting in August!"
"That's great," Carlisle praised her. "It's a fine hospital and I'm sure you'll do well there. Do you have a specialty that you'd like to get into?"
"Alice is very interested in pediatrics," Emmett announced, a huge grin on his face. "She has a real thing for adolescents, don't you, Alice?"
Ali punched him but it did nothing. "Shut up! I do not!"
"That's not what I hear." He poked her side. "How many proms have you been to since I saw you last?"
"You're such an asshole." She looked embarrassed when she took in the parental types in the room. "Oops, I'm sorry, he's just…"
"I get it," Esme told her, giving Emmett a very mom-like glare. "Emmett, knock it off."
"What does he mean about prom?" Dad asked, finally turning away from me and Edward to see what Alice was talking about.
"Uh, nothing. He's just being a jerk," Alice lied.
"That's just how Emmett and Alice are, Dad," I agreed, trying to save her the embarrassment of explaining. I smiled at Edward's parents. "Are you sure you didn't have a daughter twenty-two years ago? These two fight exactly like siblings."
Carlisle chuckled. "I worked a lot back then but I think I'd remember having a daughter, even a short one like Alice."
Esme laughed lightly. "You might have missed it, dear, but I wouldn't have. Emmett always wanted a little sister to tease. It looks like he's got one."
"I do." Em slipped an arm around Ali and grinned when she elbowed him. "Alice loves me."
Find the author on Twitter: @Nolebucgrl
Chapter 42 of Words with Strangers by Nolebucgrl
Summary: EPOV Companion Piece to Words with Friends. Movie star Edward Cullen is done with women and focused on his career. A stranger reaches out to him via Words with Friends. Will her words change his mind?
"I hate you," she told him. "I don't have a boyfriend, Charlie. Just a friend. And he's perfectly legal, not that we're doing anything illegal. Emmett does the illegal things, not me."
"Hey, I'm reformed," he informed us all. "I haven't been in trouble in ages."
"If you define ages as about a hundred days, then I suppose that's true." Charlie shook his head as he turned to my mom. "My heart about stopped when I did a run on your son and found out he'd been arrested five times. I was relieved when I realized I was looking at the wrong E Cullen."
Oh, shit. Mom's eyes narrowed and Emmett shifted, putting Alice directly in her line of fire. "Five times? Where did the other two times come from, Emmett? And why am I just finding out about this now?"
"It was nothing, Mom. All charges dropped. Hardly worth mentioning," he replied desperately, holding Alice in place so she'd provide a shield if needed. She struggled fruitlessly as she giggled, delighted that Emmett was getting some payback, no doubt.
"Hardly worth mentioning? I think it's worth mentioning that you got arrested five times! What did you do, Emmett?"
"Nothing, that's why they let me go. It was a case of mistaken identity." Em's voice was desperate. I braced myself because I knew what was coming. Whenever he was in trouble, he deflected.
"Nobody in Hollywood ever mistakes your identity. What did you do?" she demanded, in the tone that meant business.
"Damn, I can see why you two are so afraid of her," Bella murmured. "I don't want to be on the other end of that look." It was a deadly one, green fire shooting at a shrinking Emmett. Bella's Dad looked thrilled with himself. My dad just looked resigned and Sue appeared to be confused. I couldn't blame her.
"It was nothing, Mom. The usual. A little matter of a fight, some destruction of property, all very minor things. And I didn't destroy any property. A chair may have gotten broken when I removed the person who was trying to hit me. I paid for it, no harm, no foul."
"You'll know harm and foul soon enough, boy," she muttered. "Why didn't they press charges?"
Emmett's blue eyes widened and he smiled. I was fucked and I knew it before he even opened his mouth. "Edward did some fast talking, signed some autographs, gave out some tickets to premieres and it was all good. He's my hero."
And it was the last time I would ever be. All eyes shifted to me and Bella whispered "Uh oh." She had that dead to rights.
"Your brother got arrested, twice, and you didn't tell me?" Mom asked, the fire aimed in my direction now. I thought about hiding behind Bella the way Emmett did Alice but I loved Bella too much to throw her to the wolves.
Find the author on Twitter: @Nolebucgrl
Thank you to the authors who participated this week!
If you'd like to be included in next week's post please fill out our web form no later than Sunday evening by Midnight… There are no restrictions, if you have something you want to tease, we're happy to share it with our readers (we ask that you keep it under 500 words, though). Teasers will be listed in alphabetical order according to the name of the fic.
Thanks to everyone who gives us support, sends in their recs and just generally makes our lives in the fandom more entertaining. We couldn't do this without all of you.
See you next week!!

and

Like this post?
Subscribe to our feed!