Are You Ready To Get Teased, Fictionees?

Happy Monday!
Just a reminder that if you find something new on Teaser Monday, please review and let the author know where you found their story!
Chapter 8 of A Little Magic by GeekChic12
Chapter 3 of A Promise Kept by Cullen312
Chapter 20 of An Italian Winter by Raum
Chapter 17 of Any Way the Wind Blows by Miss Baby
Chapter 10 of Between the Soil & the Sky by xNimC
Chapter 7 of Celestial Countenance by Mcgt
Chapter 13 of Cutlass by TKegl
Chapter 31 of Dear Maggie by Jenny0719
Chapter 3 of Deeper Discord by ifyouweremine
Chapter 15 of Dirty Laundry in My Diary by ttharman
Chapter 18 of Everything I Knew by MissJanuary
Chapter 7 of EXPOSURE by RandomCran & MOG
Chapter 21 of Finding Home by gabby1017
Chapter 8 of From These Ashes by shelikesthesound
Chapter 16 of His Cimmerian View by WeeKittyAndTAT
Chapter 8 of In the Debris by BelieveItOrNot
Chapter 21 of In the Woods by Oprah Winfrey
Chapter 23 of Last Call by Robsmyyummy Cabanaboy
Chapter 4 of Lost in the Abyss by mamasutra
Chapter 5 of Marked Indelibly by dreaminginnorweigen
Chapter 5 of New York Minute by twidictedbyrd
Chapter 19 of One More Chance by tpec1991
Chapter 76 of Pure Revelations by georgialion
Chapter 78 of Squeeze My Lemon by Dirty Cheeky Monkeys
Chapter 1 of Stubborn Love by VampiresHavebeagles
Chapter 2 of The Dark Lust by The Angel & The Muse
Chapter 21 of The Night She Wore Black by TheManiacalMuse
Chapter 16 of Waiting In The Twilight by DeltaDawn'sDreams
Chapter 55 of Words with Friends by Nolebucgrl
Chapter 46 of Words with Strangers by Nolebucgrl
Chapter 22 of Yours for the Taking by IngenueFic
Chapter 15 of Zombie Killer of the Week by Lulu M
Chapter 8 of A Little Magic by GeekChic12
Summary: After four long years, Bella finally gets what she's been missing, but it's not enough. She needs more. Will she find it in the most unlikely of places? They say when you're not looking, that's when love finds you. AH, Rated M for l & l. ExB
Bella.
Shit, I'm going to see her in just a few minutes. My stomach starts doing somersaults, and I'm not sure if it's from the super-fun landing or because I'm about to see my beautiful girl at last.
Probably both.
We all make our way through the tiny aisle like cattle. I think I even hear someone moo from behind me, which makes me laugh out loud.
I needed that.
My impatience is starting to get the better of me as we inch along, and I just want off this damn plane already. I roll my shoulders and neck to try to release some of the frustration.
It doesn't help.
When I finally break free from the mass of people, I take off at a brisk pace toward baggage claim.
As I descend the escalator, I'm scanning the people waiting below. I don't spot her at first, because she's standing back a bit. But the moment I do, my heart just about stops.
Our eyes lock, and her face lights up in a stunning smile. My stomach starts doing flips again. Her photo didn't do her justice at all.
She's breathtaking.
As I get a little closer, my eyes begin to roam her body…
Holy fuck, a skirt? Is she trying to kill me?
Find the author on Twitter: @GeekChic12FF
Chapter 3 of A Promise Kept by Cullen312
Summary: Edward Masen, Earl of Whitmore, never expected to fall in love but then he meets beautiful American, Isabella Swan. Set in the midst of one of the greatest maritime disasters in history the odds are stacked against them. AH-Set in 1912.
"No, sir. I think we've covered everything for the time being."
"Wait, I feel like I'm missing something," Bella said looking back and forth between us.
"Just talk among gentleman," Charles answered.
"Daddy," she groaned.
"What?" he asked.
"You promised," Bella hissed low under her breath.
"I didn't," Charles replied leaving me completely confused about what they were talking about.
Find the author on Twitter: @Cullen312
Chapter 20 of An Italian Winter by Raum
Summary: His rebellion began for a reason; it still holds true and brought him to Italy. His life's been predicated on revenge for decades; forgiveness seems impossible. When Edward meets Bella, only a winter separates him from his last prey and his own destruction.
I resolved myself to open the door.
"Edward!" Bella's eyes widened as she looked at me.
I didn't even greet her.
"I know it's late," she said sheepishly, "but I've been busy at school all day long, and I was worried for you. Were you sleeping?"
I grimaced at her question. "Definitely not sleeping," I scoffed.
"I didn't want to disturb you," she stammered. "I saw that the lights in your living room were on and I thought…"
"What?" I snapped. "I wasn't playing the piano or making noise this time. Are you going to complain about the lights too, now?"
She bailed at my outburst. "Sorry." Her voice broke. "Coming here was a mistake," she mumbled, walking away.
"Wait!" I called, stabbed with remorse.
Find the author on Twitter: @RaumTweet
Chapter 17 of Any Way the Wind Blows by Miss Baby
Summary: When fate brings a jaded young doctor to the small town of Forks, he expects nothing out of his stay but a shot at redemption. Little does he know that a new patient and a mysterious young woman will turn his exile into the experience of a lifetime.
"Hey Edward?" He looked up from his thoughts at the sound of his name to see Rachel heading over to where he was standing.
"Yeah?" His voice sounded more wary than perhaps the situation between the two of them required but, even though most of the weirdness that usually came from failed relationships seemed to be miraculously absent, he couldn't help but be very careful is all his dealings with the girl.
She smiled, dropping a chart into the tray as she picked up another, her voice casual as she spoke. "Aren't you close with the Harrisons?"
Does she know? Edward could feel the blood drain from his face as he tried his best to react normal. "A little. Why?" His voice was slightly higher than usual and the words sounded awfully rushed but if Rachel noticed his discomfort, she didn't show.
"A girl just came into the ER with a bleeding left arm," Rachel explained. "I couldn't see her very well but I think it's that girl that takes care of the older man. What's her name again?"
Find the author on Twitter: @missbaby25
Chapter 10 of Between the Soil & the Sky by xNimC
Summary: In between dreams and reality, there is a place where happiness lies. One must not make the mistake of relying on one or the other. As the ultimate daydreamer, Bella Swan learns this lesson the hard way. A lesson in the form of Edward Cullen, her new best friend. AH, OOC, M
The energy between them is so palpable, Bella feels like she'd be able to touch it if she lifted her hand in the air. The silence is tense and uncomfortable, and she absolutely hates it. Nervous and on edge, she fidgets and can't keep her hands from staying still.
She's hyperaware of his presence and the silence gets heavier and heavier until it feels like it's suffocating her. Finally, she decides that she needs to break the ice.
Bella takes a deep breath, holding it there.
"I shouldn't have run," she says on the exhale. The guilt washes over her again and she feels her cheeks flush.
"Don't worry about it," Edward mumbles instantaneously. His voice is quiet, but his cheeks are flushed, too.
She half expects him to say, "I shouldn't have kissed you", but those words don't come. Instead, he sits quietly and continues to distractedly run his fingers over the paperback book.
Class starts a minute later, and the voice of the teacher dissipates the tension a little bit. Bella slowly begins to relax, deciding to focus on the lesson, difficult as it may be.
Her concentration is just beginning to slip away from Edward when he says six words that she will remember for a very, very long time.
Find the author on Twitter: @xNimC
Chapter 7 of Celestial Countenance by Mcgt
Summary: Emmett McCarty is the newest bouncer at Fire & Ice night club. This is his firsthand account of all the shady, sexual, and lucrative happenings from behind the velvet rope.
My eyes fluttered opened at the beaming light that was splayed across my pillow coming from the window. I guess I'd forgotten to close the curtain when I drifted off after my last visit. Getting up, I looked out the window and saw the ocean lapping at the shoreline in it's never ending rhythm. Its sound which was supposed to be soothing was starting to get on my nerves.
Hmm… I wondered if I wished to be somewhere else, I could get away from the waves and the incessant noise of them.
Closing my eyes, I thought about being on the top of a mountain but when I opened them, instead of being far, far away from the sea I was now perched on top of a steep cliff overlooking the sandy expanse and the tiny cottage I assumed where I'd been staying.
Shit, I can't even get my wishes right.
"You need to relax. All this excitement seems to be sending you off the charts." There sat Alistair, sitting on the cliff, his legs swinging over the side, the sun basking him in a heavenly glow.
"I'd relax more if I knew this eternity thing was actually going to be relaxing," I huffed, taking a seat beside him.
"Sometimes hearing about your past isn't as comforting as it should be."
Looking over at him, I had this intense urge to push him off the cliff. I was so tired of his Confucius mumbo jumbo.
"So now what? Are you going to tell me how my life was worth living? Or I don't know…? Maybe tell me why the fuck I'm here? You haven't answered a single question I've asked, so why are you even here if you're not going to help me?" I knew I was being a bratty petulant child about the whole thing but honestly, how did he think I was going to react to all of this… this-whatever it was.
Find the author on Twitter: @Mcgt2008
Chapter 13 of Cutlass by TKegl
Summary: Isabella Swan is certain notorious pirate, Edward Cullen, murdered her father and stole his prized cutlass. Out for revenge, she sneaks onto his ship, but Captain Cullen claims she has the wrong man. A tale of the search for truth…and treasure of course.
Waiting for sunset was torturous.
It seemed to Bella that the sun would never sink below the horizon. She stood with Edward and Jasper in the underbrush where they'd hidden the dinghy, eyes scanning the beach for any signs of life. Edward's father had provided horses for the journey, accompanying them nearly all the way before taking their mounts back home, bidding them all goodbye with a firm nod, and a "God be with you." They'd made it the rest of the way on foot, Bella's heart racing the whole way.
She thought she might expire on the spot when a couple of soldiers on horseback approached, hoofbeats muffled in the mud. She gasped when they passed close by their hiding spot, and Edward took her hand, squeezing it tightly in warning. She clung to him, barely daring to breathe until the men rode out of sight down the beach.
"It's all right," Edward murmured, his lips close to her ear. His breath tickled her skin, and she shivered, eyes fluttering closed briefly. She realized she still gripped his hand, and released it abruptly, stepping away and nearly stumbling out of the brush.
Edward reached for her, his large hands closing on her hips to steady her.
"Easy," he said, voice low, his eye glittering in the dwindling sunlight. "Don't swoon on me now, Smith."
Bella's skin felt hot, her mouth parched, and she licked her lips to moisten them. His gaze dipped, following the motion, his own mouth curving into a smirk. He met her startled gaze, fingers tightening on her waist, and Bella's breath caught, dizziness sweeping through her.
So much for her plan not to get close to him. Actually, at that moment, she really couldn't recall her reasoning behind that one. It seemed a bit silly, when being close to him felt so, so good.
Find the author on Twitter: @Tkegl
Chapter 31 of Dear Maggie by Jenny0719
Summary: A heart leads Bella back home to Forks… and to the brother of the woman who donated it.
There it was again, and my eyes shot to Edward's, wide with disbelief.
Thump.
Thump.
"The fuck?" Edward exclaimed. "Is that what I think it is?"
"Oh, my God," I said, scrambling to get to the front door. "We have to get out of here."
"Hell no." He grabbed my hand and pulled me to the couch. "We're going nowhere."
"But they-"
"I'm done with the secrecy. Fucking done, Bella. They can explain when they're finished."
Find the author on Twitter: @JT040708
Chapter 3 of Deeper Discord by ifyouweremine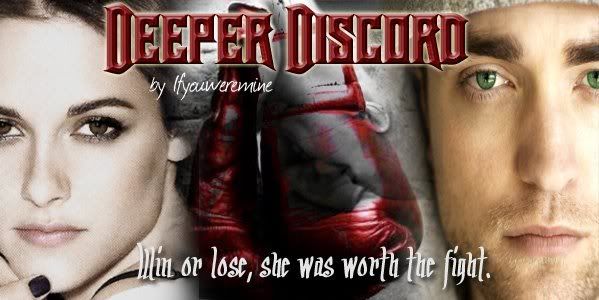 Summary: Edward is a boxer with a dark past and secrets. When his best friend's little sister moves in, he finds himself in the biggest brawl of his life. A story of love and sacrifice and fighting for what matters most. AH – M for content
*Epov*
"What happened to her?"
"Her mom spent all of the college money Nash had left for her."
My eye twitched in annoyance. I didn't know this girl at all but having had one fucked up parent myself, I felt bad for her.
"That's fucking harsh. Tell her that she has two brothers now, and she can stay here as long as she likes."
"Thanks, man."
"Hey," a quiet voice came from the doorway.
When I turned around, I was unprepared for the owner of such an unassuming voice. She didn't look seventeen. I held in the gasp that threatened to escape, and I just stared at her. I don't know what I expected but it sure as hell wasn't the beautiful girl in front of me.
Can I retract my previous statement? There was no way I'd ever look at her as a brother. In my mind, I already had her naked and pinned up against the wall.
Find the author on Twitter: @ifyouweremineff
Chapter 15 of Dirty Laundry in My Diary by ttharman
Summary: Dear Diary-First day at a new school! I hope this one turns out better than the last one. Just one more year to get through, what could go wrong?
As we pulled into the parking lot of the school, I saw a scowling Jessica looking in my direction. Great, I thought, just what I wanted to deal with on my birthday.
"Do you think she'll ever just get over things and move on?" I asked Edward.
"One can only hope. I mean you have no contact with her whatsoever and she just can't seem to let things go, huh?"
"Well, I'll ignore her again today. It is my birthday and I want to have a good day. Speaking of good days, what are your plans for me later?"
Waggling his eyebrows, Edward gave me that panty dropping smile as he looked me up and down. I shivered at that look, it turned me into a puddle of goo.
"Well, Ms. Swan the things I want to do to you and the things I am going to do you, you'll have to wait and see. I'm sure you'll quite enjoy yourself, though, so no worries."
Find the author on Twitter: @ttharman
Chapter 18 of Everything I Knew by MissJanuary
Summary: Bella and Mike wed four years ago and their marriage hasn't exactly been the picture of bliss. A carefully guarded secret surfaces, destroying an already fragile Bella. Everything she knew was a lie, everything she wanted for her life, wiped out with the click of a mouse. An E x B story.
Warning: There is mention of past sexual assault, crappy childhoods, an even crappier marriage, and some very prevalent social issues (that I'm not going to mention here, because it would defeat the purpose of reading the story).
"So, are you ready to meet a bunch of crazy EAs and teachers?"
"Bring it on," he said with a grin.
"Odds are pretty damned good that your girlfriend is going to get bunches of messed up tonight." I turned off the light in my bedroom, noticing Edward's overnight bag at the foot of my bed.
"I can handle it," Edward said, following me down the hall and toward the main floor.
"Rose might flash you," I warned.
"Meh," he said with a casual shrug.
"I might get really high and babble on about God only knows what." I grabbed my purse, slipped it up my shoulder, and then snagged the taco dip off the kitchen counter.
"I'm kind of looking forward to that, actually." He winked and scooped up the nachos and a small cooler.
"Yeah, you say that now," I teased.
As we drove to Rose and Emmett's, I gave Edward the rundown on some of the people he'd be meeting tonight. "Heidi's has Marcus, and they have a little girl named Ashley. She's a cute little thing, very bubbly and friendly. She's five and she'll be nowhere near the house tonight. They also have two dogs. They look a little scary, but they're harmless. They're bull mastiffs—Aro and Caius. And no, I have no idea where they came up with the names."
We pulled up to the McCarty house, and Edward honked the horn.
"You ready for this shit, Eddie?" Emmett asked as he climbed into the back seat.
"I've been warned," he said with a smirk firmly planted on his face.
"Yeah, well when your chicks shot-gunning the principal and Rose is licking salt off Bella's neck, warned will seem insufficient, man."
"You shot-gunned a freakin' principal?" Edward sounded a tad shocked.
"No, he's exaggerating …I shot-gunned Emily. Most of the principals don't stick around for that," I answered factually.
"And I totally licked salt off her. Tequila shots are yummier that way," Rose piped up.
"Is yummier a word?" Emmett wondered aloud.
Find the author on Twitter: @JanuarysFiction
Chapter 7 of EXPOSURE by RandomCran & MOG
Summary: Edward Masen is a talented but struggling actor. Bella Swan is a successful but bashful Hollywood publicist. When sparks fly on a Sci-Fi thriller movie set, Bella finds herself putting out fires and straddling something bigger than headlines. AH/OOC.
Esme was in the meeting room that had been mostly utilized to watch dailies and Edward was sitting beside her. Carlisle had a newspaper in front of him and was staring daggers at the couple from across the table.
Edward had discussed the headlines with Esme, had driven to her hotel in fact, which proved only to fuel the fire when a few hovering photographers snapped his photo on his way back out. Nevertheless, they had a good laugh about the story. In the end, they agreed to simply explain the misunderstanding to anyone who cared to ask.
Carlisle cared, but he didn't ask. He stared.
His lingering, angry glare was beginning to get on Esme's nerves and she was about to say something when Jasper entered.
"Okay everyone," He began the meeting before the door was even closed. "I know that this is going to be a physical shoot and that you'll be in the rigs, but we need to remember that this is an emotional scene as well." He looked from Esme to Carlisle. "As astronauts, you two know what separation from the ship means in a spacewalk. You're dead. Esme, you're going to attempt to be the voice of reason, but as Carlisle comes to grip with his inevitable demise, he will become irrational and crazed. I need you both to play it like a slow panic, just portrayed from two different approaches."
"Got it," Esme replied promptly.
Carlisle grunted.
"Edward," Jasper continued. "As you know, you're talking to them on the radio as long as you can, and even though we'll do your cut aways in California, I think that if we can capture your audio over their helmet mics, we'll save Henry a day of mixing sound. I want you in the chairs with me and I'll actually use the radio to give direction without losing my voice."
Edward smiled. He loved the idea of sitting next to the director all day and turn in a productive supporting part. "Sounds good to me, boss."
"I have some new flight suits with harnesses already sewn in." The AD handed his leading man and lady their costumes. "Alice padded the crotch because the rig will have its own cables and those are the ones that hurt."
Carlisle nodded; he had done enough harness work to join the Cirque du Soleil. He looked over at his soon to be ex-wife and noticed that she looked every bit as nervous as he predicted she'd be. The frightening reality of the harness shoot alone had almost been enough for Esme to turn down her role.
He was going to make this a very long day for her, especially after finding out that she had been slutting it up behind his back.
Find the author on Twitter: @RandomCran
Chapter 21 of Finding Home by gabby1017
Summary: Bella is lost in a world of wealth, snobbery and loneliness. It's only after the loss of her Grandmother that she is face to face with reality and what she wants out of life.
I walk towards the front door and hear my father yell from the outside, "Bella, don't make me come back into that house!"
Edward grabs my arm and pulls me back. "I swear, he has fucking eyes in the back of his head!"
Charlie yells again, "And hold onto her her, Edward!" The screech of his tires ring out with the cruiser's sirens.
Edward mumbles, "That's fucking freaky!"
"Naw, he just knows me." I pull him toward the kitchen. "Let's go ask your mom."
Find the author on Twitter: @gabby1017
Chapter 8 of From These Ashes by shelikesthesound
Summary: The lies we tell ourselves end up hurting us the most. Ashes to ashes, dust to dust. In the end, no one is innocent.
"You've been avoiding me." I leaned against the frame, crossing my ankles.
"Oh, shit!" she yelped, jerking her hand back and making the picture fall forward. It hit the table with a smack, and Bella's hands flew to her mouth. "I'm so sorry."
I pushed off from the wall, walking toward her. "Eh, don't worry about it. Nothing broke."
I picked it up and righted the picture frame—I made a mental note to explore the fact she'd been caressing my picture for later—brushing her side with my own. She let out a shuddering breath, and I tried to hide my smile. The girl wanted me.
"So, um…" Bella started to say, letting the words trail off when she noticed how close we were standing to each other.
"Bella, are we going to keep pretending we don't want each other, dragging this out until you cave? We're losing valuable time we could be using to make each other feel good. I'm not afraid to admit I want you." I was an asshole for just laying it out there like that…I knew it. But I was so tired of the back and forth, waiting and wondering, and the will she or won't she drama. I fucking ached for the girl, and I knew, on some level, she did, too. The time for being subtle was over.
"Seriously?" Bella said, moving away from me. "Could you be any more of a conceited prick?"
I raised my hands up in surrender. "Look, I'm just stating facts. I know you felt something, because I felt something, too. That one fucking kiss made me realize that we'd be so hot together. Are you really going to throw it away because you think I'm a jerk?"
"I'm not going to be one of your whores."
Find the author on Twitter: @shelikethesound
Chapter 16 of His Cimmerian View by WeeKittyAndTAT
Summary: Bella at age thirteen is left with nothing more than a fake ID, and two year old twin half siblings to care for. She makes due knowing it is up to her to give them a good life and education, she was never given. Working as a cleaner at the university five years later, she meets Professor Masen a man who believes all women are out to hurt, or destroy him. Can an uneducated Bella teach him something? What will happen when Bella is another woman who has hid the truth from him? OOC/AH/18&OVER
"Bella, this game is so cool!" Seth says as he walks in with Leah nodding behind him.
"Little Bit, has he ever played that game before?" Emmett asks as he joins us.
Bella shakes her head. "No. I am not really sure what game you're talking about, so I really don't think he has played it at home."
Emmett nods his head. "Wow, Seth! You just remember I am a lawyer, so when you go and break into the music business, you remember me, all right kid?" Seth nods his head, and I look at Emmett questioningly. "He just passed that level I have been on for a month. He didn't have any trouble with it, once I showed him what to do."
I chuckle, nodding my head. "Seth is very musically gifted. You should hear him play the piano. He blew me away when he did." I hear Rose mutter something to Alice, but can't make out what she said. I know by the look on both their faces, though, it was not something nice, nor would it be worth repeating.
"Well, we will have him play for us then," Esme says, coming in with a tray of drinks. Jasper is following close behind her, and he stops to hand Bella and me our waters.
"Esme, you have a piano, too?" Seth bursts out before stopping himself. "I'm sorry, Esme; you look really pretty today. Thank you for inviting me and my sisters over. I love pianos. I am going to start saving up all my money, so that I can buy one someday. Bella said it will take me a long time, because I only get five dollars a week. If I put that away every week, she said it would take me about fifty-five years. I know that sounds like forever, but Bella said that she will help. I don't mind her help, but she works too much now as it is. I would rather see her on the weekends, than get my piano early."
Esme looks at him, chuckling a little, but she seems almost upset. "Well, come on Seth, and I'll show you our piano. You can play it whenever you would like while you are here."
Taking Bella's hand, I go to follow, but I hear Rose mutter something about a gold-digger. "Bella baby, I'll be right there, just follow Esme, okay?" Bella nods at me before looking at Rose and down-casting her eyes. Great! I knew I heard her, but I was hoping Bella hadn't.
"What the fuck is your problem? Can't you seriously put your broom away for a few fucking hours and act like you have a fucking beating heart?"
She turns toward me, facing me fully. With a huff, she raises her eyebrows at me.
Find the author on Twitter: @teamalltwilight
Chapter 8 of In the Debris by BelieveItOrNot
Summary: A story of unlikely friends, a story of family, a search for truth and a search of self. "She's everyone else's Isabella, but she's only my Bella." "I write a poem about a boy and girl who fall in love in the eye of a tornado." AH E/B V/J
This story alternates perspectives between Edward and Victoria. It is an Edward/Bella and Victoria/James story, and this is my take on human Victoria and James as teenagers. Flawed, but not evil.
Victoria
"Write a poem for me today. I don't have to read it, but just write one. Write about that time we went fly-fishing in the river and the current kept knocking you over." It aches me, how sad his laugh sounds.
"That water was so freezing! I hated that day."
"No, you didn't."
I flinch at the truth, at his direct gaze, and how well he knows me.
"Write about freezing water. I know that's more your thing."
"I'll write about water that can freeze you in one place for as long as you want. You can stay in that one moment forever if that's your choice."
He shakes his head, smiling. "Your poems are so fucking sad. Write about sunsets and sunrises, Victoria."
Edward
"But you are Bella?"
"I guess I am."
"They get Isabella, but I get Bella?" I can't help but grin at her.
She nods. I take the last gulp of my drink, liking what I'm hearing. I have an inclination to ask her about James. I ask her something else instead.
"Can I call you Bella?"
Find the author on Twitter: @believeitornott
Chapter 21 of In the Woods by Oprah Winfrey
Summary: Bella has a serious case of writer's block. A retreat to an isolated cabin in the mountains is just what she needs. The only problem? She's not alone and this mysterious, surly stranger is not looking for company. Mature content. Very AU. Romance/Mystery/Angst/Supernatural
"Are you sure you want to do this?" Rosalie looks skeptical. I hope she doesn't intend on backing out now. "There's got to be another way…"
"There isn't. There isn't any time."
I steel myself and raise my fist to knock. Ready or not…
It's dark and dank in Mike's mother's basement. It smells like pot and mildew and some other mysterious odor that I don't really care to identify. Why we have to come down here at all, I don't understand. He mumbled some excuse about looking for the keys and then somehow cajoled me and Rosalie into following him. I just need to borrow his van. Of course Mike Newton drives a van.
Rosalie doesn't even try to hide her disdain, not that Mike would ever notice. She refuses his invitation to sit on the lumpy beer-stained brown microfiber couch and stands stiffly in the middle of the room, trying to not touch anything. He seems to be making no attempt at all to locate his keys, instead flipping through his records, casually changing his shirt for no good reason. I politely decline his offers to smoke weed and listen to the sick beats he's working on. I scan the room, so as to avoid looking at Mike's shirtless torso. He catches me eyeing the fancy camera sitting on his glass coffee table, next to countless empty beer bottles.
"You shoot?" he asks.
"No. That's a nice camera though."
"I dabble," he says with feigned modesty. He suts down next to me on the lumpy couch, a little too close for comfort. I inch as far away as I can without appearing rude. "Can I be honest with you?"
No. Please don't.
"Has anyone ever told you you have the most expressive eyes? Your eyes…they're like, chocolate orbs…so mesmerizing. You have a really old soul, Bella. It was the first thing I noticed about you."
Wrong. The first thing he noticed about me was my boobs. Then my ass. He couldn't stop staring that first night we met. What a creeper. I resist the urge to roll my eyes. I need his van. And his drugs.
Chapter 23 of Last Call by Robsmyyummy Cabanaboy
Summary: The past she's struggling to remember is the time he'd rather forget… Can they move beyond the scars and forge a new beginning together or have they missed their Last Call? AH, Edward & Bella. Rated M for language & eventual lemons.
"Edward."
I mirror her forward motion and raise my eyebrows, "Hmm?"
"I think I'm getting another feeling."
"Think so?"
She nods her head in agreement and comes a bit closer.
"Yeah. Anyyyy, uh, any chance we've been in a pool together? At nighttime, like this, I mean?"
I give her the slightest smile, affirming her déjà vu with a step closer and whisper, "Yeah. We've been in a pool together at nighttime. When we first started going out. Your mom found us there." I chuckle, remembering, "She almost got me fired. But I promised my manager, Billy, I wouldn't do it again."
"Wouldn't do what again? What did you do?"
"This." And bravery takes over.
I move the final step through the warm water and capture Bella's lips within mine.
Soft, supple…heavenly.
I don't allow my lips to meander at first.
I just relish the moment where I'm solidly lip-locked with Bella.
Again.
Find the author on Twitter: @RobsmyyummyCBoy
Chapter 4 of Lost in the Abyss by mamasutra
Summary: I wore his love like a noose around my neck, choking with every I love you he uttered to me. What is more important saving myself or saving him from himself? The answers aren't always that simple. Written for Squeeze My Lemon and now continued…
Once in the building we made it to our apartment and I sat down with a tired sigh as Leah began her tirade against Edward. She didn't understand. She never had. She didn't understand that Edward loved with a tornado. He was consuming. He was everywhere. He sucked you in and spun you around until your were dizzy while lost in the haze that just was him. He loved as hard as what he raged and it was that love that kept me here. It was that love that made me sigh with happiness. It was that love that tied me to him since I knew that no one would love me like what he did. No one would love me with the same passion and intensity that took my breath my way. No one would ever hold my heart in their hands the way he did. No one would love me with the intense power that could move heaven and earth like Edward.
Find the author on Twitter: @mamasutra73
Chapter 5 of Marked Indelibly by dreaminginnorweigen
Summary: For 4 years they've been "the tattoo guy" and "the florist" to one another. When their paths finally converge can he help her heal from a painful past? Can she him? Em/R surrounded by a mixed cast of characters. Edward on call for comic relief. AH/AU
He was momentarily stunned silent. She took him by surprise once again. He'd seen her only from a distance for so long that he had an expectation of what she looked like and it was nothing close to the truth. How could she look so fresh and still carry off that pin-up look? He had a sudden flash of a calendar hung in his office—all of Rosalie doing mundane things like trimming rose bushes and making coffee. He felt a smile tugging at the corner of his mouth and he bit his cheek. No point in looking happy. He had bad news to deliver.
The smile easily dropped away when he saw the look of horror on Rosalie's face. She was gaping at the flowers. He looked down to the box and tried to explain. "I'm so sorry. I was hoping you could recreate it. I'm happy to pay. It slipped right out of my damn hands."
"What?!" she hissed, wiping her hands down her work apron and stepping quickly from behind the counter. "Don't be ridiculous, Emmett. You're bleeding all over the place."
Shocked by her tone Emmett looked down from the flowers to his left hand. Sure enough, blood from the cut on his thumb had spread slick and wet over his other fingers. Three drops had already hit the floor. "Shit. I'm sorry. Damn." Rosalie reached for the box of flowers, glaring at him like he was nuts. This was not going as he might have hoped.
She put the box on the counter and grabbed his uninjured hand. "What did I say about being ridiculous?" With more strength than he expected she pulled him behind the counter and into the back room.
"Sit," she said pointing to a stool next to her work table. "Put your hand above your heart."
Find the author on Twitter: @dreamnorweigen
Chapter 5 of New York Minute by twidictedbyrd
Summary: As teenagers Bella and her best friend dream of meeting their celebrity crushes. When they find themselves living in New York after college, they find out dreams can come true in a New York Minute.
APOV
It was nice just relaxing in Jasper's arms in his dressing room before the show started. I was curled up with my head on his shoulder, his hands stroking my side. He'd gotten a call from a friend earlier who was going to drop by for a few minutes before the concert started. I asked him who, and Jasper said to wait and see. Jasper was surprised when his friend said he was bringing a girl with him. He said that he couldn't remember a time when the friend ever brought a date to meet anyone he felt was important to him.
"Thanks for being here with me tonight, Alice," Jasper said to me with a tender kiss to my forehead.
I turned and kissed his lips. "There is no place else I'd want to be. Thank you for inviting me."
"After tonight, how many times will you have seen me in concert?" Jasper grinned broadly at me. His question surprised me even though it shouldn't have.
"Um, honestly I don't know the number off the top of my head," I laughed.
"Come on, Alice," Jasper said as his face nuzzled my neck with his hand moving to the hem of my t-shirt. "More than ten?" he asked as nibbled my ear lobe. If I couldn't remember the number before, what he was doing to me now definitely wouldn't help my memory.
Find the author on Twitter: @twidictedbyrd
Chapter 19 of One More Chance by tpec1991
Summary: When Edward and Bella met it was love at first sight. On their wedding day, Edward makes a huge mistake. Hurt, Bella runs away without a trace. What happens when years later he runs into her and discovers that she's NOT with someone but also she's not EXACTLY alone? Will Edward overcome his fears and do what's best to get his family back? Or will he fail and lose what's now EVERYTHING to him? Will Bella ever forgive him? Will Bella give him One More Chance?
"Edward… I asked Alice and she told me to ask you. I know something happened…"
"It's nothing for you to worry about."
"It doesn't seems like. What happened? Why won't you tell me?"
…
…
"I'm afraid of what you'll think of me." I murmured.
"Just… just tell me the truth Edward, why were you in the hospital two years ago?"
I kept staring at the floor, not daring to see her at her eyes. I couldn't bring myself to tell her what I did, to accept it for the first time out loud while looking at her eyes.
…
…
…
I didn't want too… but, I had to.
…
…
"I tried to kill myself."
Her gasp was the only noise in the entire house.
I didn't dare to look at her, I was that of a coward.
"No you didn't, you are lying." She said with a shaky voice.
"I'm sorry." I whispered.
"Why the fuck did you do that!" She yelled with angry tears.
I lifted my head.
"Why do you care?" I challenged her.
"Why do I care?! You are the father of my children for fuck sakes! Of course I care!"
"Well, you never told me about them!! so I could as well have been dead!! But for you?! What difference would have been if I weren't here?!"
"Of course it would be a difference!!"
"How?! If it weren't for them, why would you care? Tell me?! You told me yourself you didn't want me anymore!! So why do you fucking care?! YOU FUCKING LEFT!!"
Find the author on Twitter: @tpec1991
Chapter 76 of Pure Revelations by georgialion
Summary: E & B share a class at UDub, but not much else. She's shy & reserved as she adjusts to a new life. He's angry & isolated because of his upbringing in the mysterious and secretive LaVerrot Estates. Fate brings them together, but will their love be allowed?
EPOV
When I stepped out of the shower and wrapped a towel loosely around my waist, I was both relieved and disappointed that Bella was not waiting for me. Disappointed because I was addicted to her presence and relieved because I knew I wouldn't be able to control myself if she gave me a repeat performance of last night.
She'd been a seductress, sneaking into the bathroom and commanding me to let her do things to my body that no woman had ever done before. Her mouth and lips and teeth had charmed the python into submission, and I had willingly allowed it. Afterward, I'd been the one to dominate and pleasure her in a blur of tangled limbs and positions until we finally collapsed, naked and sated.
It was bliss, until I woke up and saw the bruises I'd left behind. My manhandling had hurt her… and I felt like shit.
As much as I wanted to do it all again, I was scared. I couldn't bear the thought of possibly harming her, but I also knew that she was my one and only weakness.
I couldn't resist her.
After toweling off and slipping on a pair of jeans, I walked out into the bedroom and found Bella perusing my music collection. She was wearing my white, button-down dress shirt and not much else. Her long, lean legs went on for miles.
Fuck me.
Making no indication that she'd heard me exit the bathroom, she lifted her arm to pull a CD from the shelf, giving me a glimpse of the lace-trimmed, blue panties she wore. They hugged and framed her perfectly, putting her ass on display like a piece of fine art. While I enjoyed the presentation, I wanted to do more than look. I needed to know how the soft fabric would feel under my hands as I massaged it against her delicate skin. I wanted to touch the moist fabric at the apex of her thighs, and I yearned to suffer the pinch of elastic and lace as I slipped my fingers beneath the fringe and found her promised land.
Before I even realized what I was doing, I was across the room, pinning her against the wall with my hands full of soft, blue silk and my mouth full of sweet Bella.
Find the author on Twitter: @ilovealion
Chapter 78 of Squeeze My Lemon by Dirty Cheeky Monkeys
Summary: A weekly posting that is an exercise in lemon writing.As authors we're often challenged with writing a complete story, but we have the need & desire for lemons.This is a outlet to work on those skills. So stretch those lemon muscles & squeeze our lemon.
This week we are happy to have a returning squeezer, DreamQuill, who is bringing us more from her previous squeeze, The Bella Hour. Enjoy her tease!
"Surprised to see me, Colonel," she says.
I swallow hard. "It's six and we're not in Forks. Go home."
She struts over and places my hands on her tiny waist. "Make me."
Find the author on Twitter: @DirtyCMs
Chapter 1 of Stubborn Love by VampiresHavebeagles
Summary: She'll lie and steal and cheat, and beg you from her knees. She'll make you think she means it this time, tearing a hole in you. But I still love her. I don't really care. A story from iambeagle and VampiresHaveLaws.
Maybe it's the weed, or maybe it's the way she's purposely withholding information about herself, but I suddenly want to know everything about this girl.
"How long are you here for?" I ask instead, filling the silence without coming off as too eager.
She stares up at the sky, blinking the water from her lashes. "However long I want," she replies coolly.
Her face turns back towards mine, and I stare at her for a beat longer, the water carefully, silently moving between us. It feels like I'll be unable to tear my eyes away from hers when the time comes.
"Tell me your name," I urge again, my voice a little quieter than before.
"Why?" she whispers.
I lick my lips, tasting the chlorine. "Because I want to know you," I admit, not caring how silly it sounds.
Her stare gets a little harder, her expression more serious. "You shouldn't want to know me," she insists.
Find the author on Twitter: @megschmegg and vampshavelaws
Chapter 2 of The Dark Lust by The Angel & The Muse
Summary: Another night, another strange and gruesome murder in Portland. Detective Cullen is determined to solve this baffling case, but at what cost? What he finds could make or break … him.
"In light of the most recent death here in Port—" Then he was gone, bright, colourful cartoon images replacing him for a brief second before they, too, were gone.
"Kate!" Bella cried when she realized that Kate had changed the channel. "Go back!"
Groaning, Kate complied. "The news is boring," she complained to herself, tossing the remote on the couch beside her and crossing her arms in front of her body as she pouted.
Bella leaned forward in her chair, resting her forearms on her knees as she watched the television intensely. The words "Detective Edward Cullen, Portland Police Department" graced the bottom left corner of the screen as flashbulbs went off, illuminating him as he spoke.
"Detective, are there any leads?" one reporter asked, making Bella smirk slyly as the detective looked blankly at the reporter, almost as though he were unsure how he should respond. It was a valid question; one Bella herself was quite interested in hearing the answer to.
The detective ran his fingers through his unruly hair, dropping his eyes from the cameras and reporters, as he seemed to be selecting his next words carefully. His shame and frustration were obvious to Bella by the way he held himself. "Up until recently, the department was unable to come up with anything concrete. However, we are positive that this recent string of homicides is the work of the same individual, and we will find this person."
"Do you have any suspects?" another reporter asked. Bella's smile widened and her eyes brightened with excitement.
Bella found it interesting when the detective raised his eyes and looked directly out into the mass of people gathered before him. His frustration seemed to fade—though, not completely—and there was something in his eyes that seemed cocky and sure, yet also apprehensive. "We are currently working on a few leads based on several pieces of evidence we discovered on or around the last victim."
The smile left Bella's face in an instant, and both Victoria and Kate looked to her for a reaction. "He's lying," Bella said with a sneer, standing fluidly from her seat but not moving any further. Standing still, she continued to watch, taking steady breaths in an effort to remain calm as she let his fabrication loop over and over in her head.
Chapter 21 of The Night She Wore Black by TheManiacalMuse
Summary: Edward & Bella are a happily married couple with a great sex life, but they both crave something darker. When Bella pushes them over the edge into an intense new lifestyle, will they embrace their new roles? Or will they be torn apart? AU/AH/OOC/BDSM
Walking out on Bella was the very last thing I ever thought I would do. Yet in that moment, as I was forced to confront everything about myself that I had been determined not to face, it seemed like the only thing I could do.
I left because I was just so … conflicted.
Confused.
Completely and totally screwed.
My whole world was falling apart, and I had no idea how to put it back together. No matter what I did now, Bella was going to get hurt. So the question became: What mistake was I more willing to live with? Could I risk hurting her physically to spare her emotionally? Or would it be better if I just … disappeared?
A ripple of panic shot through me as I even considered the latter option. The thought of spending the rest of my days without Bella made my very soul ache. The idea was so sickening to me that I was surprised I had even been able to utter the words to her earlier. Even faced with this dilemma, I didn't know how I would ever be able to walk away from my everything. Bella was my life. The only thing I did know was that I wouldn't last long if I chose that path.
Without my greatest reason for being, I was better off dead. I was half way there anyway…
Find the author on Twitter: @TheManiacalMuse
Chapter 16 of Waiting In The Twilight by DeltaDawn'sDreams
Summary: While working on the Breaking Dawn Movie, actor Edward Cullen finds himself addicted to a few web blogs. When a new member joins the group he finds himself captivated by the things she writes about him.
EPOV
I showered, dressed and took care of dinner, but I couldn't decide whether I should go to Bella's room to get her, or if I should call her room, or what. I decided the gentlemanly thing to do would be to go to her. It had been just over an hour since I dropped her off and I hoped that would be enough time for her. I was anxious to be near her again and couldn't wait.
As I left my room, I told Dean and Emmett about my plans. Dean, ever the professional, just nodded in reply, whereas Emmett, my lovable yet pain-in-the-ass brother-in-law, grinned like an idiot.
"That's more like it, bro," he said.
"You need to get a life, Emmett. Seriously," I snarled at him.
I walked the few steps to Bella's room, since it was just a door away, but, before I could knock, her door opened. In her rush to leave the room, she didn't notice me standing there and plowed right into me. Instinctively, my arms wrapped around her waist to steady her. Her hands, one holding a small sequined handbag, were flat against my chest while the rest of our bodies were plastered against each other. She stiffened momentarily as she realized what had just happened. She wasn't the only thing that was stiff between us.
Bella slowly raised her head and peeked up at me shyly through those wickedly long lashes of hers, and it was one of the sexiest things I'd ever seen.
"Hello, beautiful," I said, smiling down at her.
"Oh, my…! I…um… Hi…" she sighed when her eyes finally met mine.
I stroked her warm, pink cheek with my left thumb, unable to resist touching her beautiful face.
"Since it's premiere weekend, and the paparazzi are lurking everywhere, I thought we could have room service bring dinner up to my room. We can avoid the public that way and, I assure you, it'll be just as elegant as any restaurant we could possibly go to," I told her.
"Um, that sounds…lovely," she managed.
Oh, how I wished I could read her mind right now. I didn't take my arm from around her waist as I walked us back to my room. As Bella entered the room, I made the mistake of looking at Emmett. He had a crooked grin on his face and then proceeded to wiggle his eyebrows at me. I mouthed the words, "SHUT UP," and punched him in the gut before Bella could catch us. Bella wasn't that kind of girl and, frankly, I wasn't the kind of guy to take advantage of her, or any woman, even if they were more than willing.
Find the author on Twitter: @RobsFan-tasy
Chapter 55 of Words with Friends by Nolebucgrl
Summary: Bella Swan has a major crush on a major star, Edward Cullen. They have an obsession with the same game. Can they connect through Words with Friends and become more than that? Time will tell!
"Thanks," she said. "Bella, are you okay?"
Was I? "I don't know what I am, Alice." So much was swirling through my head. Fear, anger, guilt. Guilt was the strongest at the moment. "I'm so sorry you got hurt because of me."
Her gray eyes narrowed. "I'm sorry, were you the one who stomped on my leg trying to take your own picture? I must have missed that," she said sarcastically.
"It was because of me. You're hurt and Rose and Emmett are in jail because…"
"Because the press got tipped about you somehow. Jess, Mike, someone from last night, someone here at the hotel, who knows? But it's not your fault," she snapped.
It was, but I knew better than to argue with her. "I just wish it was different."
Alice shook her head. "What do you wish was different, exactly? Do you wish Edward weren't a famous actor?"
That had been what brought him to my attention. "Of course not."
"Do you wish you weren't with him?"
That was too ridiculous for words. I just glared at her. "I didn't think so. Do you wish you hadn't come to Berlin to be with him?"
God, no. "No. I want to be here."
"Do you wish you hadn't gone out last night, looking better than you ever have, to have a private, romantic date with him?"
I couldn't regret last night, not even if we'd been discovered because of it.
"No."
"Good. Then shut up and tell me about the evening before I have to log on and read about it on People," she ordered.
Find the author on Twitter: @Nolebucgrl
Chapter 46 of Words with Strangers by Nolebucgrl
Summary: EPOV Companion Piece to Words with Friends. Movie star Edward Cullen is done with women and focused on his career. A stranger reaches out to him via Words with Friends. Will her words change his mind?
"There was nothing last night. I double checked. Damn it, Edward I was on the net until around midnight. It must have…fuck!"
"What?"
"Well, don't you look pretty?" I cursed and she groaned. "Did you have to hold her against you like that? Where is that? The hotel?"
Damn it. "Us getting out of the limo?"
"Looks that way," she muttered. "Yeah, it says Edward Cullen and unidentified female embrace outside his hotel. Everybody fucking has it. People, Perez, TMZ…damn it, I thought you had it handled?"
I ran my hands through my hair, aggravated beyond belief. "I did have it handled. Someone must have opened their fucking mouth. Nobody followed me from the set, I checked. And if they had, they would have had a much better picture because I kissed her outside the restaurant…"
"You moron!" Kate yelled.
"Jesus fucking Christ, I think I can kiss my fucking girlfriend when she looks too beautiful for words and I'm taking her on a long overdue first date. What the hell is wrong with that?" I shouted.
"Nothing." Kate sighed. "I'm sorry. You're right. You should be able to do that, absolutely. You know I'm on your side there."
I knew. It wasn't her I was pissed at. It was them. And me because I did know better. "I'm sorry, too. She's upset. She was crying; I know she was. And Emmett and Rose are in fucking jail and I have no idea what to do now. I'm on my way to her and then…I don't know."
"Now I do what I do. You're out of the closet, Edward. There's no going back. We're going to have to figure out a plan of action and go from there. I'll be on a flight out as soon as I can."
"Kate…" I broke off before I told her that she didn't have to come. I wanted her here. "Thank you."
Find the author on Twitter: @Nolebucgrl
Chapter 22 of Yours for the Taking by IngenueFic
Summary: "To dance is to be out of yourself – larger, more powerful, more beautiful." Bella longs for a turn in the spotlight while Edward wonders how long the stage will be his. AH.
"Why are you nervous? You know Esme."
Of course Bella knew Esme. Esme was her boss. The big director who could make or break Bella's career. The one who had called Lauren into her office the week before because of a conduct complaint and Lauren hadn't spoken the entire next day.
Yes, Bella knew who Esme Cullen was.
"Bella," Edward was calling her name and when Bella shook herself out of her thoughts, she realized he was standing in the open doors of the elevator, holding it so she could follow him out into the hallway. Once they were walking down the hall to the apartment at the end, Edward wrapped an arm around Bella's shoulders, pulling her into his warmth and comfort.
"She's my boss," Bella whispered to him. A tilt of her face up and she was looking into Edward's concerned gaze. "This is a little strange."
Find the author on Twitter: @LaVampIngenue
Chapter 15 of Zombie Killer of the Week by Lulu M
Summary: Zombies have taken over the world. Bella's last mission: find solace within Forks, Washington. Wary of those she comes across, can she trust the spoiled rotten city girl or the two zombie enthusiasts? Or how about the one boy she can't seem to forget?
The REAL Kahlua March 2006–April 2012. Love you forever. Miss you always.
Her breath stunk like deep-fried onions and garlic as it wafted from her perch on my chest to my nose. She was dreaming about something, running somewhere, whimpering in her sleep as her legs twitched. I liked to think it was of something happy, that she was chasing squirrels and leaping through fields of green rather than escaping from zombies on blood-slickened ground.
Her front leg stretched across my abdomen as she let out a loud snort, her cheeks flapping with the force. Her eyes opened for just a brief second as she rolled them up to meet mine as if reassuring herself that I was still there. I grabbed her leg, just above the pad of her paw, letting my fingers rest against the smooth fur just above it. Her heart beat through her skin, reminding me that she was still alive. Even if just for the night, that if tomorrow we should wake and die, we had each other to hold, and I didn't . . . couldn't take advantage of that.
Find the author on Twitter: @Lulu_M5
Thank you to the authors who participated this week!
If you'd like to be included in next week's post please fill out our web form no later than Sunday evening by Midnight… There are no restrictions, if you have something you want to tease, we're happy to share it with our readers (we ask that you keep it under 500 words, though). Teasers will be listed in alphabetical order according to the name of the fic.
Thanks to everyone who gives us support, sends in their recs and just generally makes our lives in the fandom more entertaining. We couldn't do this without all of you.
See you next week!!
and

Like this post? Subscribe to our feed!