Are You Ready To Get Teased, Fictionees?
It's Monday, and you know what that means!
Just a reminder that if you find something new on Teaser Monday, please review and let the author know where you found their story!
Chapter 3 of A Good Liar by Raum
Chapter 7 of A Promise Kept by Cullen312
Chapter 6 of A Spoonful of Lemon by AbbyWard
Chapter 25 of An Italian Winter by Raum
Chapter 19 of Cracks in the Pavement by VampiresHaveLaws
Chapter 12 of Criminal by JadedLadies
Chapter 19 of Dirty Laundry in My Diary by ttharman
Chapter 6 of Dream Mind by pappy73
Chapter 27 of Failure To Thrive by Julesnerd
Chapter 25 of Finding Home by Gabby1017
Chapter 22 of His Cimmerian View by WeeKittyAndTAT
Chapter 14 of No Ordinary Proposal by twilover76
Chapter 4 of Open by SammieLynnsMom
Chapter 2 of Original Sin by mystique-jewled
Chapter 6 of Our Lives Unbound Extras by theladyingrey42
Chapter 15 of Prism by Anna Faze
Chapter 84 of Squeeze My Lemon by Dirty Cheeky Monkeys
Chapter 3 of A Good Liar by Raum
Summary: "The first time the Grim Reaper visited Edward, it was in the form of the Spanish influenza. The second time, Death had the lovely face of Bella Swan."
He turned his gaze toward the woods where she had just come out, and Bella feared he had fully realized where she had just been.
"I saw you taking that road and waited for you," he admitted. "It's better if next time you choose another way, okay?"
She narrowed her eyes at him. "Were you following me?"
He held up his hands, signaling that he meant no harm. "No. I was coming to visit you and caught sight of your truck on the road. So I waited for you."
She hadn't spent a lot of time at the Cullen house – the more she stayed there, the more she hurt – but still… "You stayed here all this time, just waiting for me?"
He smirked. "I don't mind waiting for you." His words seemed flirtatious, but his gaze darkened. "When I saw you taking that way…"
Find the author on Twitter: @RaumTweet
Chapter 7 of A Promise Kept by Cullen312
Summary: Edward Masen, Earl of Whitmore, never expected to fall in love but then he meets beautiful American, Isabella Swan. Set in the midst of one of the greatest maritime disasters in history the odds are stacked against them. AH-Set in 1912.
Our lifeboat was the second to be rescued and one by one we were hoisted onto the deck of the Carpathia by a canvas sling and rope. The deck was crowded with their own passengers trying to get a glimpse of the survivors and offer assistance when needed. My body was stiff and sore as someone helped me out of the sling. The moment my feet touched the deck, I instantly began looking for the one face I longed to see in the crowd.
Angela and Lady Crawford were on either side of me as we were escorted to a small room where dry blankets and tea were being handed out. Angela wrapped one around me and then herself just as an officer approached us.
"Your names please?" he asked.
Angela looked to me to answer but it was Lady Crawford who addressed him. "Lady Marion Crawford, Miss Angela Weber, and her ladyship Isabella Masen, Countess of Whitmore."
"Thank you, mum," the man said.
"Edward Masen, the Earl of Whitmore, has he been brought on board yet?" I asked, finally finding my voice.
"No, my lady, yours is only the second boat. The first boat only held ladies and the crew, no gentlemen yet."
Find the author on Twitter: @Cullen312
Chapter 6 of A Spoonful of Lemon by AbbyWard
Summary: Painfully shy Bella has lusted after her delectable neighbor for a long time. Can her dreams become reality with some mouth-watering cupcakes?
I woke up the morning after prom with my head spinning. I jumped onto my laptop straight away and started planning.
Jacob's voice echoed through my head as I thought about how to honor the people around me who have stuck with me even though I haven't been a good friend to them.
After a few hours research, and calling in some favors, I opened Facebook to create an event. But there was something else stronger and louder calling me.
I had never looked at Edward's profile before, I was always too afraid that the 'see who has been looking at your profile' links worked. The urge to look had never been greater than the urge to seem uninterested in him. Until now.
I scrolled through my friends list and clicked on his name before I lost my nerve.
His cover photo was of a sunny beach, so not a local beach, and his profile picture was stunning now that I could see it bigger; the frown, the lips pressed together and sticking out slightly, the head tilted slightly. I breathed out in a rush when I realized that is how he looks when I kiss him in my imagination.
I clicked on some pictures to get a better look. There was a picture of him and his brothers wearing tinsel halos and grinning for the camera, a picture of him eating a turkey leg, and a picture of him buried in autumn leaves with only his face showing. The next was one of him laying on the sand wearing only board shorts. It looked like the same beach as the cover photo but ten times as beautiful with him in the picture. I stared at his abs which were perfectly on display, the bright sunlight creating shade and shine in the right places. His skin was slightly tanned and his hair was slightly bleached by the sun. The only problem was the sunglasses which covered his eyes, he should be banned from covering them. I took a quick screenshot, blushing in embarrassment even though no one was there to see.
Just as I was about to click back to my task I spotted a month-old post that seemed normal until the last words. Tanya Denali: It was nice to meet you last night. Irina said it was the best birthday she had ever had. Sorry about what happened. 11:00 29 April
Find the author on Twitter: @AbbyBSWard
Chapter 25 of An Italian Winter by Raum
Summary: Edward's rebellion began for a reason; it still holds true and brought him to Italy. His life's been predicated on revenge for decades; forgiveness seems impossible. When he meets Bella, only a winter separates him from his last prey and his own destruction. AU/vampires.
"See the shamrock? It represents perpetuity. Vampires don't die naturally and don't age. But I don't believe it's a reference only to their immortality. Perpetuity doesn't depend on how long our lives last, but on the meaning we give them. For decades, living with the Cullens and sharing their values, I believed that there was a way for me, for us, to not be damned."
The tempo of her heartbeat increased. "What made you change your mind?"
The word had never felt more harsh on my tongue. "Revenge."
Find the author on Twitter: @RaumTweet
Chapter 19 of Cracks in the Pavement by VampiresHaveLaws
Summary: Life is never perfect, the cracks always appear. "My Polaroid would show the face of a girl who has forgotten how to truly smile." Even the strongest of dreams can fail to become enough.
He trails the back of his finger down my cheek, his eyes intent on mine. "It hurts to look at you sometimes," he says quietly, his whisper rough. "Have I ever told you that?"
I'm glass. I shatter at his feet and glisten in the sun; collect tears from the sky and let them roll down my cheeks.
His touch glides to my neck, igniting goose bumps and a wayward heart as I shake, and shiver, and tell him no.
He takes a step forward and brushes his lips across my forehead, feathered secrets and snowflake dreams. "You're beautiful," he breathes, setting me alight as my lashes droop, my pulse sunlit and golden.
My palms find his chest, feeling his warmth, living in his accelerated beat. "So are you," I murmur.
I feel his smile against my skin and nothing has ever felt so good. My eyes squeeze shut and I want to stay in this moment forever, take up residence in the curve of his lips and remember this thing called happiness.
Find the author on Twitter: @vampshavelaws
Chapter 12 of Criminal by JadedLadies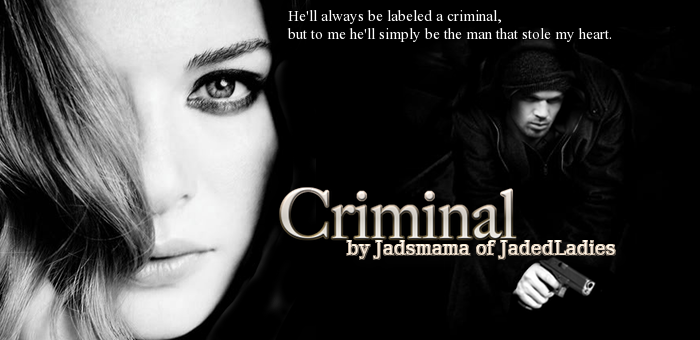 Summary: Gang life, handcuffs, and bars keep them apart, but as they say, love overcomes all things. Or does it? As Tori's life unravels, she must decide if love is enough to heal the damage James left in his wake. A novella written by Jadsmama.
"How are you feeling now, sweetie?" My dad takes a seat next to me on my bed.
"No better than I was earlier, Dad."
"Are you calm enough now to give us an explanation about what's going on?" Mom curtly asks, igniting my annoyance. My spine goes rigid, assuming she's trying to prompt a conversation about James' delinquent behavior.
"You already know everything. They didn't tell me anything further than something happened to James!" I snap at her.
"Don't use that tone with me, young lady. I'm just trying to help." She glares intently at me as her lips tighten into a taut line.
I roll my eyes. Her scare tactics haven't worked on me in years; I'm not about to allow her to intimidate me now. Knowing they were witness to my misery is only going to increase their hatred for James.
Find the author on Twitter: @JadedLadies2
Chapter 19 of Dirty Laundry in My Diary by ttharman
" width="50%" />
Summary: Dear Diary-First day at a new school! I hope this one turns out better than the last one. Just one more year to get through, what could go wrong?
As I walked upstairs to my room, I remembered Edward was with me. I guess in the midst of all of commotion I'd forgotten about him. I held his hand in mine the whole time and it hadn't even registered. I felt horrible. How could I have forgotten my own boyfriend? He was the one person who obviously grounded me and gave me his total support. I just sat on the floor and cried.
"Baby, what's wrong? Look at me? Bella, look at me?" Edward whispered. "What's wrong, sweet girl? Tell me?"
"I forgot you were here, Edward. I was holding your hand and all I saw was the rage I felt for her. I wanted to punch her, hurt her, and be hateful as she's been to me. Edward. I didn't even realize you were here with me," I said as the tears flowed down my face.
Edward being Edward, pulled me into his arms, kissed my forehead all the while telling me not to worry. He loved me and respected me. I'd just stood up to the person I feared the most. He was proud of me and he knew I would be okay. Whatever I'd done in my life to deserve him I didn't know, but I thanked God I had him for support.
Find the author on Twitter: @ttharman
Chapter 6 of Dream Mind by pappy73
Summary: Bella starts having dreams of different crimes and murders throughout Tulsa,OK after an accident. At first she thinks it might just be her imagination,until she turns on the morning news and hears about the same crimes she had in her dreams. She is determined to prove she knows where the next will happen,and how. While a certain green eyed man watches from afar.Edward makes it difficult for Bella to prove to Commissioner Peters her validity because of her major in college.He sends anonymous letters to Com.Peters telling him about Bella's childhood and past.She finally meets up with a Det.that believes her,but Edward will stop all communication by kidnapping her. He has his reasons for stopping her, but only he knows.She will soon find out.
"You understand now don't you?" she asked me kindly, smiling wide.
"Yes," I told her, my smile just as wide, but feeling as if I had 100 pounds taken off of me.
"Good, then we need to talk, yes?" Elizabeth asked.
I nodded my head, looking down at my lap, while twisting my fingers nervously. I knew this was going to be a long conversation, one I was not looking forward to.
So I began from the beginning. I told her about being taken away from my parents and the conditions I was thrust in at the age of six, I told her the horrible story about Jessica and I, how I had ran my best friend off. I told her about Charlotte and Peter, my foster parents, they were great but could not keep caring for someone that could care for herself. I told Elizabeth about becoming emancipated at the age of 16, and working my way through school, and getting into OSU. It was, as if I couldn't stop talking to her. The more I talked the more free I felt. But I was getting nervous for what I was about to tell her, I was worried what she thought of me. I moved forward with caution watching the expressions on her face; this way I would know what she was thinking. I felt her grab my hand, and I looked down, it brought tears to my eyes I couldn't remember the last time I felt a motherly hand, so soothing and loving, before Elizabeth came along. Charlotte loved, but she was not very good at showing her affections she didn't have the motherly instincts that most mother's possessed.
I was lost in my thoughts when I felt Elizabeth squeeze my hand, encouraging me to continue.
"What has you so reluctant to tell me?" Elizabeth whispered.
"I'm afraid of what you might think of me," I sighed.
"Sweetie, look at me," she told me softly. "Bella, no matter what you tell me, it's not going to change the way I feel about you. You have become a very dear friend to me. A daughter I never had, if you will. If you think I'm going to run away screaming, well then, you have gotten me all wrong," she said smiling.
I sat there contemplating what she had said, and then I let it all come out.
"When I was hit by that car, I started having these awful headaches, I get real dizzy, but the bizarre thing of it is," I paused looking at her for a moment "I'm having these awful dreams now to, they show me people getting killed, mostly women. The next day, when the news comes on, I find out the murders are real. I'm losing sleep over these dreams. I've had strange things happening at my apartment as well, that's why I'm here again. I'm just afraid that if I tell someone, they'll think I'm insane and try to put me away. I feel as if I'm losing control of my life." I cried.
"Isabella, I don't think you're insane, and I most definitely will not let anyone put you anywhere.
Both Elizabeth and I snapped our heads around at the same time, and gasped.
Chapter 27 of Failure To Thrive by Julesnerd
Summary: Bella is sexually unfulfilled after four horrible encounters. She meets Edward Masen, and things begin to change. Edward is sexally insatiable and Bella has been told she's frigid. B/E/AH/AU/OOC. Rated M for a reason! Lemons to follow. Humor/Sarcasm
Twilight – Rated: M – English – Romance/Hurt/Comfort – Chapters: 26 – Words: 185,584 – Reviews: 1959 – Updated: 3-2-12 – Published: 6-26-09 – Edward & Bella
Fucking gearshift.
There…there. Shift a little – better.
Now I could cuddle, kiss and caress anywhere I wanted. Her words were slowing down already. I was kissing the skin leading toward the V-neck of her t-shirt and sweater.
"Sometime in the future…" her anxious tirade paused as she moaned out, "Mmm, Edward, in the future–"
"My life-long, loving future with you?" I shifted the slight weight of her hip off my emerging erection.
"Yes, that one. Now where was I?" She sounded thoroughly disoriented. I'd just plumped one of her breasts out of her bra and clothing to suck on a nipple.
"Oh, my fucking – Gah, Edward! One of your renegade sperm troupers is going to invade my uterine castle, and we'll be p-p-parents." She was panting.
"Is that the future where I come inside you over and over until you're pregnant with my child?"
"I think…?" She gasped and moaned, loudly. I glanced around to make sure we were still alone in the carport. Not a soul was near. This space was at the end of the row, sheltered by palm trees.
"Where there's no birth control, no condom, just you and me and lots and lots of fucking and love-making and my fingers right about here?"
My hand was on the outside of her clothing, gently cupping and rubbing the heat I felt developing between her thighs. Her hips tilted forward, seeking. I held her firmly, not wanting to get her fully naked in our very public parking space. However, her nipple was ever so distracting. I continued to manipulate it until it was pink and distended.
"I haven't even started thinking about the…oh, that feels so good…" I pulled harder at her pebbled bud.
"Thinking about what?" I prompted.
"The um, the wedding. Um, no. I'm not freaking out. I'm totally fine – one hundred percent Zen."
Cue the laugh track.
"That bad, huh?" I commiserated. She gripped my hand tightly and nodded in response.
Find the author on Twitter: @Julesnerd
Chapter 25 of Finding Home by Gabby1017
Summary: Bella is lost in a world of wealth, snobbery and loneliness. It's only after the loss of her Grandmother that she is face to face with reality and what she wants out of life.
So Alice, Jasper, Mags, Esme and I prepare for the Halloween bash of the century that will be the beginning of all the parties throughout the school year, according to Alice.
Alice and I add more and more decorations and special effects. We set up a punch bowl into a large aluminum container with dry ice on the kitchen island. Later, we will add the boiling water to get the fog effect. Alice is very happy about this. Jasper just shakes his head and eats the cookies I made that look like fingers. It's weird to watch him shove them into his mouth. There is a thin coating of red raspberry jam on top. Looks like blood all around his mouth. And when he smiles, his teeth are all bloody looking, too.
Mags' mobility is much better with her walker, so she adds to the Halloween Hoopla, wearing a pointed witch's hat, black-striped stockings, a black dress and curly toe shoes. And rubber bats hang from her walker.
Find the author on Twitter: @Gabby1017
Chapter 22 of His Cimmerian View by WeeKittyAndTAT
Summary: Bella at age thirteen is left with nothing more than a fake ID, and two year old twin half siblings to care for. She makes due knowing it is up to her to give them a good life and education, she was never given. Working as a cleaner at the university five years later, she meets Professor Masen a man who believes all women are out to hurt, or destroy him. Can an uneducated Bella teach him something? What will happen when Bella is another woman who has hid the truth from him? OOC/AH/18&OVER
Bella kisses my lips again. "So it has been Zafrina and Aro that got the stuff for Seth and Leah, then?" I nod my head at her. "Do we need to tell them, or can they still believe in him?"
I nod my head stroke her face. "Yes Baby, of course they can still believe in him. I want them to believe in Santa. That's why I got them presents from Santa."
She looks at me in the eyes. "I believe in the magic of Santa, too. The love and kindness that is in you, Esme, Carlisle, Zafrina, Aro and all the other people who have help me and my family; you just do it every day. I thank God that you came into our lives…my life, and I never want to be without you." This time I kiss her. The words she just said make my heart beat faster. Pulling back from the kiss, I just stare into her eyes and stroke her bottom lip with my thumb.
"I love you so much, Baby. I love you all so much. You, Seth, and Leah are my life."
"I love you too, Edward. Thank you for loving us; you make our lives better in every way. Now tell me Santa Edward, what did Santa bring for Seth and Leah?"
"Santa Edward," I say chuckling. "I bought Seth and Leah brand new bikes, helmets, and kneepads. I got a big gift card that says 'Love, Santa'. I hope that you don't feel…" Before I can finish what I am saying, Bella moves to straddle my lap. Suddenly she is kissing me…a lot, and very erotically. I moan as my body automatically reacts to her kisses. I fucking swear I love this girl so fucking much. I can't believe this sweet, kind, beautiful girl is for me. I slow our kisses down and pull away from her. "I take it you're okay with it, then?" I kiss her neck and she lets out a moan.
"Yes, they have been asking for bikes for a year now." I keep kissing her as I unbutton her top three buttons and move my mouth to kiss her collar bones and across the top of her chest. "I think that we should keep them here…if that's okay? Will you…help teach them? I never had a bike, so don't know how to ride one." I stop kissing her and try not to get worked up about this. It's just that every time she tells me something new that she has not done, it hits home with how much they took from her. I feel Bella kiss my neck, bringing me back from my thoughts of anger. "Please don't be sad. I didn't miss anything; really, I didn't. You can't miss what you didn't have. But I have you now, and that is everything I never knew I wanted and needed. You, Seth, and Leah are all I need and want."
Find the author on Twitter: @teamalltwilight
Chapter 14 of No Ordinary Proposal by twilover76
Summary: Bella wants to escape her small-town life and live her dreams in New York. What happens when a man almost twice her age makes her an offer she can't refuse?
It wasn't too much later when Edward appeared, all tousled hair and dressed in a t-shirt and pajama pants, which made me smile since he preferred sleeping in nothing at all. He walked straight over to me, his brow furrowed as he sat down.
"Everything okay?" he asked, taking a drink of the coffee Hannah placed in front of him.
I nodded. "Yeah, just couldn't sleep." I looked back down at the paper, biting the end of the pen I was holding.
He tipped my chin up so I would look at him. "What aren't you telling me?"
Damn, infuriating man could see right through me.
I looked around, noticing Hannah had conveniently disappeared. I sighed and met Edward's eyes again.
"It's really nothing. I'm not feeling the best." I paused and took a deep breath. "It's just cramps."
I watched his face closely, looking for any signs of disappointment.
He looked more concerned than anything, until understanding dawned on him. I swore I could almost see the lightbulb flash in his brain. He pulled his hand away from my face and looked down at the table.
It was like being punched in the stomach.
I stood up quickly and went to fill my coffee cup. I couldn't stand to see his disappointment in me. He gave me so much and all he needed from me was one thing.
I had failed already.
Find the author on Twitter: @twilover76
Chapter 4 of Open by SammieLynnsMom
Summary: He was right and they were wrong, and that was all he had to stand by. With his career soaring and his marriage sinking, will Edward finally see that everyone was right at the start? It's just a game until someone gets hurt. It's just a game until you start playing for keeps. The truth is, it was never a game-This is the journey of Edward figuring out exactly where he was meant to be in life. Told primarily from his therapist's armchair.
"A girl, Edward?" she asked once we arrived in the kitchen.
"Yes, ma'am," I replied quietly before snapping to my own defense. "But mom, if you had seen James pulling at her…"
"Sweetheart, I commend you for taking action, but you broke another boy's nose. He's currently being treated in the emergency room, and you put him there. That is what I don't understand. You've always been so compassionate and friendly. This isn't like you," she continued on.
Find the author on Twitter: @SammieLynnsMom
Chapter 2 of Original Sin by mystique-jewled
Summary: Edward Cullen is a notorious pirate and a wanted murderer. Isabella Swan is the daughter of a rich Baron and wants desperately out of her rigid lifestyle. She runs away and circumstances force her to disguise herself as a boy on Edward's pirate ship. AU
"Make a choice, boy," The pirate told me, his eyes narrowed, "Those Guards have seen you with us. They'll be out for your blood. Stay, and you'll be at the gallows before dawn breaks."
I knew he spoke the truth.
The Guards were already chasing after me as Isabella Swan, now they would be chasing after me as the boy who was seen with pirates too.
But still…pirates…
I looked up in to the bright blue eyes of the pirate. He raised an eyebrow at me.
I took a step back from him.
It was the right thing to do.
He shook his head at me and climbed the plank. He reached the top of the plank and the Guards were closing in.
But it felt so wrong.
"Wait!" I shouted, scrambling on to the planks and climbing up right behind the pirate.
He glanced down at me and smirked. "Come on."
He grabbed my hand and pulled me on to the ship.
Chapter 6 of Our Lives Unbound Extras by theladyingrey42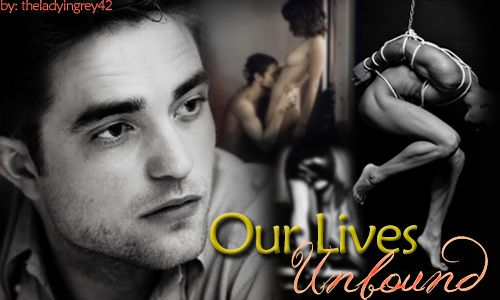 Summary: My mind is trapped in circles, my loneliness pressing in. Unable to speak, I reach for her spark. In her eyes, I find my partner. In her command, I find my freedom. Together, we open our lives to something more. AU/AH, D/s, male sub.
The light in the playroom goes dark, and the floorboards creak as she approaches. She flips the lights on and I wince. It's just as well. I can't look at her anyway.
She makes no movement to approach, and the distance yawns, a tangible, aching thing.
"How long have you been here?"
Her voice is frighteningly neutral, like she's holding so much back.
I know she is. There all kinds of things she's been keeping to herself these weeks. Things she only tells her friend. Things about me.
"A little while." I'm still staring at her pillow, my eyes adjusted to the brightness now but still unable to really see.
"How much did you hear?"
"En-nnnough."
"Oh, baby…"
It hurts to hear her speak that way, to hear the tenderness seeping through the cracks. And to know it might not be enough.
Something breaks inside me and I press my forehead to my knees. My inhale is ragged, the sound of it pained.
"I'm sorry."
I'm sorry for so many things.
"Edward, no…"
My shoulders shake.
I can't lose her. I can't.
But what if I can't get over this?
Find the author on Twitter: @theladyingrey
Chapter 15 of Prism by Anna Faze
Summary: A father and daughter, bound by blood and torn apart by secrets. There are a hundred versions of the truth, it all depends which way the light shines. AU.
Part of me wanted to bound down the stairs this morning and hug them both and jump and shout, "I know, too. Isn't it amazing and scary and incredible and look – look – I found my soul mate too, just like you both did."
Not so long ago I might have dreamed that that was possible. I would have imagined Charlie clapping Edward on the shoulder, saying "welcome to the family, son" and Renee's eyes shining with joy. I'd go shopping in Port Angeles with my mother and we'd pick out a white dress, and we'd have a huge celebration, and no one would notice that Edward is a vampire.
Maybe I'm finally growing up, because there is fantasy and there is reality, and it seems that now I can tell the difference.
Find the author on Twitter: @Anna_Faze
Chapter 84 of Squeeze My Lemon by Dirty Cheeky Monkeys
Summary: A weekly posting that is an exercise in lemon writing.As authors we're often challenged with writing a complete story, but we have the need & desire for lemons.This is a outlet to work on those skills. So stretch those lemon muscles & squeeze our lemon.
Our squeezer this week is Lacrimosa Moon. Enjoy the teaser!
I continued to push myself into her back, creating a delicious friction.
"I need to feel you on me," she said as she tugged on the spaghetti straps of her camisole. It slid down her arms, revealing pink flesh.
I groaned at the sight. Unable to hold myself back any longer, I whipped her around to face me and sunk my mouth over her nipple. I sucked and pulled, delighting in the exquisite, salty taste of her skin.
Her fingers tangled into my hair, pulling me closer to her chest. And then she tensed for a moment as if something was off.
I stopped. "Bella?"
She ran her hands over my forehead, down my nose, and across my cheeks as if reading my face. A sly smile crept over her face, and her hands crawled down to my jeans and tugged the zipper.
She knew.
Quickly, I tore off my clothes before turning my attention to her camisole, quickly ridding Bella of it. Picking her up, I laid her on the bed and lifted her hands over her head. Using the material, I began to tie them to the bedpost. "Still want to play?"
"Yes."
Find the author on Twitter: @DirtyCMs
Thank you to the authors who participated this week!
If you'd like to be included in next week's post please fill out our web form no later than Sunday evening by Midnight… There are no restrictions, if you have something you want to tease, we're happy to share it with our readers (we ask that you keep it under 500 words, though). Teasers will be listed in alphabetical order according to the name of the fic.
Thanks to everyone who gives us support, sends in their recs and just generally makes our lives in the fandom more entertaining. We couldn't do this without all of you.
See you next week!!

Like this post?
Subscribe to our feed!