Sorry we're late today ladies! Hopefully these two famazing fics make up for it!

Thank you to our amazing guest reviewers: luckyirishtart and Meikela!

There's still time to enter our giveaway for an Advanced Review Copy of Legend by Marie Lu![dcs_emptyspace h="6"]

Did you check out our latest Wolfpack Recommendation? Don't miss The Ethnographer by shawnief.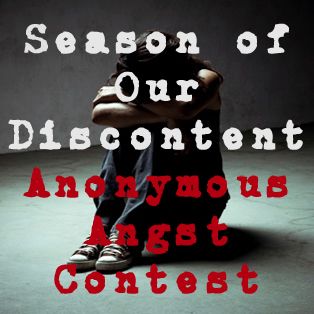 Voting for the Season of our Discontent Contestis open now!
Don't forget to recognize your favorite graphic artists for Twific Pics' Fandom Fic Art Week.

Katinki: Giving Way to Dusk updated
I love this fic. I know I gushed back in my WWT article a few months ago, but it just keeps surprising me. In a good way
Kassiah: I definitely want to check that out. She's a brilliant writer, for sure. Have I mentioned The Cellar before? It's by iambeagle, and I love it so much.
Caren: I am feeling like I need recs. I want something cute and fluffy and E/B that doesn't leave me begging for more. Will The Cellar do that?
So I asked and then went in and read all the posted chapters, and I love this E and his dumb face. *gigglesnort* Totally cute, and their banter is complete win.
LJSummers: Still deeply involved with Cracked! by nosleep3 and Antiques Roadshow by aerobee82. One thing very cool about Cracked! is that when it became apparent to nosleep3 that she was working with a story instead of assorted vignettes, she wasn't afraid to keep going with that. So the story has morphed and I'm really enjoying it. Duh!
Kassiah: Sorry I wasn't around to give you fluff. How about this instead?

MsKathy: I am still buried in NaNoWriMo. You're all pretty.
Songster:How is the NaNo stuff going? I am totally amazed at all my friends who are doing this. All that creative energy… makes me a bit awestruck.
Even in the midst of my search for the best of non-canon stories, I find myself distracted *no laughing, Kassiah* by two of my favorite authors. Am reading The Keepsake by windchymes. I really love her stuff and she never fails to deliver.
Another favorite author who is writing a very interesting AU, a change for her, is Rochelle Allison. Her Glimmer Darkly is very different, atmospheric and mysterious.
Katinki: Ohhh MsK I wanna know what you're writing… we should get a preview, yeah?
Tailward updated twice today and I feel the need to gush. You know what's awesome about this fic? a) it's funny and bizarre, b) somehow, it sneaks in some semi-serious social commentary (it's like chocolate covered broccoli or something), c) the author is not afraid of telling a story with some real action (yay) and she throws in stuff that a lot of fic writers shy away from (which I will not reveal bc that'd be spoiling). Color me impressed.
LJSummers: Chocolate covered broccoli is just – ew. Just sayin'. More appealing smothered with cheese. Mmmm… Yeah, you threw me with your simile… * * In other fic-news, I have been reading my old favorites on my Kindle while traveling hither and yon (and sharing my computer with my sons) during the holiday week. Innocence Lost by cullen818 has some hot Jasper/Bella action! Also read The Ethnographer by Shawnief.
Caren: I also spent my week reading an old favorite, which, sadly, is no longer posted. Behind Enemy Lines by adorablecullens. I miss her. And that story. Vanguard. ♥
Kassiah: I still remember exactly how I felt when I read that word. *my rob*
Songster:Oldies but goodies must be the theme of the week in terms of food and fics. I have definitely been indulging in both. I foresee a fic rewind in my future. Oh and Katinki, have the Tailward waiting but chocolate covered broccoli is just *shivers* blech and ewww.
Katinki: tlig42 is posting again!
it's cute and has physicists in it… that's like… my kryptonite. it's called String Theory and she's updating daily.
LJSummers: Just started reading Echoes of the Storm by Bedelia. What I like is that there is a theory there that doesn't involve time travel but still has Jasper and Bella together in the past and present. And I have to say it, I love it when Edward and Alice are mated.
Kassiah: Alice and Edward? OMG noooooooo!
Caren: You guys… YOU GUYS! HOW TO PAINT A HOUSE!
Kassiah: I thought that was a happy story? sobbbbb
Songster:I've heard lots of good things about it and had it bookmarked. Think I'm glad I hadn't started it yet. I suck at angst. :p
Thanks to everyone who gives us support, sends in their recs, and just generally makes our lives in the fandom more entertaining. We couldn't do this without all of you.
See you next week!!

xoxox-The Fictionators

Like this post?
Subscribe to our feed!